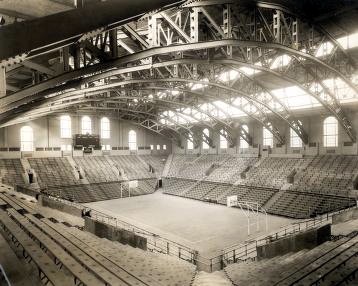 Welcome back all and a very happy Tuesday to everyone out there! In lieu of no sports, and of course, no 'March Madness', in the wake of everything that we all have been going through during these unprecedented times, I've been carrying on by simulating the entire NCAA tournament using my official 2020 March Madness Bracket.
-
Yesterday brought us all the way down to the end as the simulation crowned Kentucky as National Champions in an 11-point victory over a surprising Penn State squad. Now that the NCAA tournament simulation is in the books, I'd like to take us all back to when "March Madness" was first established & invite you all to join me for another edition of "Back In Time with @sportsguychris" - March Madness Classics - as we go back a little over 80 years, to a very different time in the world, and of course, college basketball.
-
The 1938-39 NCAA basketball season featured 14 "official" conferences, ranging anywhere from 5 to 15 members, and a sizable group of "independents", made up of 48 schools with no conference or league affiliation. Only two of those conferences, the Southeastern (SEC), and Southern (very different from today's Southern Conference), played Conference Tournaments. The Kentucky Wildcats won the SEC tourny, while Clemson won the Southern tournament. Wake Forest made the NCAA tournament, however, out of the Southern Conf., thanks to an 18-5 record, and regular season Conference Title.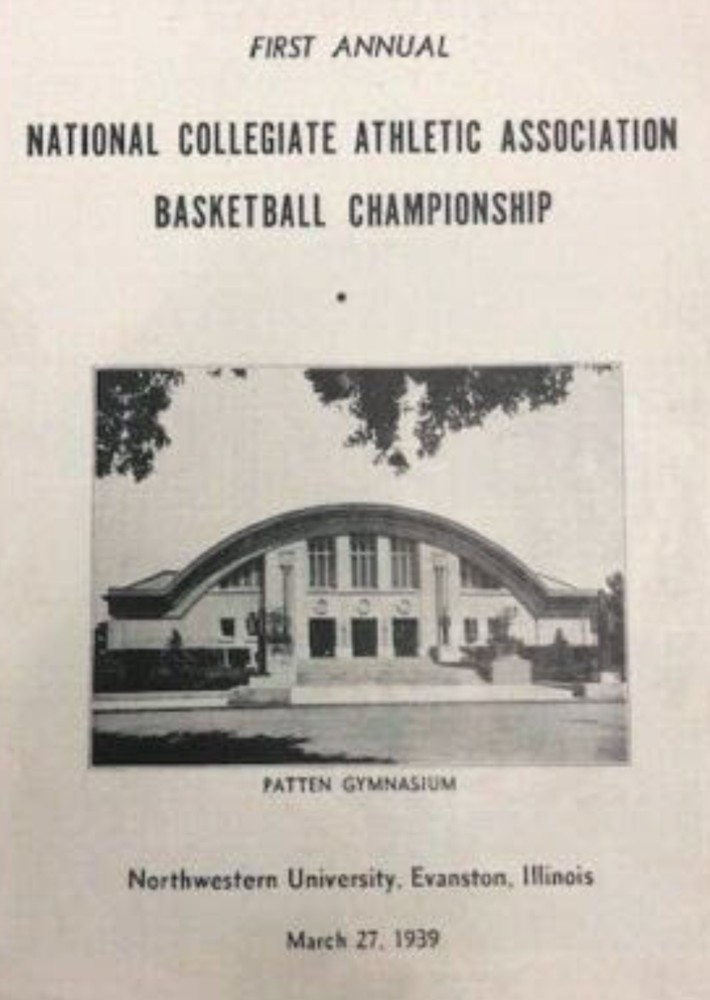 Despite Kentucky's success, they only played 7 official SEC games, while some schools played up to 15-17 league games, and actually missed out on the very first NCAA tournament. The Wildcats would go on to be the most successful collegiate basketball program of all-time in terms of most NCAA tournament bids with a total of 58 - 8 more than North Carolina.
-
Kentucky wasn't the only Conference Champion to miss out on the first NCAA tournament, as only 8 teams squared off in the very first edition of March Madness. The tournament would double in size by the 1950s, reaching 16 teams, then to 25 by the 60s, and eventually to the 68 that comprise the field today.
-
In addition to Kentucky, Missouri (Big Six Co-Champ with Oklahoma), New Mexico State (Border Intercollegiate Athletic Association Champ), Carnegie Mellon & Georgetown (Eastern Intercollegiate Co-Champs), Dartmouth (Ivy Champ), Long Island (Metropolitan New York Champ), Drake & Oklahoma State (Missouri Valley Co-Champs), Colorado (Mountain States Athletic Champ), Santa Clara (Northern California Champ), and Rhode Island (Yankee Champs) were all regular season conference champions that did not make the first NCAA Tournament.
-
Big Ten Champ Ohio State, Pacific Coast Champ Oregon, Big Six Co-Champ Oklahoma, Southern Champ Wake Forest, Southwest Champ Texas, Utah State (Mountain States Conf.), and two independents - Brown & Villanova comprised the field for the very first NCAA Tournament.
-
Brown (16-3), Ohio State (14-6), Villanova (19-4), and Wake Forest (18-5) were drawn into the East Regional in Philadelphia, PA. While Oklahoma (11-8), Oregon (26-5), Texas (19-4), and Utah State (16-6) were drawn into the West Regional in San Francisco, CA.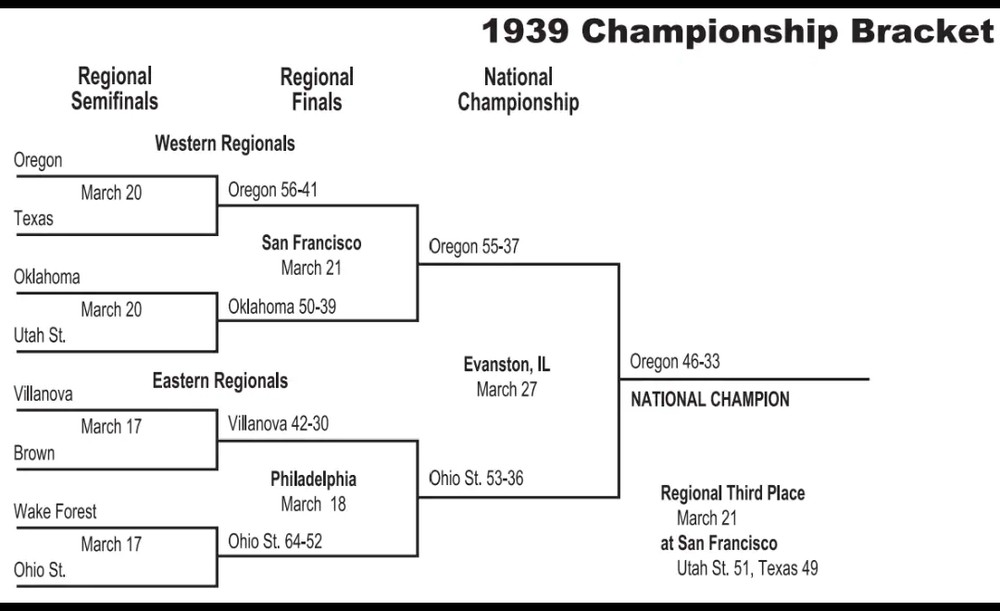 Villanova and Brown got things going, with the Wildcats prevailing 42-30. Ohio State then took care of Wake Forest, 64-52, to move on to face the Wildcats.

-
In the West Region, Oregon didn't have much trouble with Texas in a 56-41 victory, and Oklahoma downed Utah State 50-39. The first Final Four was set, albeit with a much easier path thanks to having to win just 1 game.
-
In the first National Semifinal, Ohio State spanked Villanova 53-36, and then Oregon used their resounding height advantage to pound Oklahoma 55-37 in the second Semifinal. The "Tall Firs" (as Oregon was referred to at the time thanks to their collective height) and the Buckeyes were set to square off in the very first NCAA Tournament National Championship game.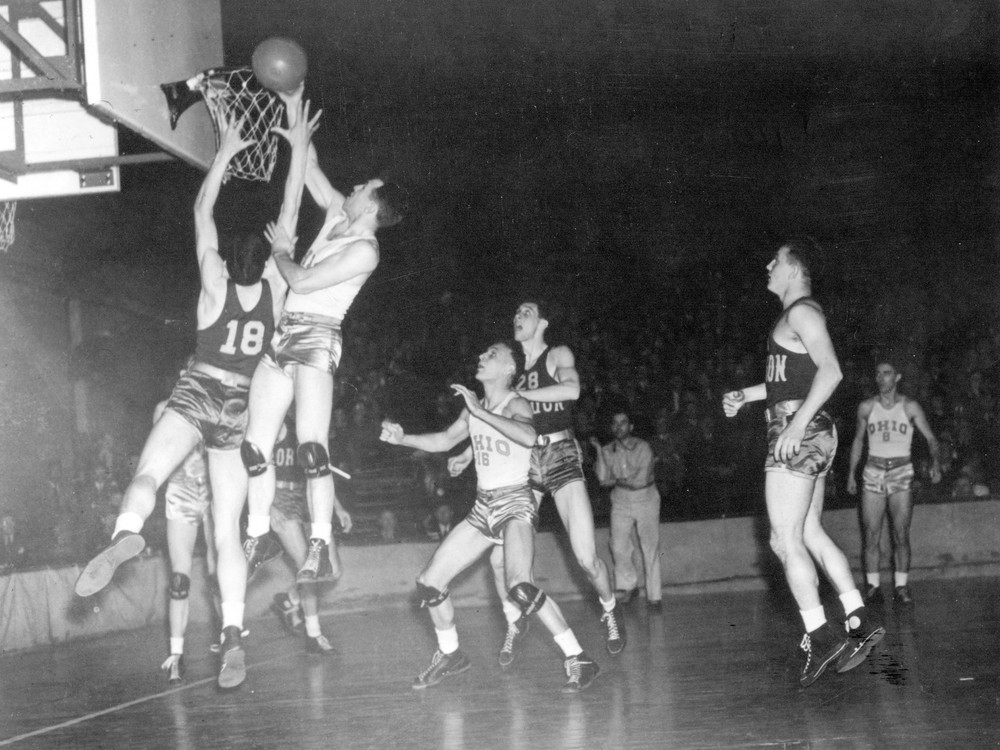 The Title game took place in Illinois on Northwestern's campus. John H. Dick of the Webfoots (yes, Oregon's official team name was the Webfoots at the time, "Ducks" was a nickname coined by the media) led all scorers with 15 points in the game as Oregon got off to a fast start. Ohio State would battle back though, and ultimately went into the locker room down 21-16 at the half. Oregon was known for their "fast-pace" attack (for that particular era), but this one was played at a slower grind after the initial burst by the Webfoots.
-
Oregon proved to be too much in the second half, as they went on to win the first NCAA Tournament with a 46-33 victory. Despite playing for the losing team, OSU's Jimmy Hull was named the Tournament's Most Outstanding Player. He was the only Buckeye to score in double-figures (12) in the Title game and was the Tournament's top overall scorer.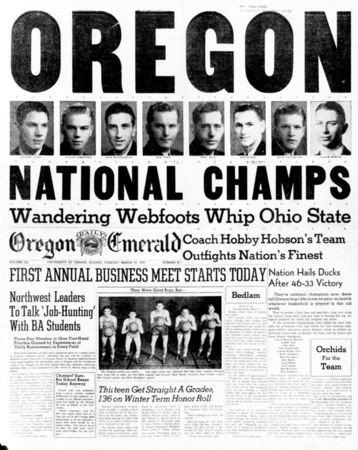 It would be an incredible 78 years before the 'Webfoots' made it back to the Final Four again, finally doing so in 2017, this as the 'Ducks' of course. To this point, it remains Oregon's lone National Title in men's basketball. Ohio State has went on to win one National Title to date (1960) as well.
-
It was a different era, with the game played a different a way, but the bricks to today's March Madness were first laid way back in the day, with 1939 first getting it all underway.
----
I hope you enjoyed today's "Back In Time with @sportsguychris", as always, I appreciate the support, and would love to get your thoughts in the comments section. Until next time -
-
Chris Elgersma
-
Be sure to find me on Instagram & YouTube!:
@sportsguychris