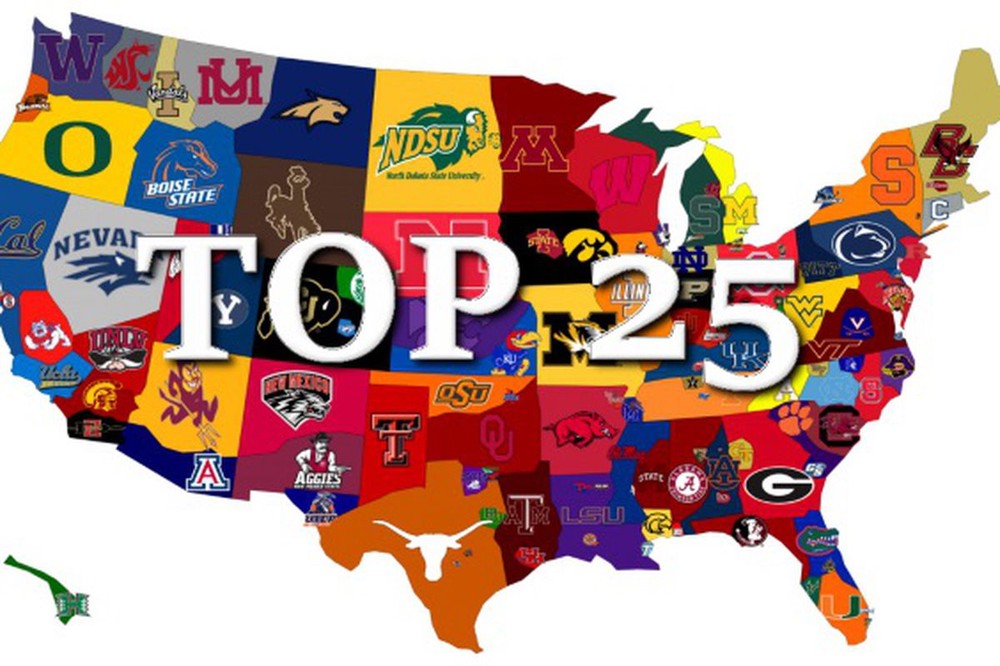 Welcome back all! What a 2019 college football season it was! Hats off to the LSU Tigers, who maneuvered through an impressive regular season slate and then blewout a highly touted Georgia squad in the SEC Title game. They went on to completely annihilate an over-matched Oklahoma team in the Peach Bowl, and then took care of the defending National Champs Clemson in a highly entertaining National Title game. The 42-25 victory leaves the Tigers at the top after finishing off an impressive 15-0 season - maybe even the best single season in college football history.
-
Clemson finishes at #2 after rallying past Ohio State in what was a classic of a Fiesta Bowl, 29-23, before falling to LSU in the Title game. It was another excellent season for Dabo Swinney & co. as the Tigers came up just short in their bid for back-to-back Nat'l Titles. Despite the loss to LSU, & a plethora of talent once again off to the NFL QB Trevor Lawrence will be back for his junior season, and standout RB Travis Etienne surprised everyone by announcing his return next year as well. Clemson should be a contender once again in 2020.
-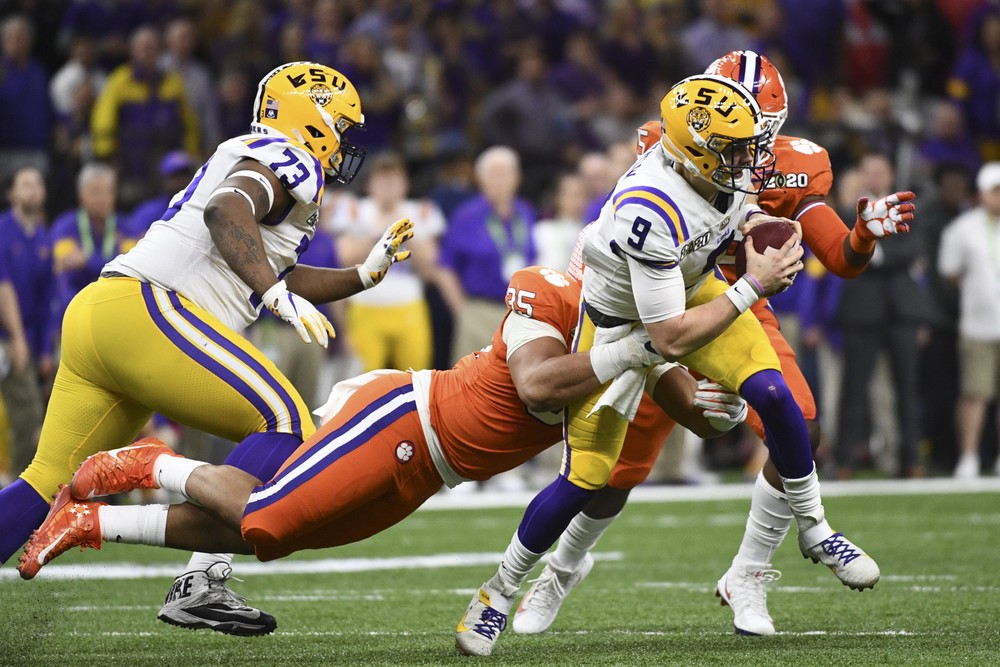 Ohio State finishes up at #3, down a spot after the heart-breaking loss to Clemson in the Fiesta Bowl. Head Coach Ryan Day had a terrific first season in charge of the Buckeyes, leading them to a 13-1 season and another Big TEN Championship. QB Justin Fields will be back (51 total TDs in 19'), along with another top-notch recruiting class, and while their is a ton of talent headed to the NFL, OSU is poised to contend again next year.
-
The Oregon Ducks moved up a spot, and finish at #4 after sneaking past Wisconsin in what was an excellent Rose Bowl, 28-27. After winning the Pac-12 & finishing with an impressive 12-2 record, the Ducks finish the season in the top 5.
-
Rounding out the top 5 directly behind Oregon are the Georgia Bulldogs. Despite missing some key players, UGA shutdown Baylor in the Sugar Bowl to finish up an impressive 12-2 as well. Oregon gets the nod over Georgia at #4 thanks to being a Conference Champion & being a more balanced team offensively. Nonetheless, it was an impressive season for the Bulldogs as they finish up at #5.
-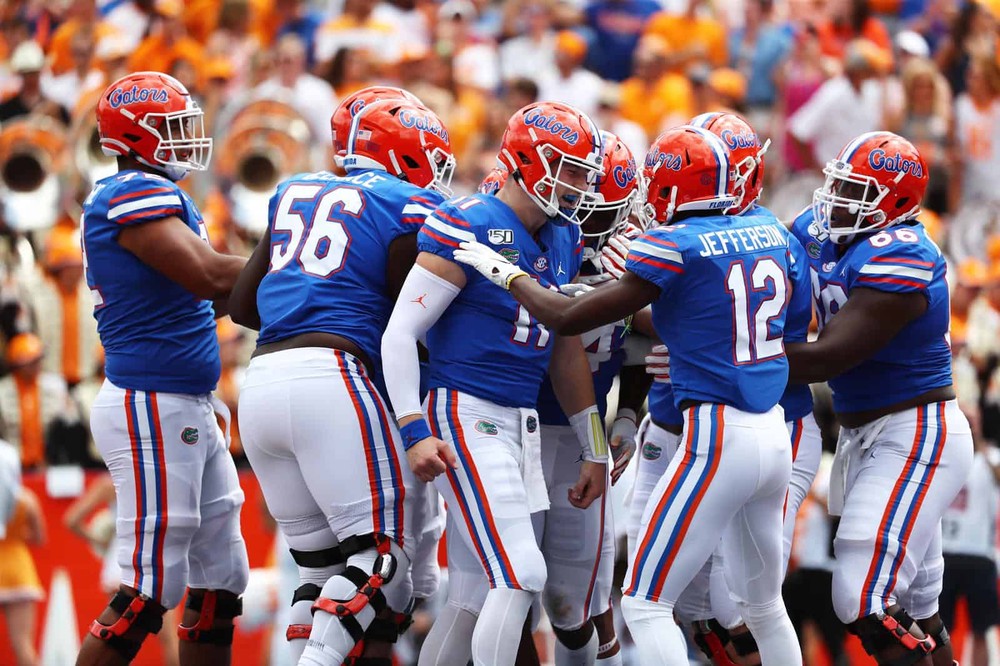 Rounding out the top 10, are Penn State & Florida each up 3 spots to close out the season, to #s 6 & 7, respectively. The Nittany Lions outlasted Memphis in a 53-39 Cotton Bowl victory, and the Gators survived a tough showing from Virginia in a 36-28 Orange Bowl win.
-
They are followed by Oklahoma at #8. The Sooners dropped 4 spots after their horrendous showing in the Peach Bowl against LSU. Even though they managed to make the CFP, the fact that they were not even competitive in the CFP semifinal showdown whatsoever, drops them behind Oregon, Oklahoma, Penn State, and Florida, who all finished with far better performances to close out the year. All were better teams in the end when breaking them down on both sides of the ball, resume, and strength of schedule. It was still a good season in Norman, as the Sooners won another Big XII Championship & made another CFP. They finish up the season at 8.
-
Baylor's loss to Georgia in the Sugar Bowl dropped them 2 spots to #9, as the Bears finished up a breakout season at 11-3. The Wisconsin Badgers were unable to overcome 3 rushing TDs from Oregon QB Justin Herbert & a late highly questionable offensive PI penalty that killed a potential go-ahead drive in the Rose Bowl. The tough 28-27 loss drops UW a pair of spots to #10 to close out the season.
-
Alabama destroyed Michigan 35-16 in the Citrus Bowl & Minnesota capped off a breakout campaign with a highly entertaining 35-28 victory over Auburn in the Outback Bowl. The Crimson Tide & Gophers both finish up the season at 11-2 & up to #s 11 & 12, respectively. Notre Dame cruised past Iowa State in a surprisingly non-competitive game, 33-9, to move up a pair of spots to 13.
-
The Iowa Hawkeyes flew up 5 spots after completely dominating previously #24 USC 49-24 in the Holiday Bowl. It's a double-digit win season as Iowa finishes up 10-3 & #14 in the final rankings.
-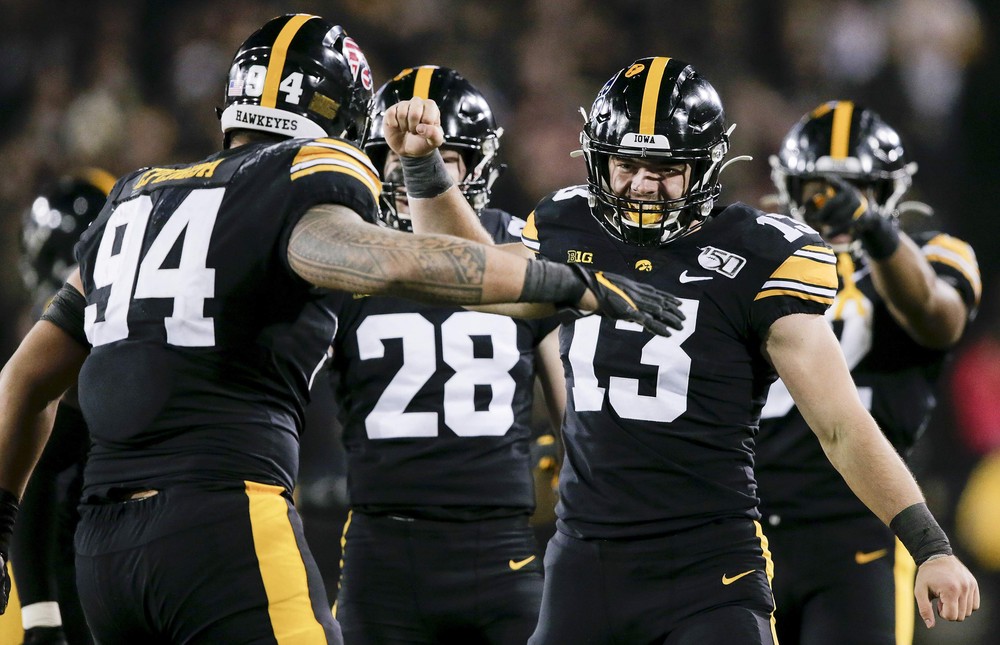 Auburn lands at #15 following their tough loss to Minnesota on New Year's Day, and are followed by Utah, as the Utes went from possibly playing in the CFP to finishing the season 11-3 after getting trounced in the Alamo Bowl, 38-10 by a Texas squad that went just 7-5 during 2019.
-
The rest of the season's ending top 25 is mainly a "Group of 5" party. Only Michigan, who dropped 3 spots to #22 after their loss to Alabama, is not a 'Group of 5' conference school. Appalachian State finished off the season with a New Orleans Bowl victory over UAB to move up 1 spot to #17 after turning in an impressive 13-win campaign. Memphis is next at 18 after falling to Penn State in the Cotton Bowl as the Group of 5's representative in a New Year's Six Bowl. The Tigers are followed by a pair of 11-2 service academies in #19 Navy & #20 Air Force. Both are up 3 spots to close out the season after Bowl game victories over Kansas State & Washington State, respectively.
-
Rounding out the final top 25 of the season, are the Cincinnati Bearcats, who remained at #21 following a rout of a listless Boston College squad, Michigan at 22, and then a pair of the newcomers to the final rankings of the season. UCF closed the season with a 48-25 rout of Marshall in the Gasparilla Bowl to finish up at 10-3 & into the final top 25 at #23. SMU had a banner 10-2 regular season, but were blown out by Florida Atlantic in the Boca Raton Bowl. The Owls' 52-28 thrashing of the Mustangs allowed them to finish up an impressive 11-3 on the season and ranked #24.
-
Rounding out the final Top 25 of the season is Boise State, who dropped 9 spots all the way back to #25 after they suffered an embarrassing 38-7 blowout to previously 7-5 Washington in the Las Vegas Bowl.
-
As always, there were a few other noteworthy squads that just missed out on the Top 25. Virginia's solid showing in an Orange Bowl loss has them as the first team just outside of the top 25, as they are joined by 10-3 San Diego State, and a pair of 8-5 teams who both got big blowout Bowl victories in Texas & Washington.
-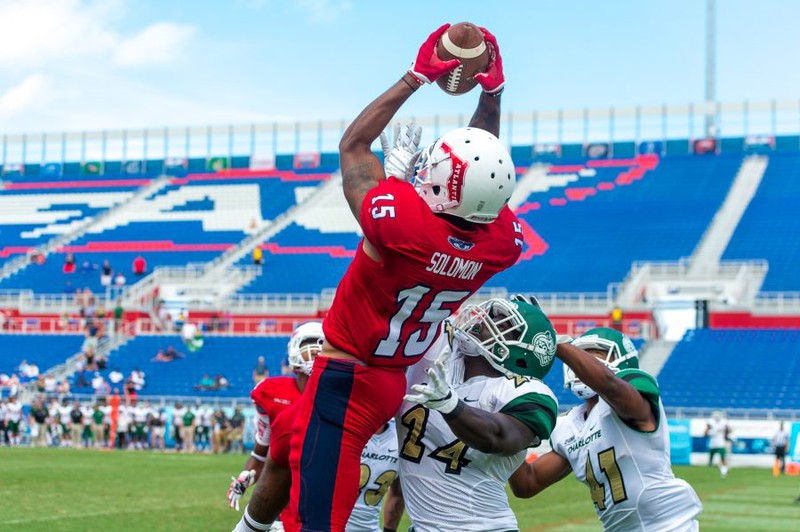 It was an eventful Bowl season, and an overall terrific year that was a lot of fun. Hats off to LSU for their dominant 2015 campaign, as well as the four CFP participants, and programs like Minnesota and Baylor for their breakthrough campaigns. As we take one final look at the 2019 college football season, without further ado, here is the @sportsguychris Ultimate College Football Top 25 - end of season edition:
-
College Football Ultimate Top 25

-
1 LSU (15-0) # 🏆
2 CLEMSON (14-1) #
3 OHIO STATE (13-1) #
4 OREGON (12-2)
5 GEORGIA (12-2)
6 PENN STATE (11-2)
7 FLORIDA (11-2)
8 OKLAHOMA (12-2) #
9 BAYLOR (11-3)
10 WISCONSIN (10-4)
11 ALABAMA (11-2)
12 MINNESOTA (11-2)
13 NOTRE DAME (11-2)
14 IOWA (10-3)
15 AUBURN (9-4)
16 UTAH (11-3)
17 APPALACHIAN STATE (13-1)
18 MEMPHIS (12-2)
19 NAVY (11-2)
20 AIR FORCE (11-2)
21 CINCINNATI (11-3)
22 MICHIGAN (9-4)
23 UCF (10-3)*
24 FLORIDA ATLANTIC (11-3)*
25 BOISE STATE (12-2)
-
🏆-National Champion
-
#-CFP Participant
-
*-New to the rankings this week
-
Dropped Out:
24 USC (8-5), 25 Kansas State (8-5)
-
Next:
Virginia (9-5), Texas (8-5), San Diego State (10-3), Washington (8-5)
-
I hope you all enjoyed the season as much as I did. I had a lot fun, and as always would love to get your thoughts on the 2019 season in the comments section below. I appreciate all of the support & look forward to next year. A couple of early teams I like going into 2020 are Clemson, Florida, Alabama, and Ohio State, with Minnesota, Auburn, and Penn State possibly in the mix as well.
----