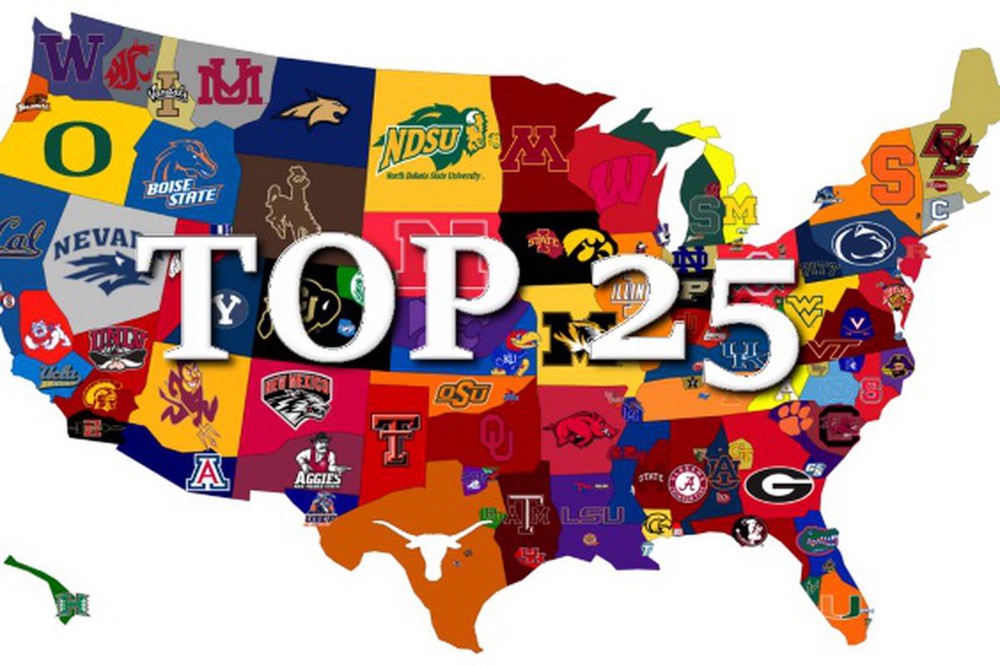 Welcome back everyone! Well another week of NCAA football action is in the books. Last weekend was a quiet one across the top 25 for the most part. By far the biggest game on Saturday featured Georgia and Florida going at it for SEC East supremacy, and the Dawgs' came out on top, edging the Gators 24-17 to take control of the East division and keep their college football playoff hopes alive. It was an impressive victory, and caused the Bulldogs to shoot up 3 spots to #6 this week. Meanwhile Florida flipped with UGA and dropped 3 spots taking Georgia's former place at #9. I have the Gators as the top 2-loss team in the country thanks to their victory over Auburn. Speaking of the Tigers, they snuck past Ole Miss' in a tougher game than many expected, 20-14. The win kept them at #10 this week and one spot ahead of #11 Oklahoma who was off this past week.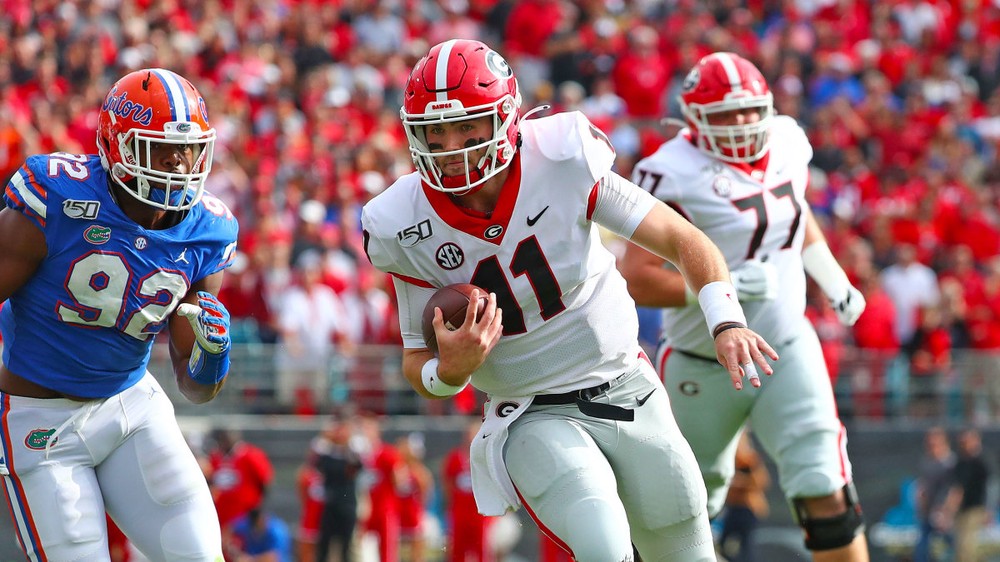 All was quiet at the very top of the rankings, with top-ranked LSU, Alabama, Ohio State, and Penn State all idle this past Saturday. The only team in the top 5 that was in action were the Clemson Tigers, and they might as well have been on a bye as they took on FCS opponent Wofford. Unsurprisingly, Clemson coasted to a 59-14 victory, but it did nothing to help their resume in the long run. The top 5 remained in place and unscathed ahead of this weekend's action-packed showdowns.
-
Oregon remains locked in at #7 after getting an impressive 56-24 blowout victory @ USC on Saturday night. Fellow Pac-12 foe Utah stays right behind the Ducks at 8 after getting past Washington in a hard-fought 33-28 come from behind victory on the road. Oregon and Utah are the Pac-12's two chances at landing a team in the CFP and continue their collision course for the Pac-12 Title game. As previously noted, a pair of 2-loss SEC teams rounds out the top 10 in Florida and Auburn at 9 & 10, respectively.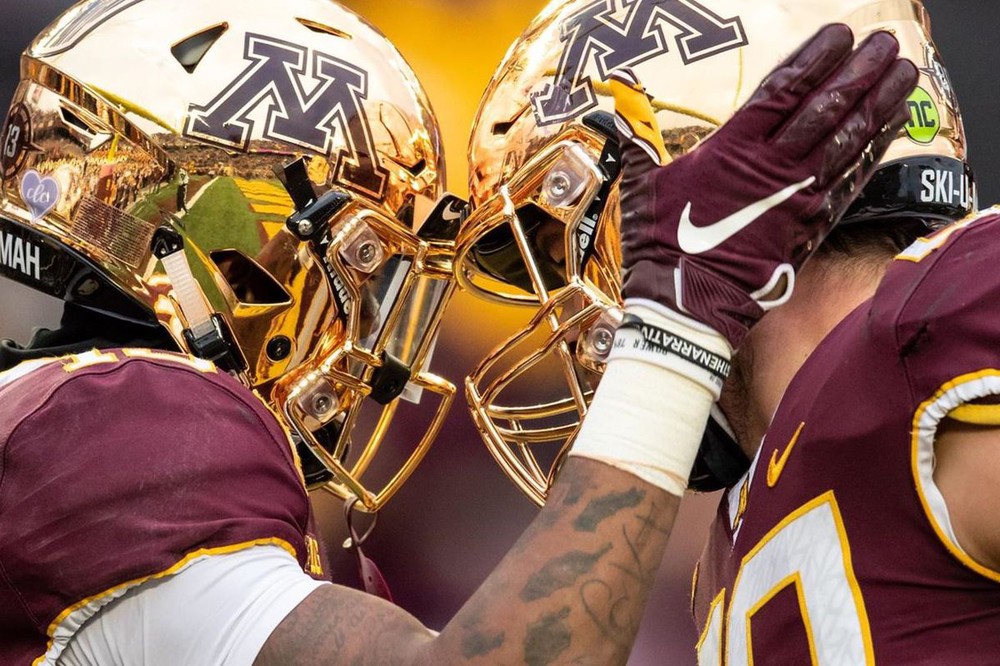 Following Oklahoma at 11, are a pair of Power 5 unbeatens in #12 Baylor & #13 Minnesota. Each moved up a spot after the Bears snuck past a 5-loss West Virginia team in Waco, 17-14, and the Gophers were idle ahead of their big showdown with Penn State. Minnesota is probably the one team that is being significantly undervalued by the Playoff Committee after last night's initial rankings. 17 doesn't seem indicative of how good the Gophers have been thus far. 10 would be a bit high due to the overall lack of quality victories. But 13-range seems about perfect.
-
Fellow Big TEN rival Wisconsin was also off and moved up a spot to #14 and are closely followed by Michigan at 15 and Cincinnati at 16, each up a spot as well. The Wolverines thrashed Maryland on the road 38-7 & the Bearcats received a much tougher-than-expected test from East Carolina, pulling out a 46-43 victory. Iowa was also idle and moved up a spot to #17. Kansas State followed up their upset of Oklahoma by going on the road and routing in-state rival Kansas, 38-10, improving to 6-2 on the season. The blowout win helped the Wildcats make the biggest jump this week - up 4 spots - to #18.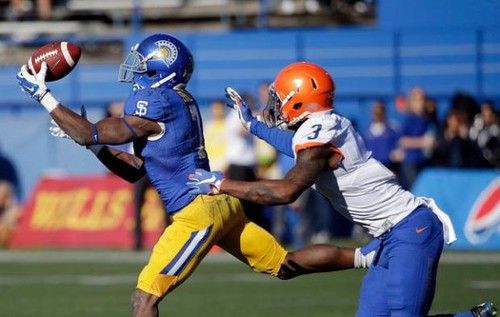 Boise State struggled mightily at San Jose State, needing to rally back to win a late-night shootout along the coast, 52-42. The Spartans are much-improved, but the Broncos' inability to stop SJST from piling up points was still surprising. Nonetheless Boise State remains at #19 this week.
-
The Notre Dame Fighting Irish round out the top 20 as they rallied back and then survived to knock off Virginia Tech in South Bend, 21-20. The Irish were 17-point favorites, but struggled against what had been a much more generous than normal Hokies' defense. They were able to bounce-back with a W, but ND left a lot to be desired in the victory, keeping them at #20 this week.
-
Previously #21 Appalachian State are the only team to drop from the rankings this week after getting upset at home by Georgia Southern, 24-21. Taking the Mountaineers place at 21 this week are the Memphis Tigers, up 3 spots after their huge victory over previously unbeaten SMU. The 54-48 track meet gave Memphis their second victory over a top 25 team. Speaking of the Mustangs, they dropped 11 spots after suffering their first loss of the season and land two spots behind the Tigers at #23. Wake Forest is up two spots and sandwiched in between the two at the #22 after crushing N.C. State 44-10. Rounding out the top 25 are the UCF Knights, up a spot to #24 following their 44-29 win over Houston, and San Diego State - the lone newcomer of the week - into the rankings at #25.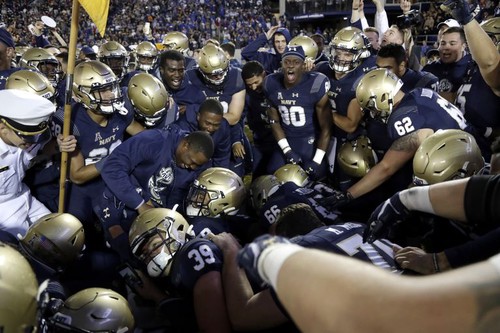 The 7-1 Aztecs are followed closely by Navy, Texas, Texas A&M, and Oklahoma State who all find themselves just outside of the top 25. Joining the above four in the "next" category of teams just outside of the rankings are Louisiana Tech, Indiana, Air Force, and Wyoming. How about the suddenly 7-2 Hoosiers coming out of nowhere in the Big TEN East? We will find out if they are for real starting on November 16th when they play the first of back-to-back games with Penn State & Michigan. That pretty well covers it for week 11, without further ado, this week's College Football Ultimate Top 25:
-
College Football Ultimate Top 25
-
1 LSU (8-0)
2 OHIO STATE (8-0)
2 ALABAMA (8-0)
4 CLEMSON (9-0)
5 PENN STATE (8-0)
6 GEORGIA (7-1)
7 OREGON (8-1)
8 UTAH (8-1)
9 FLORIDA (7-2)
10 AUBURN (7-2)
11 OKLAHOMA (7-1)
12 BAYLOR (8-0)
13 MINNESOTA (8-0)
14 WISCONSIN (6-2)
15 MICHIGAN (7-2)
16 CINCINNATI (7-1)
17 IOWA (6-2)
18 KANSAS STATE (6-2)
19 BOISE STATE (7-1)
20 NOTRE DAME (6-2)
21 MEMPHIS (8-1)
22 WAKE FOREST (7-1)
23 SMU (8-1)
24 UCF (7-2)
25 SAN DIEGO STATE (7-1)*
-
*-New to the rankings this week
-
Dropped Out:
21 Appalachian State
-
Next:
Navy (7-1), Texas (5-3), Texas A&M (6-3), Oklahoma State (6-3) Louisiana Tech (7-1), Indiana (7-2), Air Force (7-2), Wyoming (6-2)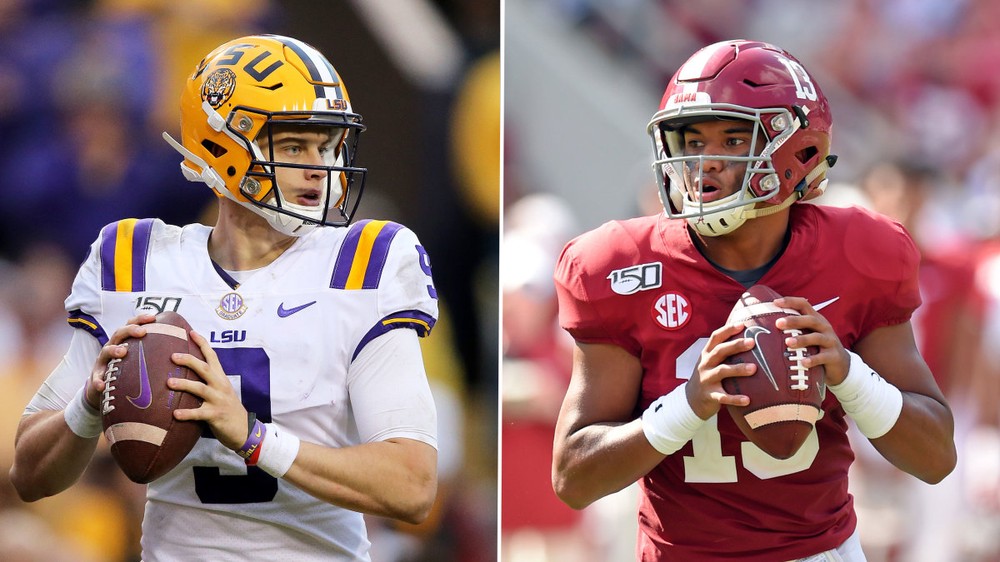 It was a rather mundane week overall, but we made it to the release of the first 'official' CFP rankings, and have several bigtime showdowns awaiting this weekend. None of course is bigger than the #1 vs #2 showdown between LSU and Alabama from Tuscaloosa. The Tigers have the best resume of anyone to this point in the season, and the most likely current Heisman frontrunner in QB Joe Burrow, but the Crimson Tide have weapons everywhere and are loaded with playmakers once again on both sides of the ball. There is a matchup of unbeatens in the Big TEN as well with #5 Penn State visiting #13 Minnesota, and #14 Wisconsin hosts #17 Iowa in a pivotal Big TEN West showdown from Madison.
-
In other action, #12 Baylor visits TCU in a tricky road game in the Big XII, #18 Kansas State visits Texas in another important Big XII showdown. Wake Forest is at Virginia Tech, Georgia hosts Missouri fresh off their big road win over Florida, and #11 Oklahoma hosts Iowa State in a game that could cause some problems for the Sooners as they look to get back on track. Finally, #19 Boise State hosts a solid 6-2 Wyoming team in what should be a fantastic game in the Mountain West. Enjoy all of these bigtime marque showdowns and be sure to check back next week as there are sure to be major changes throughout the top 25. Thank you for all the support as always!