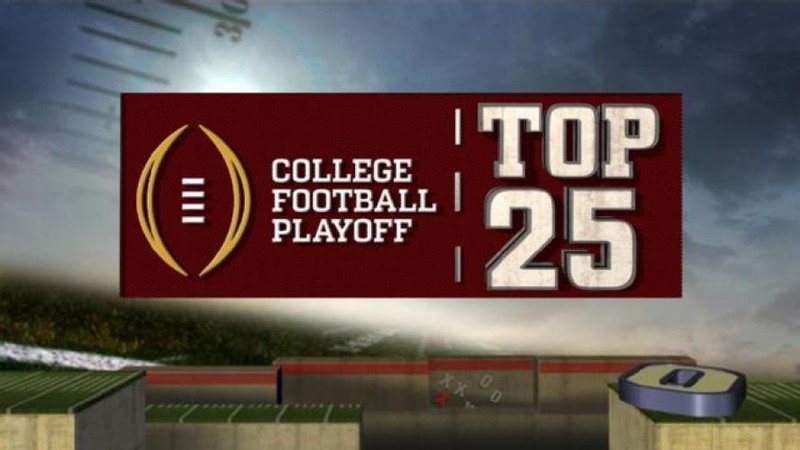 College Football Top 25 Week 14 - What to do with Ohio State and Oklahoma?
Rivalry weekend did not disappoint as we had several high-profile showdowns, and the playoff picture has become crystal clear with 7 teams left with a legitimate shot to get in. Michigan, Washington State, and any remote chance that LSU had of reaching the 4-team field went out the window this past weekend, and a great debate has already begun between Ohio State and Oklahoma, but neither is a lock to make it in. As always, there is plenty to cover, so before the CFP committee releases their penultimate set of rankings tonight, check out this week's updated top 25: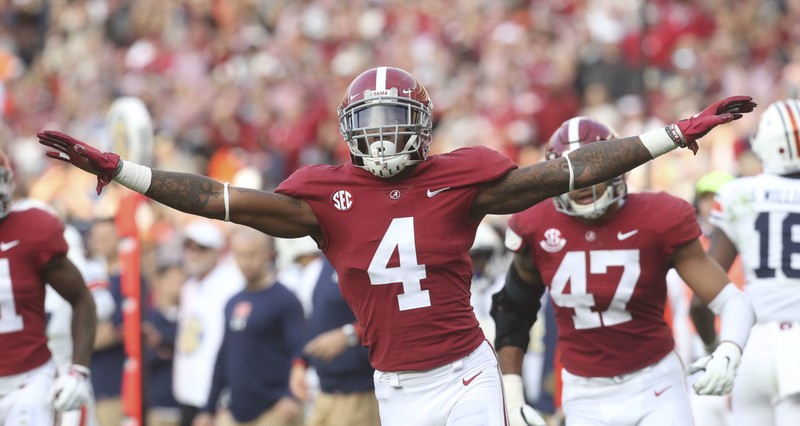 The Alabama Crimson Tide showed why they are the top team in college football by routing in-state rival Auburn in the Iron Bowl. The 52-21 stomping of the Tigers had to bring with it a certain extra measure of satisfaction as the Tide were able to get revenge for last season's 26-14 loss. The blowout victory keeps Bama firmly in the top spot and I am willing to officially clinch them a spot in the playoff. Even with a loss to a Georgia team that is playing some of the best football in the country as of late in the SEC title game, I don't see a scenario for them getting left out. A 1-loss Alabama is still well ahead of a 1-loss Oklahoma or Ohio State, even if one of the latter would be a conference champion. Bottom line, The Tide are in.
Behind Alabama, Clemson squared off with South Carolina and knocked off their rivals 56-35. Another routine win has the Tigers locked into the #2 spot ahead of the ACC Title game where they will be heavily favored against a 7-5 Pitt squad.
Notre Dame locked up a spot in the playoff as well by getting past a sub-par USC squad, 24-17. The Fighting Irish came out flat and fell behind early, 10-0, before scoring 24 unanswered, and then held off a late Trojans rally. ND wrapped up a perfect 12-0 season, and with it, secured a spot in the playoff.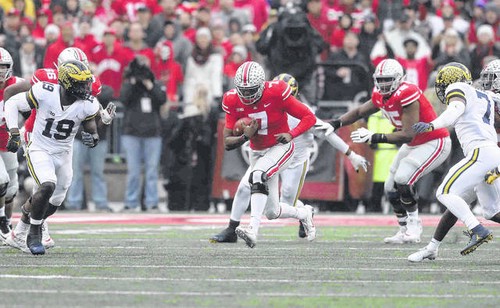 Behind Notre Dame, the Michigan Wolverines took the #1 defense in the country to Columbus, and were demolished 62-39 by in-state rivals Ohio State. The 62 points were the most ever allowed by a Michigan team in their history dating back to the 1880s. Jim Harbaugh dropped to 0-4 against Urban Meyer and Ohio State, and the Wolverines saw their playoff hopes go up in smoke just like their defensive gameplan. The loss dropped Michigan 4 spots to #8 in this week's rankings. It also allowed the Georgia Bulldogs to move up into the #4 position after they jumped all over in-state rival Georgia Tech early and built a 38-7 halftime lead on their way to a 45-21 victory.
Rounding out the top five are the Central Florida Knights, who were able to route in-state rival South Florida in Tampa, 38-10 on Friday to finish out a perfect 11-0 regular season. The win came with a severe price however, as star do-it-all QB McKenzie Milton suffered a horrific knee injury early in the 2nd Qt on an option keeper. The Knights were able to get the job done in honor of Milton as he had successful surgery to repair the knee. UCF will host Memphis (8-4) in the AAC title game, who happens to be the one team that Central Florida struggled with (won 31-30 @ Memphis) during the regular season. They will most likely land at 7 in the next CFP rankings, right behind Oklahoma and Ohio State, but for this week they stay ahead of both and move up one spot to #5.
The aforementioned Buckeyes jump up four spots this week to #6 after their route of Michigan. Bad loss to Purdue aside, the win over the previously #4 ranked Wolverines, combined with wins over Penn State and Michigan State gives OSU the better resume than Oklahoma. Speaking of the Sooners, they are up a spot to 7 after getting a few questionable penalties to go their way in a 59-56 shootout victory at West Virginia. The win means OU gets a second crack at Texas and a chance to avenge their only loss of the season (45-48) in the Big XII title game. It also means they finished the regular season by allowing 47.2 points per game over their final 4 games. Ouch - the lack of any defense whatsoever puts the Sooners behind both UCF and OSU.
Behind Michigan at 8, are the Texas Longhorns at #9, up 3 spots and into the top 10 after hanging on at Kansas, 24-17. The Longhorns lead 21-0 through 3 quarters and perhaps got caught looking ahead to the Big XII title game next week as they nearly blew it in the 4th quarter. Rounding out the top 10 behind Texas are the Washington Huskies, who are up four spots after getting a huge 28-15 upset of previously #7 Washington State in the Apple Cup on Friday. UW punched their ticket to the Pac 12 title game with the win, and eliminated the Cougars from playoff contention.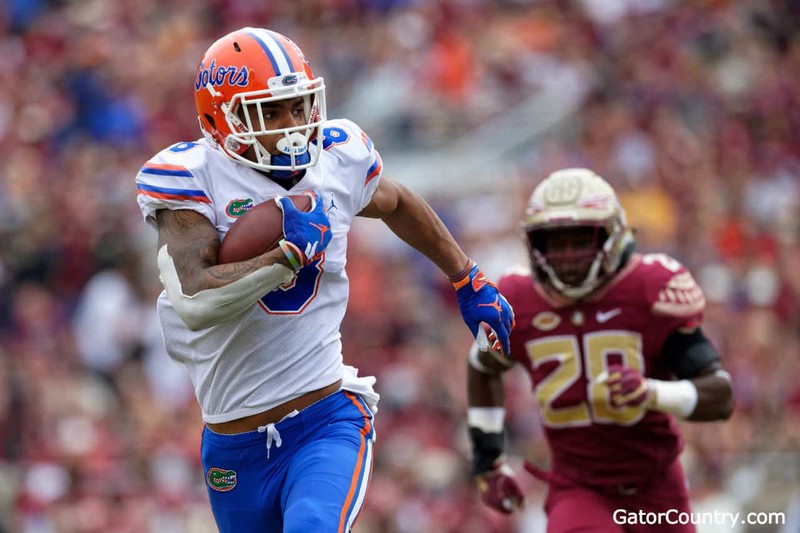 Behind the Huskies are the Florida Gators, up four spots this week to 11, after blowing out in-state rival Florida State, 41-14. The Seminoles actually had high expectations at the onset of the season, but finished out a very disappointing 5-7 and will miss a Bowl game after finishing the season just 1-4, losing those 4 by an average of 28.5 per game. LSU slid three spots to #12 this week after coming out on the short-end of the stick following a record setting 7OT loss @ Texas A&M. The 72-74 loss set several records, and was a game that seemed as though it would never end. The loss gives the Tigers 3 and will surely drop them out of the committee's top 10, as once-again, another team that has been over-ranked by the committee lost. Rounding out the top 15, Washington State settled at 13 following their loss to Washington in the Apple Cup on Friday. Penn State moved up to 14 after getting a routine win at Maryland, 38-3, which ended any hopes that the Terps may have had of reaching a bowl game. And West Virginia settles in at 15, following the tough home-loss to Oklahoma. WVU's defense was abysmal in back-to-back losses to close out the regular season that cost them a shot at the playoff and the Big XII title.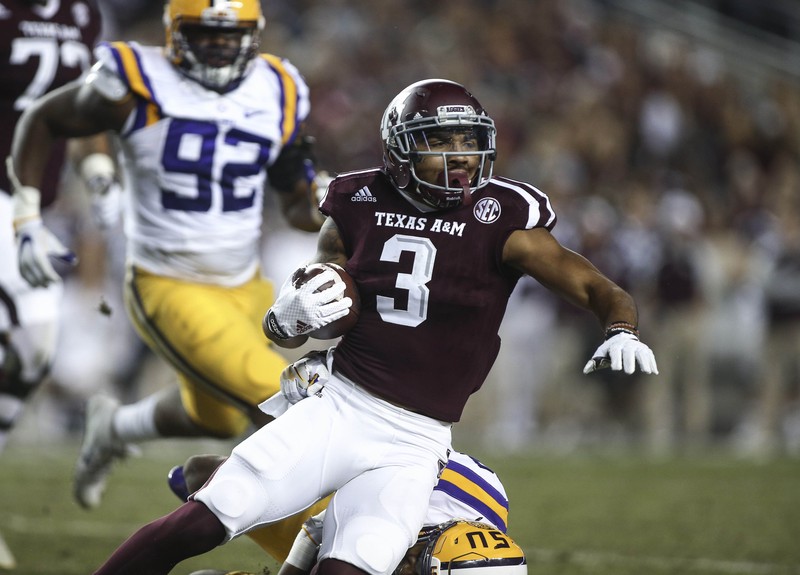 Kentucky, Boise State, who got a big victory over previously 10-1 #14 Utah State, Utah, and Syracuse all moved up 1 spot in this week's rankings, comprising the 16-19 spots, respectively. Texas A&M jumped up four spots to #20 after outlasting LSU in the 74-72 7OT thriller, to finish 8-4.
Army, Northwestern, Missisippi State, and Iowa State all remained in place at 21-24 after handling their business, with Army idle as they await the big season-ending showdown with Navy. Utah State settled in at #25, the big tumbler of the week, falling 11 spots after their loss in Boise on Saturday night. For the first time all season, there were no new teams into the top 25 this week, but plenty of movement as always. Here is week 14's updated top 25:
Top 25
1 ALABAMA (12-0) ☆
2 CLEMSON (12-0)
3 NOTRE DAME (12-0) ☆
4 GEORGIA (11-1)
5 UCF (11-0)
6 OHIO ST. (11-1)
7 OKLAHOMA (11-1)
8 MICHIGAN (10-2)
9 TEXAS (9-3)
10 WASHINGTON (9-3)
11 FLORIDA (9-3)
12 LSU (9-3)
13 WASHINGTON ST. (10-2)
14 PENN ST. (9-3)
15 WEST VIRGINIA (8-3)
16 KENTUCKY (9-3)
17 BOISE ST. (10-2)
18 UTAH (9-3)
19 SYRACUSE (9-3)
20 TEXAS A&M (8-4)
21 ARMY (9-2)
22 NORTHWESTERN (8-4)
23 MISSISSIPPI ST. (8-4)
24 IOWA ST. (7-4)
25 UTAH ST. (10-2)
Dropped out: N/A
☆ - clinched a playoff spot (unofficially)
Fresno State (10-2), Missouri (8-4), Iowa (8-4), Cincinnati (10-2), and N.C. State (8-3) are the next group of teams just outside of the rankings. Utah State just edges out Fresno to remain in the top 25 for another week.
Looking ahead to this weekend, it's Conference Championship weekend, with a slew of games that will crown Champions in all of the "power 5" conferences. None is bigger than the SEC title game between #1 Alabama and #4 Georgia. It's simple for UGA - win and your in, lose and you are almost certainly out. The Big TEN title game features Ohio State yet again, clashing with #22 Northwestern, as the Buckeyes attempt to make a case to sneak into the playoff. Oklahoma has a chance at redemption and to impress the committee if they can avenge their only loss of the season and knock off #9 Texas in the Big XII title game. #2 Clemson takes on a 7-5 Pitt squad, who is mediocre at best in the ACC title game, where a loss could potentially derail the Tigers' playoff bid, due to how poor the conference was as a whole. (The only other ranked ACC squad is #19 Syracuse - ugh.) And in a lesser matchup, with no playoff implications, a pair of 3-loss teams square off in the Pac 12 title game between Washington and Utah.
In addition, #5 UCF will take on Memphis, and should the Knights' win, and both Ohio State and Oklahoma somehow lose, the door would be opened up just enough to possibly let the unbeaten Knights into the playoff. First things first though, as the Tigers will be a stern test, as they boast one of the top offenses in the country.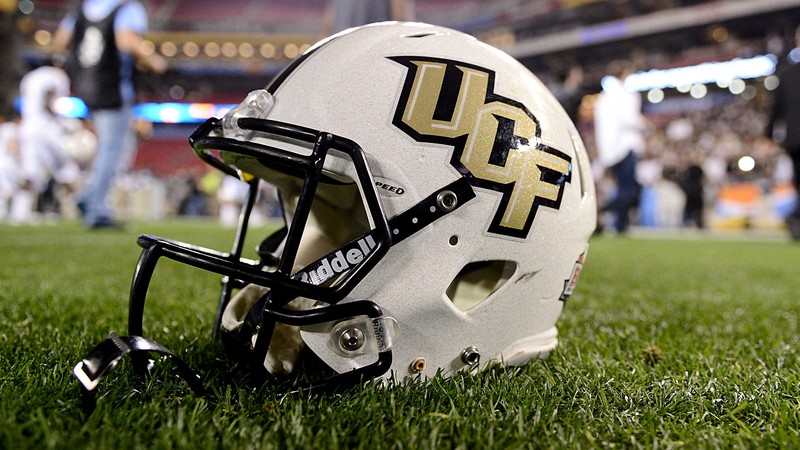 In addition, the Sun Belt will crown a champion as well when 9-2 Appilachian State squares off with 7-5 UL-Lafayette, 7-5 Northern Illinois will meet 10-2 Buffalo in the MAC title game, and UAB - one of the feel-good stories of this CF season will have a chance to take home the Conference USA crown if they can defeat Middle Tennessee. Lastly, a pair of 10-2 teams will do battle in a rematch of last year's Mountain West title game as Boise State and Fresno State will once again do battle. After championship weekend, the Bowl and playoff picture will be set, so be sure to check back again next week for our final set of rankings before the postseason! Enjoy all of the quality matchups this weekend and see you again next week!