Heisman Flashback: 1962 - Terry Baker Comes Out of No Where to Win the Trophy
Heading into the 1962 NCAA football season, the Oregon State Beavers were an afterthought for the most part. They had won a Rose Bowl (back in 1941), and lost one (1956). Other than that, a couple of Pineapple Bowl appearances was about all the Beavers had to boast about to that point in recent history.
The Pacific Coast Conference (PCC) had disbanded following the 1959 season, and the Beavers were competing as independents the season Terry Baker arrived on campus. Freshmen were ineligible at the time, so he first saw the field as a sophomore in 1960. Oregon State went 6-3-1 that season, but followed it up by going just 5-5 in Baker's 1961 junior year campaign. With a combined record of just (14-15-1) over the previous three seasons, and Baker putting together 2-year totals of 1,738 passing yards with just 12 TDs against 20 INT, nobody was predicting much of anything for Baker or the Beavers in 1962.
Baker was an extremely - talented overall athlete. He was a 3-sport star was heavily recruited in not just football, but basketball and baseball as well. He actually came to Oregon State thanks to a basketball scholarship, and later walked-on to the football team. By his senior season of 1962, the QB was ready to match his success on the basketball court - he averaged 10.7 points and 3.0 rebounds per game as a junior and went on to average over 13 per contest during his 1962-63 senior season.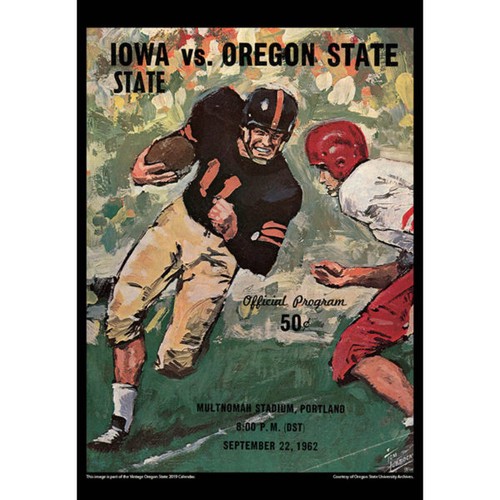 The Beavers started the season with a tough 4-game stretch, managing just a split, going 2-2. They won the opener at home against Iowa State 39-35 in a thriller, then went to Iowa the following week and lost 8-28. OSU bounced right back the following week with an impressive 27-0 shutout @ #12 Stanford. They dropped a nail-biter at home to #7 Washington 13-14 the following week. The tough loss to the Huskies would be the Beavers last of the season as they went on to win their final 7 games, including a victory in the Liberty Bowl.
The highlight was a mid-season 51-22 romping of #19 West Virginia in which Baker threw 3 first half TDs. They followed that up by closing the season with notable victories over Washington State, Colorado State, and in-state rival Oregon in the regular season finale.
Baker finished the season with 1,738 yards passing (ironically, the same exact total of his first two seasons combined), good for 2nd in the country behind only George Mira of Miami FL and his 1,893 yards. He threw 15 TDs - tied for most in the nation with Boston College's Jack Concannon. Baker also led the country in both passer rating (146.5) and yards per attempt (8.6). It wasn't just his arm that did the work during the 62' campaign as Baker's overall athletic ability was on display as well, as he rushed for 538 yards and another 9 TDs, averaging 4.7 yards per attempt. His 9 rushing scores were good for 11th most in the country. His 2,276 total yards and 24 total TDs both led the nation and Oregon State had their pick of a Bowl game for the first time in over a decade.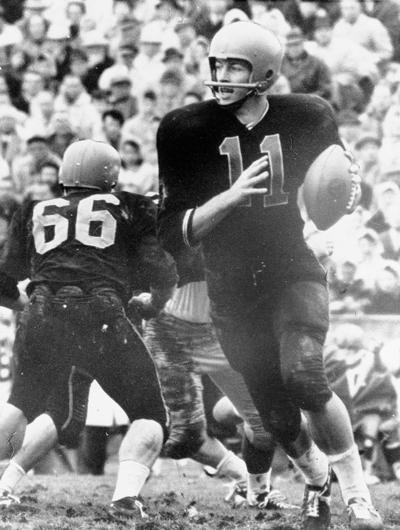 The Beavers met fellow-independent Villanova (7-2), who was a solid squad themselves, making for an eastcoast-westcoast showdown in the Liberty Bowl. Baker broke a 99-yard touchdown run around the left end and up the left sideline for the game's only score, propelling Oregon State to a 6-0 victory. The run is both an Oregon State and Bowl game record, and is tied for the longest in NCAA football history. The victory gave the Beavers a final tally of 9-2 and a #16 ranking in the final coaches poll, only the third time in the past 21 years that OSU managed to finish the season ranked.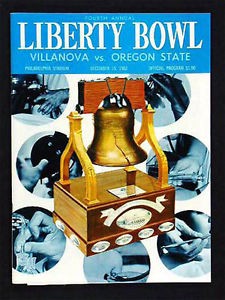 Baker finished off his unlikely Heisman campaign by being named a consensus 1st team All-American, the 1962 Maxwell Award-winner, was the Liberty Bowl MVP after his record-setting 99 yard run, and was named the Sports Illustrated 'Sportsman of the Year'. It was a banner year for the program and one of the most incredible all-around seasons in college football history when you take into account that Baker also served as the team's full-time punter during his Heisman-winning campaign in addition to everything else he did.
He went on to play in parts of three NFL seasons from 1963-65 with the Los Angeles Rams, making more of a mark as a rusher and receiver than a passer, accumulating 210 yards rushing with a score and 302 yards and 2 scores receiving, to just 154 passing yards with no TD passes and 4 INT. Baker's 1962 season will always be one of the greatest in not just Oregon State history, but an important one in the long history of college football in general. He became the first west-coast player to win the award, and remains the only Heisman winner from the Pacific Northwest, specifically, to date.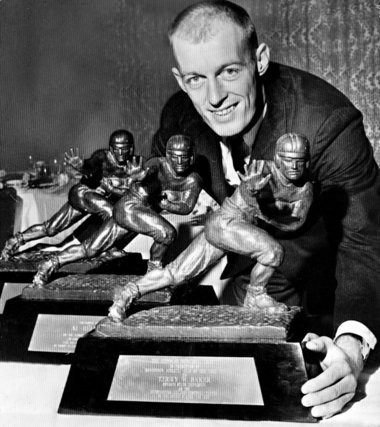 Baker's story is ultimately one of incredible athleticism, and two-sport ability that was really ahead of his time. His breakout season really helped to put west coast football on the map and helped paved the way for the national exposure of the extremely-talented USC and UCLA teams of the late 60s and 1970s. Between 1965-1981 west-coast players would go on to win 5 Heisman trophies total. So when you think of west-coast football, remember that it was Baker's and Oregon State's 1962 season that had just as big of an overall impact as any in helping to spread exposure for west-coast football throughout the country.