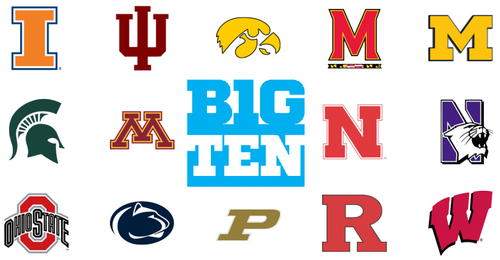 The Big TEN has been easily rated the top Conference in college hoops for the 2019-20 season. The Big XII is right there as well, with Kansas & Baylor leading the charge. From top-to-bottom, however, the Big TEN has the most depth of any conference in the nation. There has been plenty of talk of the conference even landing 10 teams in the NCAA tournament or possibly even more believe it or not.
-
Some teams did exceptional during their nonconference slate, and built some solid resumes, but have struggled in league play (Michigan & Ohio State in particular). Some have a handful of very good wins within Big TEN play, but with all of them coming at home (Minnesota comes to mind). So, just how many teams can the conference land in the tournament & who would be in if the big dance started today? Let's dive in and take a closer look.
-
CREAM OF THE CROP
-
#9 Maryland at 8-3 in conference play & 18-4 overall leads the way. The Terrapins have been solid all season long and pace the conference. They are getting a big boost from their 13-0 record at home, and have only played two teams ranked in the top 25 thus far, winning both. Obviously, they should be in the tournament, most likely as a 2-4 seed.
-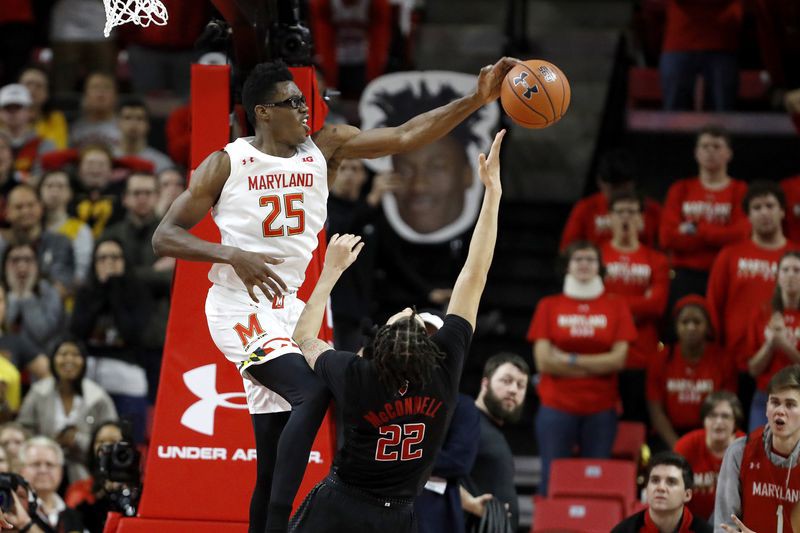 The other team tied atop the Big TEN standings at the moment is surprise, surprise the Illinois Fighting Illini. Ranked #20, Illinois is also 8-3 in league play & 16-6 overall. At 4-4 on the road, they have one the conference's better away marks. Included in those road victories are wins at Michigan & at Wisconsin.
-
#16 Michigan State are right behind Maryland & Illinois at 8-4 in conference play & 16-7 overall. Tom Izzo's squad once again played a quality nonconference slate, and barring a huge collapse, should find themselves in the thick of the NCAA tournament once again.
-
Then there is red-hot #22 Penn State, who are winners of 5 straight & sit at 7-4 in conference & 17-5 overall. The upstart Nittany Lions should be in the tournament, especially considering they have the league's best road record to date at 4-3. Iowa & Rutgers are both 7-5 in the Big TEN & 16-7 overall. The Hawkeyes have 5 victories over the top 25 & the Scarlet Knights are getting a huge boost from their impressive 15-0 home record. At just 1-5 on the road, however, they will need to keep winning.
-
Maryland, Illinois, Michigan State, Penn State, Iowa, and Rutgers would all be safely in if the tournament started today. Now we get into the second group of six teams that could still grab an at-large bid and crash the party.
-
Out of that next group, Indiana is most likely in the best shape. The Hoosiers are 15-7 overall despite losing 3 straight, but are just 5-6 in league play. Victories over Michigan State & Florida State are impressive, but still leaves them with work to do. With a "NET" rating of 51 & SOS of 19, the metrics are high enough that Indiana would most likely be in at the moment.
-
What about the three teams that are all currently sitting at .500 in conference play. Minnesota, Purdue, and Wisconsin are all 6-6 in league play, and sit at 12-10, 13-10, and 13-10 overall. The Badgers might have the upper hand out of that group thanks to their 3 road victories, while Purdue is just 2-6 on the road & Minnesota is an even worse 1-7. So what do the metrics think of the three?
-
WISCONSIN (6-6, 13-10)
NET: 35 RPI: 40 SOS: 5
-
MINNESOTA (6-6, 12-10)
NET: 42 RPI: 60 SOS: 4
-
PURDUE (6-6, 13-10)
NET: 29 RPI: 69 SOS: 7
-
Out of the trio, Wisconsin has the best looking resume based on the metrics. A 35 NET rating, 40 RPI, and top 5 strength of schedule all point to a tournament team despite the 10 losses. Plus they own victories over both Maryland & Michigan State, and an impressive road win at Penn State. They also own a 20-point win over Indiana and a blowout of Marquette in nonconference play. The Badgers are safe for now, and would be in, but they have plenty of work to do.
-
Minnesota & Purdue both have solid strength of schedule numbers (top 7), and with NET ratings of 42 & 29, respectively, are right in the thick of the "bubble" as well. The home/road splits are a little drastic for both, however, and while both of these teams have been very good at home, they have been downright awful on the road. Right now, I would have both just out of the tournament, but very much close to the cut-line.
-
Then we have perhaps the two toughest teams to try and assess. Ohio State is now 5-6 in league play & 15-7 overall. The losing skid has subsided, and it appears the Buckeyes are back to winning. They went from a 2-6 start in conference play to 5-6 after winning 3 straight. They have the #6 SOS, a NET rating of 16, and RPI of 39. All would suggest a clear tournament team. They were swept by Minnesota, but have impressive nonconference wins over Kentucky, Cincinnati, and a 25-point rout of Villanova. All of it suggests this team might have just went from being out of the tournament to a 5-7 seed in a matter of 3 games.
-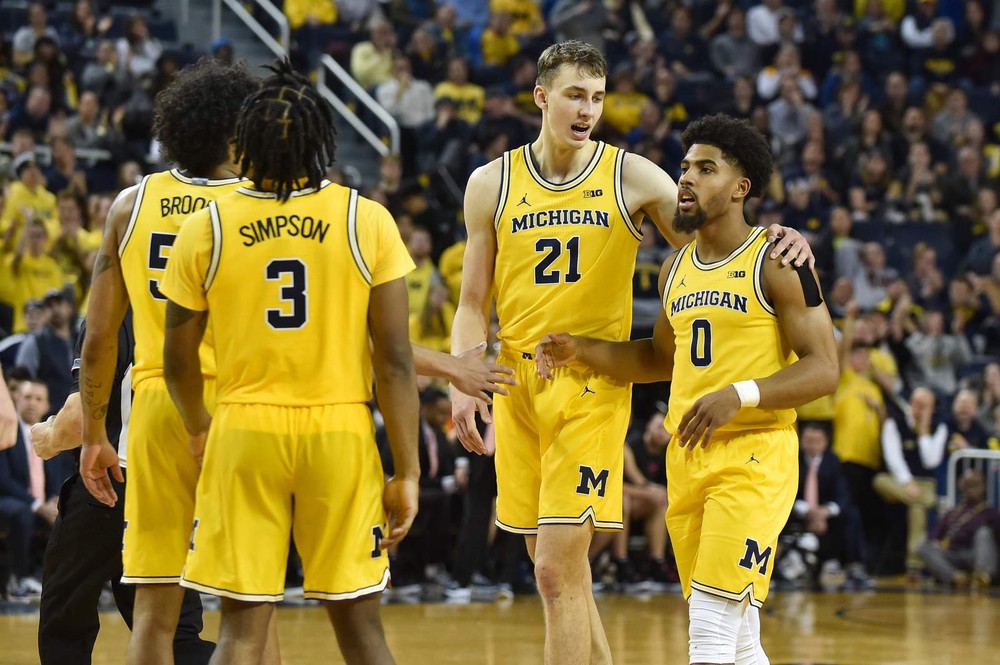 Lastly, we have the Michigan Wolverines. They just dropped a tough one at home to rivals Ohio State, 61-58. They do own victories over Rutgers & a blowout of Iowa in Big TEN play, and they are the only team to have beaten Gonzaga thus far, and they did so in dominant fashion - 82-64. They also own a 10-point win over Creighton, and a road victory at Iowa State in the nonconference. But at just 4-7 in the Big TEN & 13-9 overall, have the Wolverines left themselves too much work to do?
-
MICHIGAN (4-7, 13-9)
NET: 34 RPI: 65 SOS: 3
-
With the third-toughest schedule in the entire country, and a top 35 NET rating, and the aforementioned nonconference wins, the Wolverines might still be in. The win over Gonzaga is one of the most impressive in the country. If they can pickup a couple of more quality wins in conference play, they very well can play themselves into a top 7-seed.
-
So, what is the conference's current NCAA tournament outlook?:
-
IN:
-
Maryland (18-4), Illinois (16-6), Michigan State (16-7), Penn State (17-5), Iowa (16-7), Rutgers (16-7), Ohio State (15-7), Wisconsin (13-10), Indiana (15-7)
-
"BUBBLE":
-
Minnesota (12-10), Michigan (13-9), Purdue (13-10)
-
As always, I appreciate the support & would love to get your thoughts in the comments section below - how many teams will the Big TEN land in the Big Dance & who do you think will make it in?
----