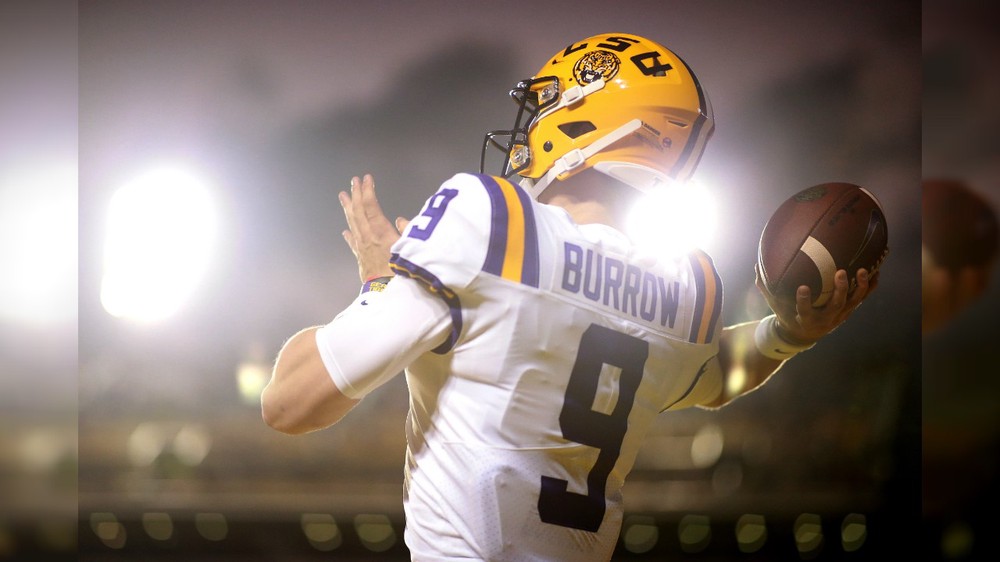 LSU QB Joe Burrow took home the Heisman Trophy on Saturday night in historic fashion. The senior set several records while capturing the award for the nation's most outstanding collegiate football player. He became just the second LSU player to win the award, joining Billy Cannon, who won it back in 1959. Burrow made the most of his opportunities when he transferred to Baton Rouge, stepping in as the starter before last season and leading the Tigers to a 10-3 season, culminating with a Fiesta Bowl win over UCF.
-
The 2019 season has been one heck of a follow up. All he did was turn in a record-setting year for the ages. While leading the Tigers to a perfect 13-0 mark, and the #1 ranking heading into the CFP, he also set several high water marks in the process. He threw for an SEC record 4,715 yards, breaking Tim Couch's 22 year old record, and also set a new SEC mark for TD passes in a season with 48 - breaking Drew Lock's record of 44 from last year.
-
Even after shattering SEC records, the most impressive stat may be his insane 77.9% completion % - easily a new NCAA single-season record. If you can believe it, that number gets even more impressive against better competition. In games against the AP Top 25, that completion % goes up to an even more unfathomable 78.6%. As if those numbers aren't impressive enough, his 201.5 passer rating would also set a new single season mark, breaking Tua Tagovailoa's 199.45 from last season. He also did some damage with his legs as well, adding 289 yards and 3 more scores on the ground.
-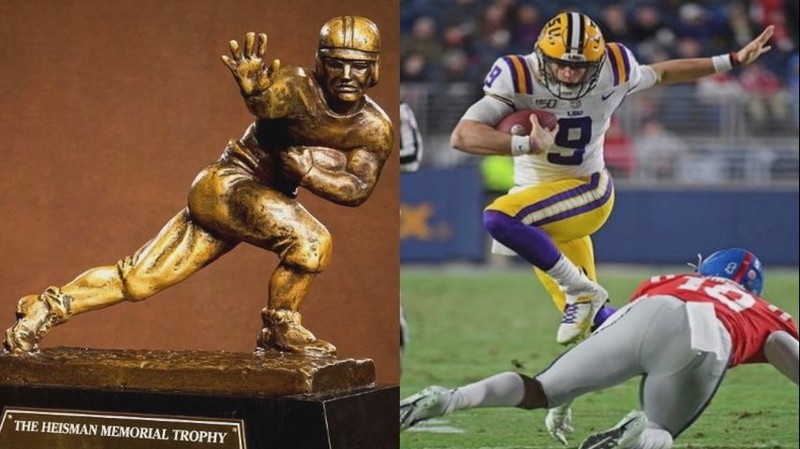 While breaking records and setting new high marks for efficiency, the most impressive of all is the quality slate of opposition that he did it against. Facing some of the top defenses in the entire country, he was absolutely unfazed. He shredded Alabama (#17 in total defense) for 31 of 39 passing for 393 yards and 3 scores, went 21 for 24 (87.5%) for 293 and 3 scores against Florida (#10 in total defense), completed 32 of 42 for 321 yards against Auburn (#19 in total defense), and then put an exclamation point on his season by completely dismantling Georgia's #4 ranked defense in the SEC Title game to the tune of 349 yards and 4 scores. Burrow ripped apart opposing defenses, including several elite units, it wasn't just stat-padding against the weaklings.
-
Lastly, as if the statistics, and level of competition weren't impressive enough, he set several Heisman records while capturing the trophy -
-
* Highest % of first place votes (95.03%) breaking Troy Smith's record of 91.63% in 2006
* Highest % of possible points (93.8%)
* Highest % of possible ballots named (95.5%)
* Largest margin of victory in Heisman history (1,846 points); breaking O.J. Simpson's record of 1,750 set in 1968
-
He also racked up the most total points in Heisman history (2,608). One other interesting tidbit on Burrow and his historic Heisman victory - he became the first player to wear #9 to take home the award.
-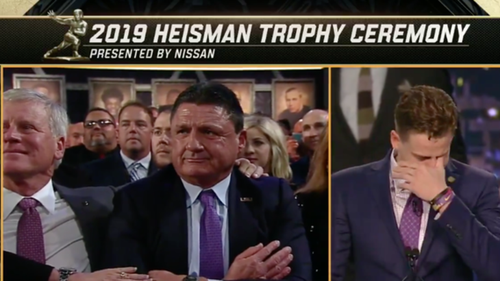 Not only did he turn in a season for the ages, he delivered an acceptance speech for the ages as well. While speaking about the impoverished area in southern Ohio where he grew up, or thanking Coach O & the LSU staff for taking a chance on him, it was a heart-felt, emotional, well-said speech that had the entire room hanging on every word. If you haven't had a chance to see it, it is well worth a look. Congrats to one of the most deserving Heisman Trophy winners in history, I can't wait to see what he does in the CFP & on Sundays.