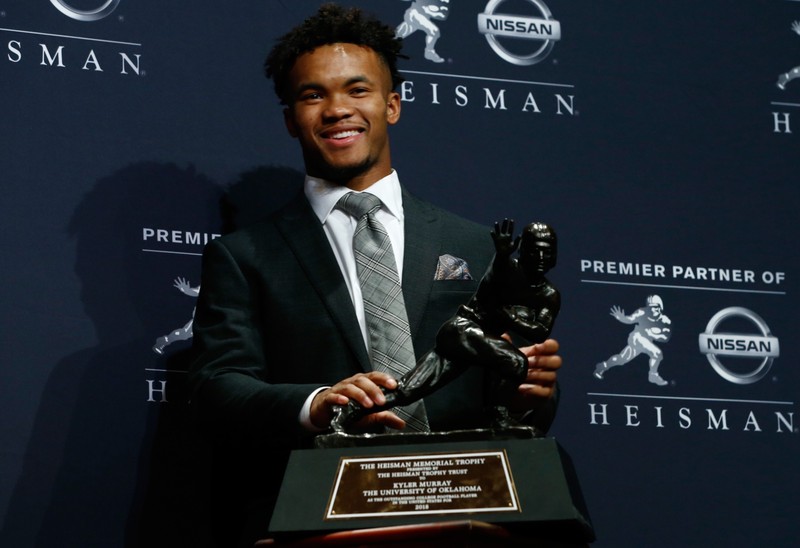 Kyler Murray Takes Home Heisman Trophy
Oklahoma's Kyler Murray took home the Heisman Trophy on Saturday evening becoming the second consecutive Sooner to win the nation's most prestigious individual trophy after current Cleveland Browns' QB Baker Mayfield won the award a year ago. It marks the first time that different players from the same school have won the award in back-to-back seasons since 1945-46 (not including Reggie Bush's vacated 2005 trophy- won after Matt Leinhart's in 2004). You have to go all the way back to Doc Blanchard and Glenn Davis, who each took home the Heisman for Army following the 1945 & 1946 campaigns.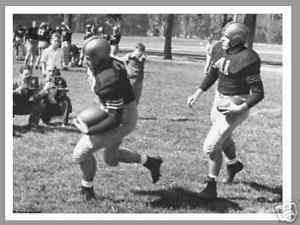 Murray was outstanding for the Sooners as they made a push for the college football playoff. The Junior QB finished the season by throwing for 4,053 yards and 40 TDs compared to just 7 INT. He set a new single-season QB rating mark at 205.7 (breaking Mayfield's record from last year), while completing 70.9% of his passes. He added another 892 yards on the ground and 11 rushing touchdowns. Murray was considered just a "contender" for most of the season, but made a late-season push that concluded with a 379-yard 3 TD, 0 INT - performance against Texas in the Big XII title game.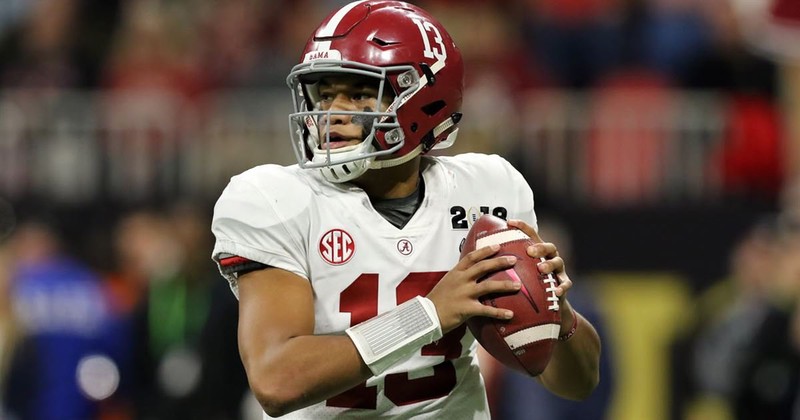 Meanwhile, front-runner, Alabama QB Tua Tagovailoa picked the worst time to have his roughest outing of the season in the SEC Title game against Georgia. The sophomore was just 10/25 for 164 yards with 1 TD and 2 INT before exiting the game with an ankle injury in the 3rd quarter. The Bulldogs put the clamps on the youngster and never really allowed him to get comfortable. Tagovailoa none-the-less put together a remarkable season, throwing for over 3,300 yards with 37 TDs and despite the 2 picks in the SEC title game, only 4 INT on the entire season. In fact, he didn't even throw his first interception of the season until the 9th game, a 29-0 shutout at LSU.
A distant third behind Tagovailoa, was another sophomore in Ohio State QB Dwayne Haskins. Haskins put up mind-popping stats himself for the Big TEN Champion Buckeyes, throwing for a conference-record 4,580 yards. He also broke Drew Brees's conference mark for TD passes (39) with 47 compared to only 8 INTs. He was also right there with Murray in completion % at 70.2.
Central Florida's McKenzie Milton was in the mix as well after leading the Knights to a 2nd consecutive undefeated season, but finished sixth overall in the voting after suffering a devastating knee-injury in the rivalry game against South Florida. In 10 games this season, he finished with 2,663 yards through the air, with 25 TDs to 6 INTs. He also added over 300 yards on the ground and 9 rushing TDs.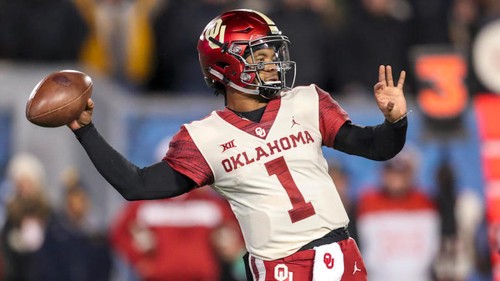 Ultimately, Oklahoma was the pick over UCF, Georgia, and Ohio State to make the playoff, and Murray was relied upon heavily down the stretch for the Sooners, as their leaky sieve of a defense was torched for 47.2 points per game over their final 4 heading into the Big XII title game. Murray led the Oklahoma O to a staggering 53.2 points per contest during those closing four. The Junior QB may very well not be back for his senior season as many have him jumping up draft boards all-the-way up to a first-round pick. His athleticism and arm strength, and in-particular his accuracy would have NFL teams taking a chance on him despite his 5'10" 190 pound stature. The play-making potential is just too much to pass up. However, NFL teams may have to take a hike, even if Murray is not back in Norman for his Senior year.
That is because he is also an incredibly gifted baseball player, and was selected 9th overall in the MLB draft this past year, where he signed a $4.6 million contract to play for the Oakland Athletics. His agent is "super"-agent Scott Boras, whom from all indications suggest, intends his young client to full-fill his baseball duties. With Murray starring in baseball and football at OU, it has a lot of folks thinking that maybe he could take a page out of the Bo Jackson or Deion Sanders book and play both sports professionally? While professional sports have certainly changed since the 1980s and early 1990s when those two iconic athletes achieved success in both the MLB and NFL, that doesn't mean Murray might not try after taking home the Heisman as the nation's top collegiate football player.