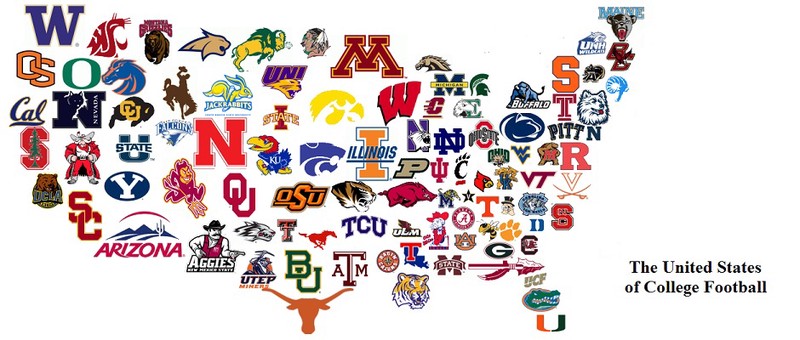 College Football Roundup
Welcome back all! It felt more like an actual weekend of college football this past Saturday, with several "big-time" games, teams from all across the top 25 in action, and of course, the SEC kicking off their 2020 conference-only season. If this year has taught us one thing, it's that nothing is for certain, and to get ready for a wild ride. The college football season has already been a topsy-turvy affair full of will they play or won't they play? Some fans in the stands? No fans in the stands? Just how good are stalwarts Oklahoma & defending Champs LSU after losing so much talent from last year's squads?
Well, college football fans, we had an opportunity to get some answers to that final inquiry, and the results were surprising to say the least.
We start in Norman, OK, where the #6 Sooners were playing hosts to Kansas State. The Wildcats of course, were the lone team to down the Sooners during conference play last season, and were looking to repeat history. Despite no fans / limited fans in the stands, that feat would be a bit tougher the second time around, having to go on the road.
K-State came in a monster +28-point underdog, thanks in part to their lackluster 35-31 home loss to Arkansas State two weeks ago. Oklahoma, meanwhile, dispatched FCS-opponent Missouri State that same weekend with ease.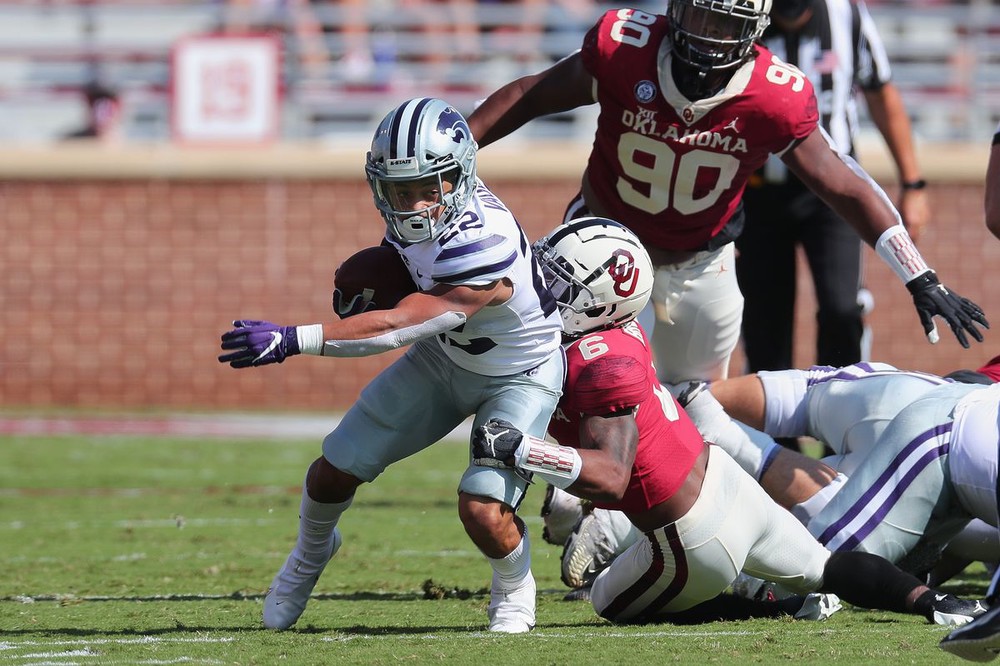 Perhaps the Sooners should have opened with at least a tad bit better competition. After rolling out to leads of 28-7 and 35-14 in the 3rd quarter, OU had to be feeling great about exercising last year's demons and taking care of the Wildcats. From that point, however, Freshman QB Spencer Rattler, who had been outstanding in the 1st half, (he finished with 4 TD passes), looked, well, rattled. 3 INTs and a 17-0 4th quarter later, & K-State rallied for an incredable and highly-improbable 38-35 victory, leaving Oklahoma at just 1-1, and 0-1 to start Big XII play.
The shocking collapse sent the Sooners tumbling in this week's rankings from 6 all the way down to #20. Next up? A trip to Ames to play an Iowa State team that has also given them fits recently (lost at home to ISU in 2017 as a massive favorite, won 42-41 last year when 2-point attempt for ISU failed in the closing moments).
Oklahoma wasn't the only team in action of course, as the SEC kicked off and had several noteworthy games right off the bat. We start at #3, where Nick Saban's Crimson Tide were on the road to take on Missouri. To no surprise, Bama didn't have much trouble in a 38-19 win to get their season rolling.
Meanwhile, many had Georgia slated right behind the Crimson Tide in the top 5 to start the season. They headed to Arkansas as massive favorites to kick things off, but it took the Bulldogs a half of football to get-going. After trailing 7-5 @ the half, it was all UGA after that, using a 32-3 second half to pull away for a 37-10 victory. The win sends the Bulldogs up two spots this week and into the top 10 at #9.
Florida came in with a lofty preseason ranking of #4, as I believe the Gators to be a legitimate contender in 2020, and they hung a 50 spot on Ole Miss, overshadowing Lane Kiffin's Rebels' debut. The impressive 51-35 victory keeps UF right at #4.
The other noteworthy SEC game of the weekend featured Mike Leach's Mississippi State debut. The 'Air Raid' extraordinaire, had the tall task of going into Baton Rouge and trying to take down the defending National Champs. All the Bulldogs did was pull-off the impressive 44-34 upset, while QB K.J. Costello set the SEC single-game passing mark with a whopping 623 yards through the air in the process. It was one heck of a memorable debut for Mike Leach and his Bulldogs.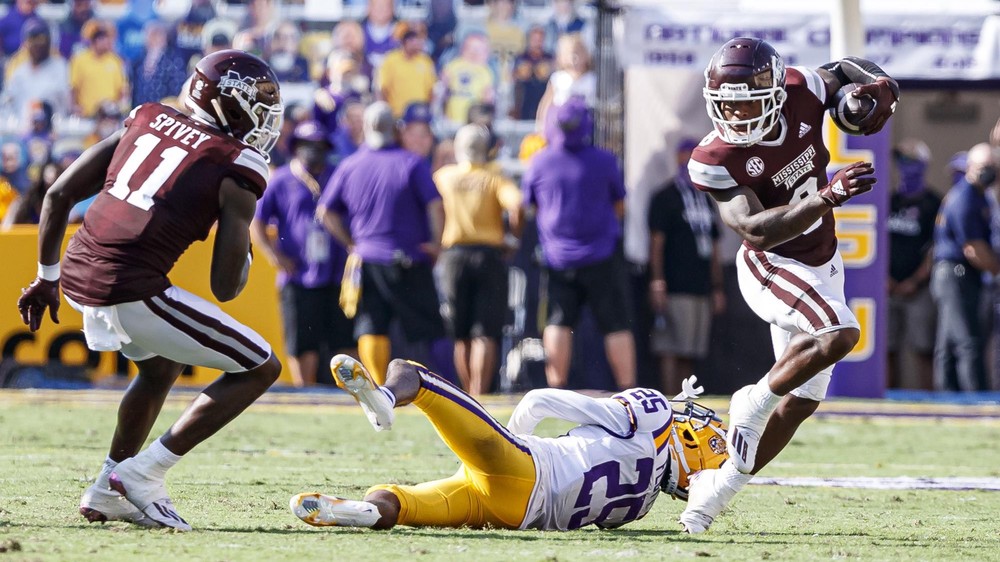 The impressive W sends MSU into the top 25, debuting at #23, while the loss lands LSU all the way back to #24.
Auburn took care of Kentucky 29-13 to inch ever closer to the top 25, and Texas A&M came into their showdown with Vanderbilt as a 31-point favorite. Perhaps the Commodores are being a bit undervalued after returning all 11 starters on the defensive side, but the Aggies looked less than stellar as they squeaked out a 17-12 victory. The lackluster performance dropped them 4 spots to #21 this week.
Rounding out the action from this past Saturday, #5 Oklahoma State bounced-back from a sloppy opening win over Tulsa, by dispatching West Virginia, 27-13. The Cowboys were the lone Big XII team to play any kind of defense over the weekend, and the win keeps them at #5.
UCF was at East Carolina, and despite 12 first-half penalties, buried the Pirates in a 51-28 victory. The win moved the Knights to 2-0 and up 3 spots to #11.
The Miami Hurricanes were into the rankings last week after knocking off Louisville on the road, and they absolutely demolished long-time in-state rivals, Florida State, 52-10, for the most impressive victory of the season. The big W moved the Canes' to 3-0 on the season, and shot them all the way up to #10 in this week's rankings.
Cincinnati was also impressive in a 24-10 home victory over previously 2-0 Army, and Virginia Tech got their season off to a strong start with a 45-24 rout of N.C. State in Blacksburg, VA. The victories sent the Bearcats & Hokies up 5 spots a piece to #s 18 & 19, respectively.
Lastly, Louisiana (UL-Lafayette) knocked off Georgia Southern at the buzzer in a 20-18 home victory to move to 3-0 and remain in the top 25. The Raj'in Cajuns were aided by Iowa State's 34-31 road victory over TCU (they knocked off ISU on the road two weeks ago).
Two SEC games involving top 10 teams had 7-5 halftime scores this past Saturday, Oklahoma blew a 21-point second half lead at home, UL-Lafayette is 3-0 and ranked, an SEC school just threw for over 600 yards in a game, and that is just a tad of what happened over the first "full" Saturday of college football action. Welcome to college football in 2020, strap-on your seatbelts, it's going to be a wild ride through an ever-changing landscape. With fewer games, the lack of non-conference games, and the difficulties of playing through the added strain of the coronavirus, it's going to make the top 25 an ever-evolving process for 2020 as well.
It will be tougher for teams to overcome that "upset" or "bad" loss, but it will also be a more difficult task to assess the perceptions of what teams are "good", and what teams are not so good. It won't be perfect, but one thing seems for certain, it will be one heck of a wild, fun ride. With that reminder in our back packet, here is this week's updated Ultimate College Football Top 25:
(One Final Note: Big TEN and Pac-12 teams have remained in the rankings for now, with the announcements that both will attempt to give it a go, playing 7-8 game schedules. That may or may not change in the coming weeks.)
(Games through Sept 26th)
ULTIMATE COLLEGE FOOTBALL TOP 25:
1 CLEMSON (2-0)
2 OHIO STATE
3 ALABAMA (1-0)
4 FLORIDA (1-0)
5 OKLAHOMA STATE (2-0)
6 NOTRE DAME (2-0)
7 TEXAS (2-0)
8 OREGON
9 GEORGIA (1-0)
10 MIAMI FL (3-0)
11 UCF (2-0)
12 WISCONSIN
13 MINNESOTA
14 PENN STATE
15 USC
16 NORTH CAROLINA (1-0)
17 TENNESSEE (1-0)
18 CINCINNATI (2-0)
19 VIRGINIA TECH (1-0)
20 OKLAHOMA (1-1)
21 TEXAS A&M (1-0)
22 PITTSBURGH (3-0)*
23 MISSISSIPPI STATE (1-0)*
24 LSU (0-1)
25 LOUISIANA (3-0)
*- New to the rankings this week
Dropped Out:
-
21 Michigan, 22 Nebraska
Next:
-
Auburn (1-0), BYU (2-0), Michigan, Nebraska, Cal, Iowa, Indiana, SMU (3-0), Baylor (1-0), Marshall (2-0), Memphis (1-0), Tulane (2-1), Kansas State (1-1)
---
See you all again next week with another updated Ultimate College Football Top 25 - in the meantime, enjoy all of this week's action!
I appreciate the support - be sure to find me on Instagram & YouTube @sportsguychris