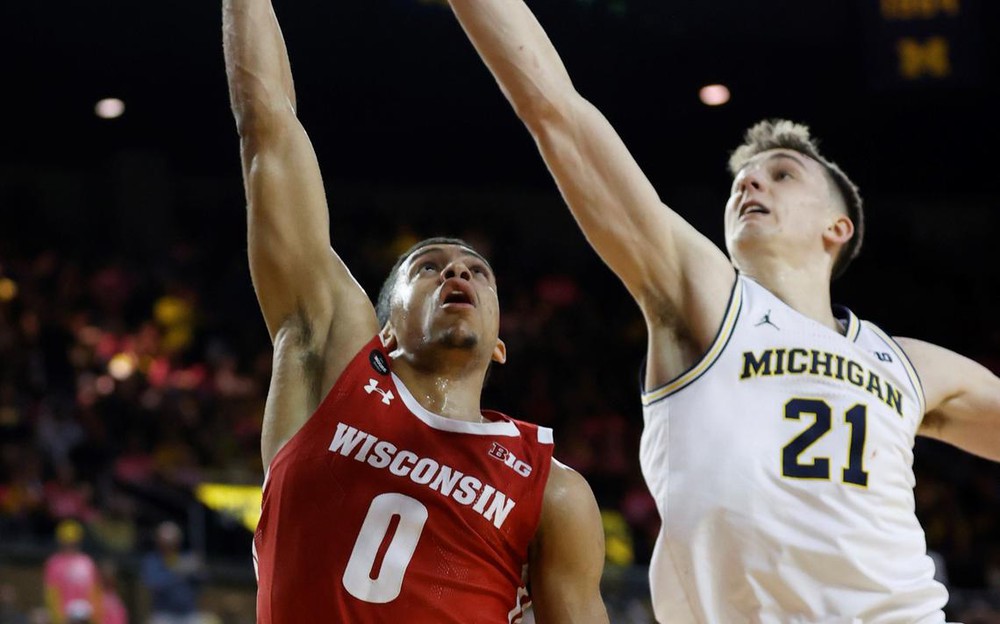 The Wisconsin Badgers got a huge road victory last night, cooling off a red-hot Michigan squad. The Wolverines came in riding a 5-game winning streak, and winners of 7 out of their last 8 overall.
-
The Badgers raced out to a quick start, and were able to build a 10-point halftime lead, taking a 43-33 lead into the locker room. Wisconsin got outstanding performances from Aleem Ford, Micah Porter, and D'Mitrik Trice.
-
Meanwhile, Zavier Simpson did all he could to keep Michigan in the game and try to bring the Wolverines back in the second half. He poured in a game-high 32 points, and added a game-best 6 assists and 5 rebounds as well. Despite the heroics from Simpson, the Wolverines were unable to chip-away quite enough.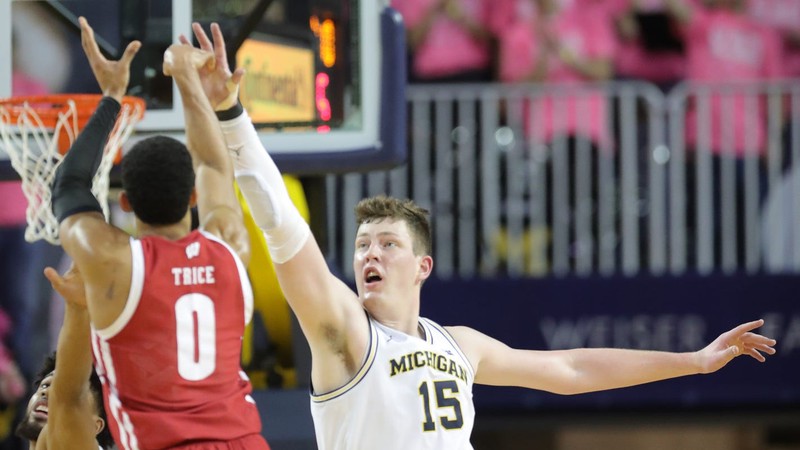 Wisconsin did make it a bit more interesting than they needed to in the closing minute, as Trice twice missed the front-end of a 1-on-1 bonus situation, allowing Michigan an opportunity to make it interesting. After the second missed front-end bonus free throw, the Wolverines were able to cut-it to 3 after a pair of Simpson free throws, and then got a steal off the ensuing inbounds, and drew a foul on the Badgers, heading to the line for their own bonus situation, down just 3.
-
Alas, Michigan was unable to convert, and Wisconsin was able to secure the rebound, and this time hit a pair of free throws to help put it away. Trice finished with 28, including a big three late in the second half, after Michigan had cut a 12-point deficit to just 70-67 with under 4 minutes to play.
-
Ford ended up doubling his season scoring average (8.1 ppg) and some, pouring in 18 to go along with 8 boards. Potter finished up with 18 as well, and 7 rebounds as Wisconsin picked up one of their more impressive victories on the season. It also marked their 8th 'Quad 1' win - going for second-most in the country. Both the Badgers & Wolverines should be floating around the 5-7 seed-line after last night's Big TEN showdown.
----
Chris Elgersma
-
You can find me on IG & YouTube @sportsguychris
-
I'll be providing weekly top 25 rankings, NCAA tournament projections, and "bubble" assessments as we get closer to the Big Dance. Be sure to check back for plenty of college hoops coverage & everything else in the world of sports!