Earlier in the season I did one of my first podcasts and I did it over which team I thought Ohio State might stumble on. First two cupcakes I knew would be easy. The one I thought would be the most competitive would be TCU during Urban Meyer's suspension. I eyed this game later in the year as one OSU might stumble on but I figured it would be determined on one play and go to whoever had the ball last. This program is known for playing down to their opponent until the 4th quarter.
Fast forward to last night. I noticed Ohio State was down 14-6 on the road to Purdue. A team who going into the game was 3-3 with losses to Eastern Michigan, Northwestern and a middling Missouri team. Ohio State lost to a team that got beat by EASTERN MICHIGAN.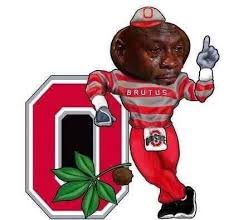 Can they make the playoffs after such a BAD loss? Oh I am sure but they'll need to send the CFP committee more than a fruit basket.
At one point they were 0/8 on 3rd down. And did not score a touchdown until the 4th quarter not against the Steel Curtain of the 70's defense. But the Boilermakers!
God I love college ball.
Look at the sea in West Lafayette. Typically they will try to save the goal posts or keep fans off the field. The field care crew was like nah screw it. And they were probably partying on that field too. This kind of win puts your school on the map. Hats off to these men. They will have this memory forever. And Urban is probably looking into illnesses on Webmd that can get him to retire early.