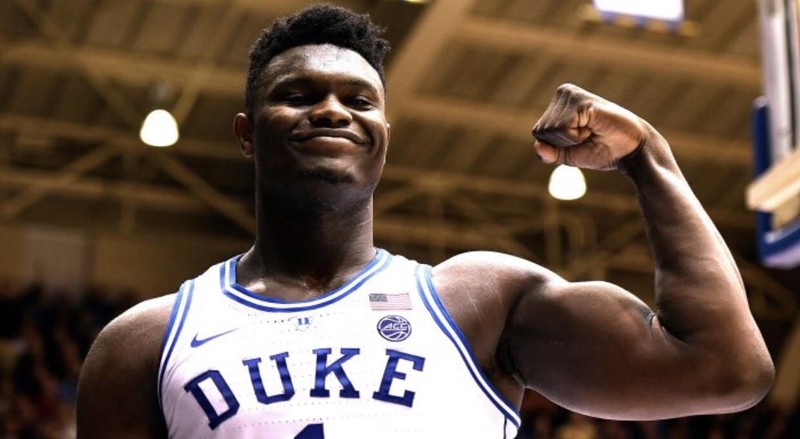 It has been an outstanding opening weekend in the 2019 NCAA Tournament. This is by far my favorite sporting event of the year and it has lived up to all of the hype so far. We saw an overwhelming amount of underdogs covering over the first two days. But yesterday we saw the favorites go 6-2 against the spread and there were no upset winners as all of the favored teams advanced.
Let's take a look at all 8 games on the board for today and I will give you my picks in hopes of lining your bank accounts with some coins to close out the opening weekend of the tournament.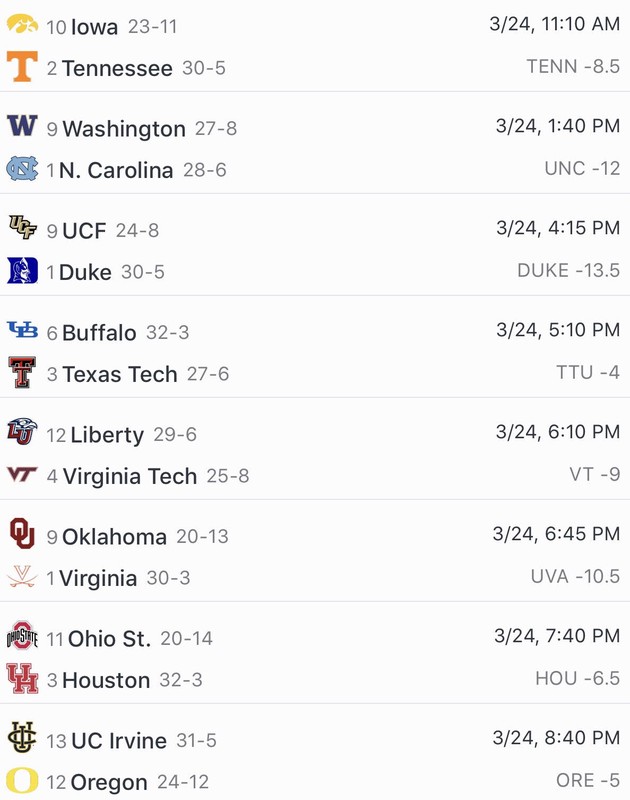 Look at that beautiful list of games! I have some pretty strong feelings on all of these match-ups. Here are all of my picks for the day:
Tennessee vs. Iowa - OVER 155 - This game will be the highest scoring game on the board today. Iowa is coming off of an impressive come back win over the Cincinnati Bear Cats on Friday. They live and die by the 3 pointer and do not play much defense. That should bode well for a much more talented and physical Tennessee team. I think Iowa will make enough shots from deep to keep this game interesting and Tennessee will put up 80+ points.
Here is an interesting tidbit to consider if the game is close near the end. Iowa Hawkeye Jordan Bohannon is the highest scoring player in the country in the final two minutes/overtime this year...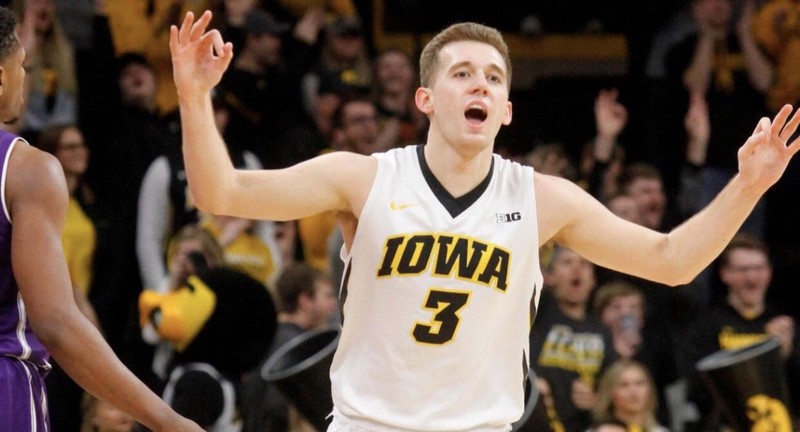 North Carolina vs. Washington - Washington +12 - North Carolina has one of the best offenses in the tournament and although I don't think they will lose today, the 12 point spread is way to many in my opinion. Washington won the Pac-12 regular season crown but since they play on the West Coast, most gamblers are unfamiliar with this team and the North Carolina name is over valued by the public.
Duke vs. UCF - OVER 143 - Zion Williamson is about to meet his biggest match of the season, literally. UCF center, Tacko Fall is 7'6 and has a foot on "Baby Bron" or as I like to call him "Baby Barkley." It will be fun to see this match-up and as much as I can't stand the Duke Blue Devils, I think they will win. But I am staying away from the point spread and betting on the OVER. The total should be much closer to 147 so I love this opportunity at 143.
Texas Tech vs. Buffalo - Buffalo +4 - Buffalo is going to win this game outright. They are a better team and if they can keep Jarrett Culver in check (Culver leads the team in scoring, rebounds, assists) then the Bulls will be moving on to the Sweet 16.
Virginia Tech vs. Liberty - Virginia Tech -9 - I love Virginia Tech and the way they are playing basketball right now. They got their point guard back, Justin Robinson, and they are extremely dangerous. Liberty is a good story and will put up a fight for a bit, but Virginia Tech will pull away and win by double-digits. I also think Virginia Tech will beat the Duke Blue Devils next week!
Virginia vs. Oklahoma - Virginia -10.5 - Oklahoma had a big win on Friday against Ole Miss. But neither Oklahoma or Ole Miss should have even been in the tournament. Both teams were undeserving and I think Virginia will exploit that today.
Last year Virginia was the first #1 seed in the history of the NCAA Tournament to lose to a #16 seed. And on Friday afternoon, they were trailing by double-digits. But then Virginia woke up and blew out Gardner-Webb by 15 points. I think that experience will lead Virginia to an absolute beat down of the Oklahoma Sooners.
Houston vs. Ohio State - Houston -6.5 - It has been a magical season for the Houston Cougars. They are 32-3 on the year but there season is no where near done. It took a miracle 3-point buzzer beater by the Michigan Wolverines to end the Cougars season last year and they are extremely motivated to make it to the Final 4.
Ohio State, on the other hand, is lucky to be here. They barely snuck into the field of 68 and although they won on Friday, there season is coming to an end today. I think Houston will win by 10+.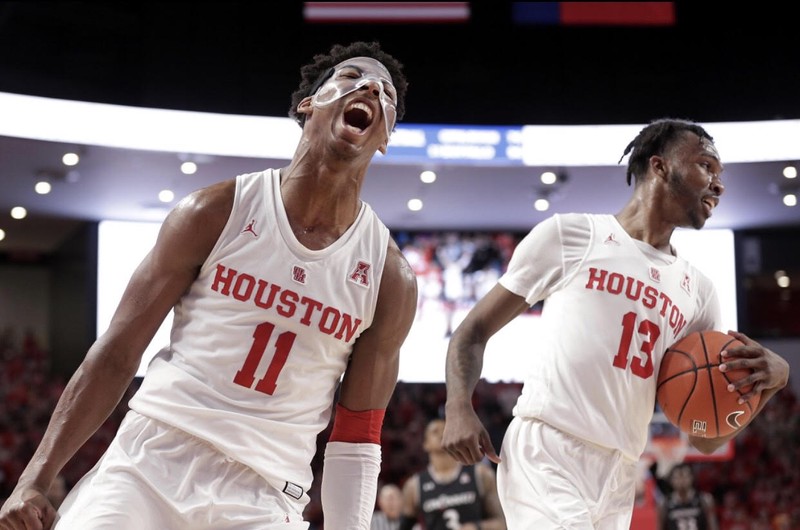 Oregon vs. UC Irvine - UC Irvine +5 - The final game of the night will feature a #12 vs. a #13 seed. That means that we will have at least one high seed guaranteed to move on to the Sweet 16. The Oregon Ducks come in to the game as one of the hottest teams in the country after winning the Pac-12 Conference Tournament and a first round upset of the Wisconsin Badgers. But the Badgers were an extremely weak #5 seed and I think that UC Irvine will win this game.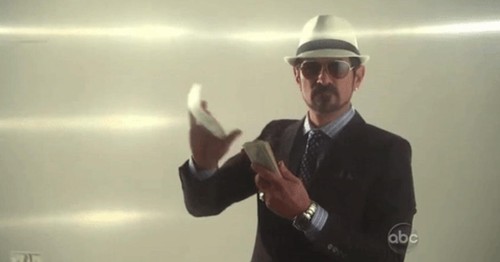 There ya go fellas. A perfect 8-0 on the day is coming...I kid...I am not a gambling expert and please take my gambling advice with a grain of salt. Personally, I am betting on every single one of these games, but I am not encouraging anyone else to gamble.
There is a great line in one of my favorite shows of all-time, Breaking Bad. The sleazy lawyer, Saul Goodman, is quoted "Kids, don't drink and drive. But if you do, call me."
"Kids, don't gamble on sports. But if you do, follow my picks." - Me