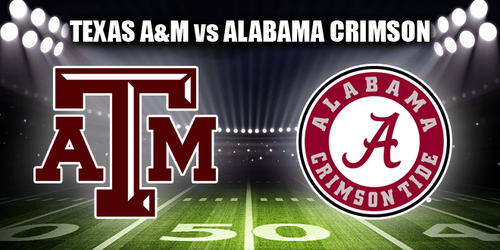 Unsure if any of you guys have been watching Texas A&M but I have. As our great Jimbo Fisher left FSU he went to A&M and is really commanding a powerful Texas team. While they are at 1 - 2, A&M had multiple chances to take down #2 Clemson on the opener of the season and almost pulled it off. Losing by 2 points puts a statement to Alabama, and while I'm an Alabama fan here, I can't help to equally appreciate good football, great D and trick plays.
Everyone says never bet against performance with Alabama, even with a stellar O line and 2 QB's that are some of the greatest talent in Bama history do we see them beating a very strong A&M team by 27?
Here's my take. I DO believe that Alabama will win this game on Saturday at home, will they win by 4 touchdowns I really don't see that happening. I think Texas A&M is a different team this year, and i really believe with Jimbo at the helm it will be much closer than people think. If Clemson was a bit of a struggle for the win and a win by 2 vs a 13 point favorite as the opener while A&M was leading part of that game, I really don't see 27 points being covered here.
Take the points here, and get them early. Its going to drop to 24.5 - 25.5 in that range by Saturday.
I really believe that Alabama will win but it'll be closer then you think.
Taking 3 stars of 5 early on Texas A&M with -27 points.
I think that is a solid win for us. Get em early.
As Always If you question my Accuracy Stats you can either review each post here, I don't erase any picks wins or losses, or just go to my BIO to see my Stats. I update them after each game in completed.
Sports Picker: MLB 4 - 6 (66%) | NFL 4 - 8 (50%) | NCAA Football 9 - 14 (64%)
Stars = 1 - 5 confidence on the bet, so bet accordingly to your increments. Mine may not be yours.
My 1's = If I'm up or feel like taking a shot with minimal research
My 2's = I want in but have limited research
My 3's = I feel confident based on my research to risk 1/2 my bankroll
My 4's = depends how much I'm up or research
My 5's = complete confidence, love the research, more than 1/2 my bankroll, BET the Farm!
How to find me
Steemit: www.steemit.com/@theUXyeti
Steemit: www.steemit.com/@sugarsteem
Discord SugarSteem: https://discord.gg/WspdjKQ
Discord: TheUXyeti or TheUXyeti#5698
Dlive Channel: https://dlive.io/@theuxyeti
IG: thetravelyeti
Twitter: www.twitter.com/@zachsbb8
Scorum: https://scorum.com/en-us/profile/@theuxyeti