Please DM me on telegram or Twitter @snoopzprodigy to claim this entry. Prizepicks is a place where people in non betting states can string together wagers for multipliers and get paid! It's an extremely fun and effective way to profit if you are in tune with sports.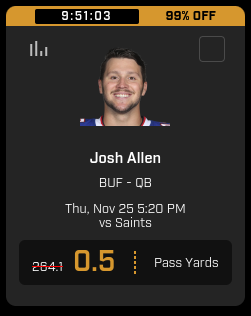 To the first person that DM's me and is willing to use my promo (before 8:30am PST).. I will cover your entry. Simply input my promo and we will both be happy.

They are offering Josh Allen over .5 yards as a gift, so that is one string of your multiplier right there!
Cashouts are minimum $30 but you don't have to make any more than 2 strings in a single parlay.. check out PrizePicks, it's fun and worth it!