Another season of Fantasy Football is in the books and if you were one of the lucky ones, you are about to start your fantasy playoffs and hopefully a run to the championship. This is the time of year where every game counts. A win and your dreams of fantasy glory continue, lose and you are done and you become the brunt of fantasy ridicule.
Tonight marks the beginning of the fantasy playoffs in most leagues. Most leagues end in week 13. This allows the playoffs to take place over weeks 14, 15, and 16. This is done because in many cases, teams have wrapped up playoff spots by week 17 and star players are often rested. There is nothing fun about getting to the fantasy championship game and having half your team being rested before the NFL playoffs. There are some leagues that continue into week 14 and end up using week 17 as a championship game week but they are dumb in my honest opinion.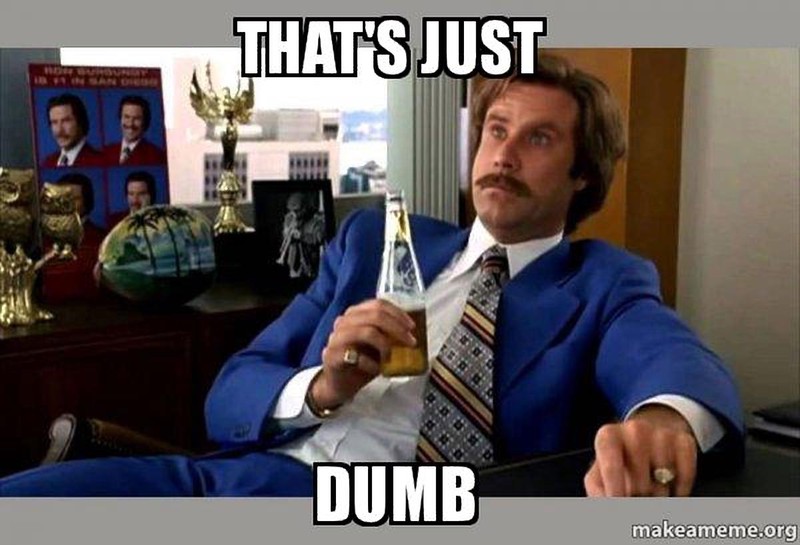 With the fantasy regular season over, I thought it would be a good time to reflect back on my teams from this year. Yes, I said team! I am a fantasy football junkie and I play in several fantasy football leagues. This year I was in 5 leagues total. There of these leagues are keeper leagues (1 is actually a dynasty league) and two others are just single-season leagues that I do for fun. I will quickly break down the good, bad and the ugly from each of the leagues and assess my chances at a fantasy championship which to be perfectly honest are slim and none! The good news is that I only missed the playoffs in one league this year!!!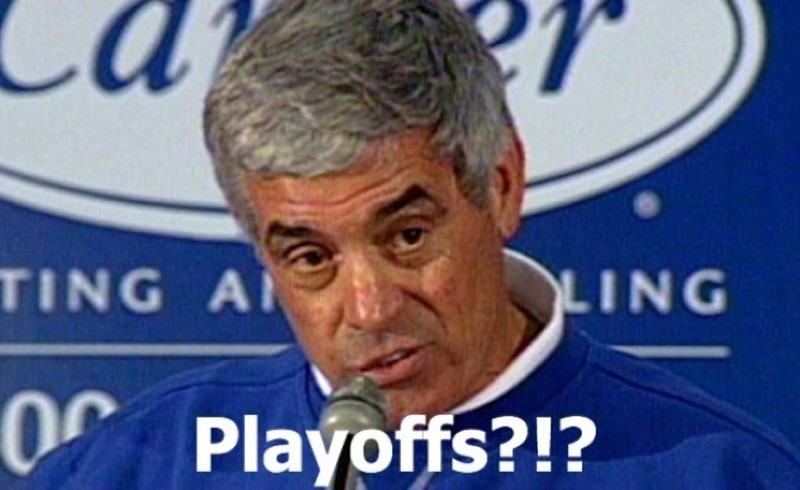 Yahoo - 7 Player Keeper League (10th year) $100 Entry Fee (10 teams) Team Name: Raging Broncos
This is my longest running fantasy league and the one that matters to me the most to me. I was the champion in this league two years ago and then missed the playoffs last year and almost finished last. I wish I would have finished last because that would have given me Saquon Barkley with the first overall pick. To make matters worse, I picked Royce Freeman with the 2nd overall pick. There's a 1st round pick down the toilet, thanks Phillip Lindsay.
This year has been a Jeckle and Hyde season for this team as I just couldn't get any consistency. My team has been lead by my two young stud RB's McCaffrey and Mixon along with WR Devote Adams who I acquired in a straight up trade for AJ Green on draft night. The playoffs were in doubt right up until the final week. Going into the last week I was sitting in 7th place. I needed to win and have one of two other teams lose to tie for 6th place. I had the tiebreaker over both teams. As luck would have it, I did win and both of the teams lost so I leaped up into 5th place and a playoff spot. I have a dangerous team that could really do some damage.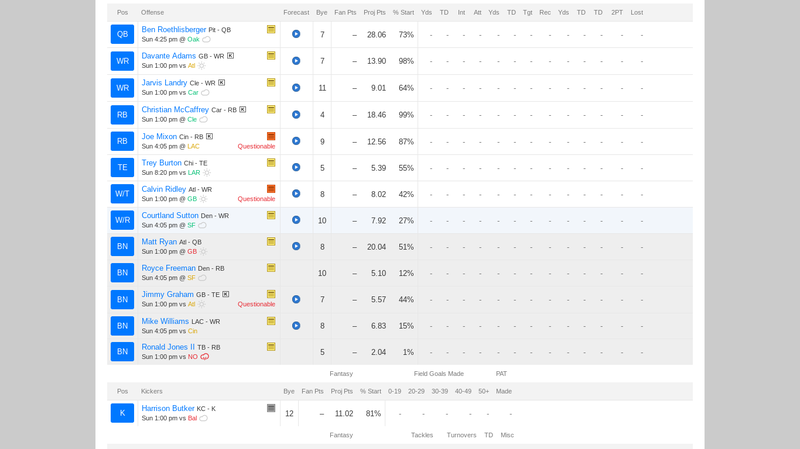 Yahoo - 13 Player Dynasty League (6th year) $100 Entry Fee (10 teams) Team Name: Orange Crush
This is the most complex of the leagues that I am part of. With 13 keepers, the pool of players to select from in the draft each year is very small. It is basically a draft of rookies to the NFL and in many cases a crap shoot after round 1. I have been to the finals 2 times in this league but have come up short both times. This year I selected 8th overall and was able to snag Calvin Ridley who looked great at the start of the season but has cooled off a lot. My strength in this league has been my WR's. Tyreek Hill and AJ Green helped me secure a solid start along with Big Ben at QB. I took a late flyer on AP this year which has paid off great. I had a rough finish to the year after blowing a game by over managing a few weeks ago but finished with an 8-5 record and 4th place. My confidence in this team is very low at this point as injuries have depleted my talent. I really need season-long disappointments like Howard and McCoy to step up if I am to have any chance in the playoffs.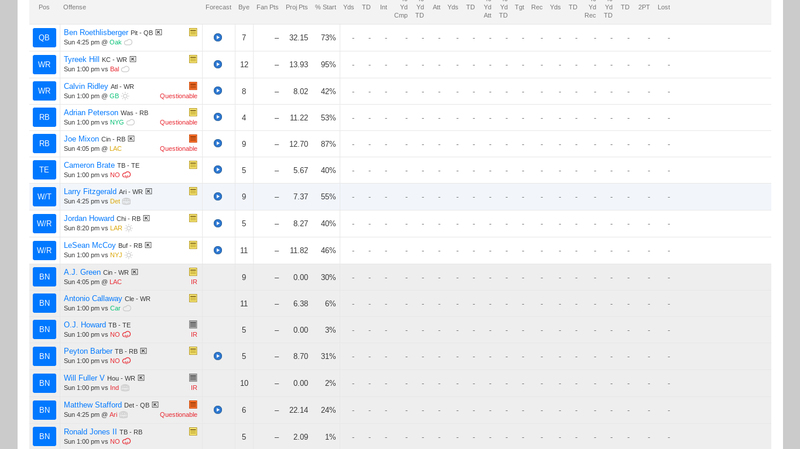 NFL.com - 4 Player Keeper League (2nd year) $100 Entry Fee (10 teams) Team Name: Mile High Club
This is a league that I was a last minute entry into last year. A few friends from an old workplace were starting a league and needed one more person so they contacted me. They knew that I would have a hard time saying no and of course, I was all in. I won the championship last year in the first ever season of this league. I Got really lucky with my draft last year with Hunt and Fournette both being studs. I was also able to pull off a slick move after my 1st round pick, OBJ, went down. I traded him and my 1st this year for AJ Green. Let's just say I ran away with the league. Fast forward to this year and you have a completely different story. Fournette spent most of the year hurt and AJ was very up and down until he said goodbye a few weeks ago. Hunt was great up until the week when I needed him most and he said goodbye to the NFL. Even with James Connor, I could never get any traction or put together a few wins in a row. Going into the last week, I was sitting in 6th place. A win and I would make the playoffs. Sadly, I lost and every team that needed to win to jump me did. There will be no back to back championship for me in this one. Already looking to next year. If I had made the playoffs in this league, it would have been a short run. I just lost Sanders for the season as well.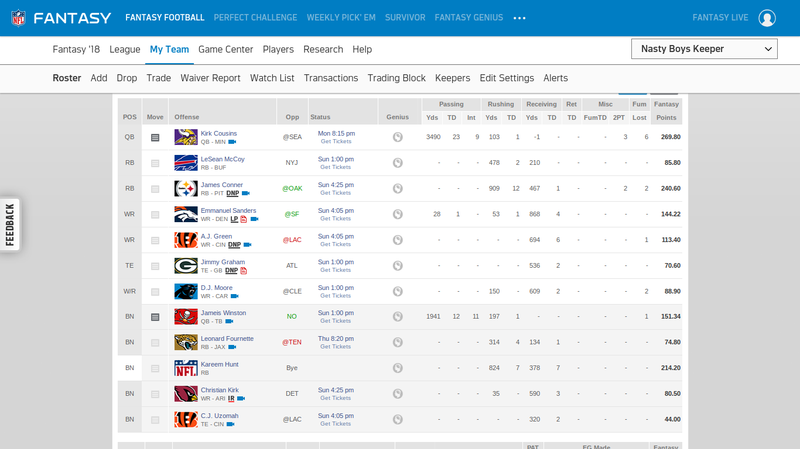 Yahoo - Redraft League $25 Entry Fee (10 teams) Team Name: Mile High Club
This is a league I threw together for a few family members that are just getting their feet wet in the fantasy football world. Let's say it is more like they are swimming in the fantasy lake. They jumped right in and have fallen in love. Even though one of them drafted all Patriots in a year where the Patriots are not scoring much. The fun part of this league is that I filled out the remaining spots by putting a call out on fantasy football blogs and we have members from all over North America. My draft was brutal in this league and after the 1st three rounds, I was really not happy with what I was having to select. Melvin Gordon and Tyreek Hill managed to help me coast to an easy playoff spot but I have little confidence in this team doing anything against the powerhouse leaders who seemed to draft with amazing luck.
NFL.com - BrosScorum Redraft League - Free (10 teams) Team Name: Mile High Club
This was a last minute league that I joined here on Scorum through the BrosSports family. It was actually started in week 2 and runs through to next week. The playoffs were cut down by a week and so it will still end in week 16 and only 4 teams make the playoffs. This might be the strangest fantasy league that I have ever been a part of. I have one of the most prolific scoring teams in the league, scoring the second most points by a long shot. I actually wrote a post about this a few weeks ago. The thing is, I have the highest points against by a country mile!! Somehow, everyone seems to have their best weeks against me and so I have been floundering in the standing most of the year. I am currently 7-5 and safely in the playoffs. I can see a championship i the future in this league!!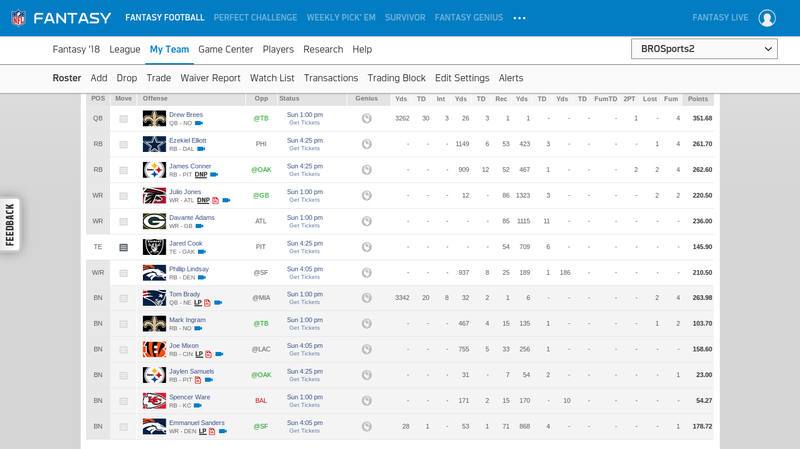 Well, there you have it. My fantasy year in a nutshell. I made the playoffs in 4 out of 5 leagues this year and once you get in, anything can happen. At this point, all we can do is hope that our players catch fire at the end of the season and the fantasy gods see fit for your team to stay injury free. I will update you at the end of the playoffs to let you know how I made out. With any luck, I will have a trophy on my mantle before New Year's.
How did your fantasy leagues go? How many leagues do you play in? I'd love to hear about your results this year.