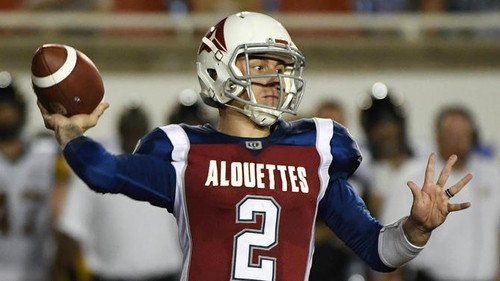 It's been an interesting week for Johnny Manziel. He was released from his CFL contract after violating part of his contract and now rumors are swirling about him potentially joining the AAF. As of right now it is not entirely clear what has happened but it just leaves me with one question, where is Johnny going to get another chance this time?
Manziel will get a chance to workout for AAF teams if he can prove to the league that he is clean. That leads me to believe that staying clean may have been part of his CFL contract that he violated. If he does meet the requirements set in front of him by the AAF it might not be long until we see Manziel on a football field again.
Manziel has had one of the most bizarre careers and has shot himself in the foot at every single level he's ever played at. In college we first started to see glimpses of what kind of person Manziel was and everyone ate it up. It's almost shocking to look back at how he handled himself and wrap your head around a team actually drafting him. In the NFL Manziel was a complete bust. He didn't seem to have any desire to put the work in to be successful and couldn't keep his head above water off the field either. Then he moved to the CFL where he wasn't much of a football player and couldn't even wrangle a starting job on the leagues worst team. To top his time off in the CFL, he breaches contract and somehows manages to get himself barred from the entire league. Yeah, I'm real confident things will work out in the AAF...
We just can't look away from the trainwreck that is Johnny Manziel. And this time around will be no exception. Bring on Johnny and the AAF.