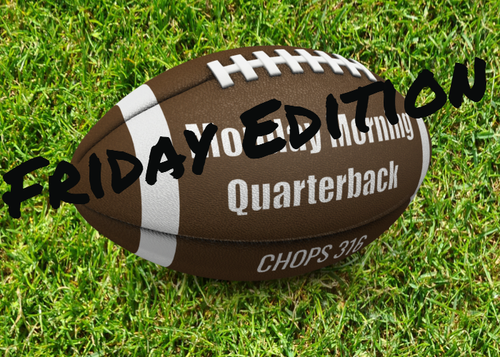 For all those who celebrated, I hope you were able to enjoy the Thanksgiving holiday. Whenever asked I always proclaim Thanksgiving the absolute best holiday. Why? The Cowboys always play on Thanksgiving! The food is pretty damn good too. And the family? Eh, they're OK. Most of my family lives in close proximity so we are pretty sick of each other. Anyway here are my thoughts on this year's Turkey Day NFL action. Just remember I am a Dallas Cowboys fan and I'm extremely biased. Feel free to agree or disagree about anything mentioned here. All comments are welcome.
Same Old Story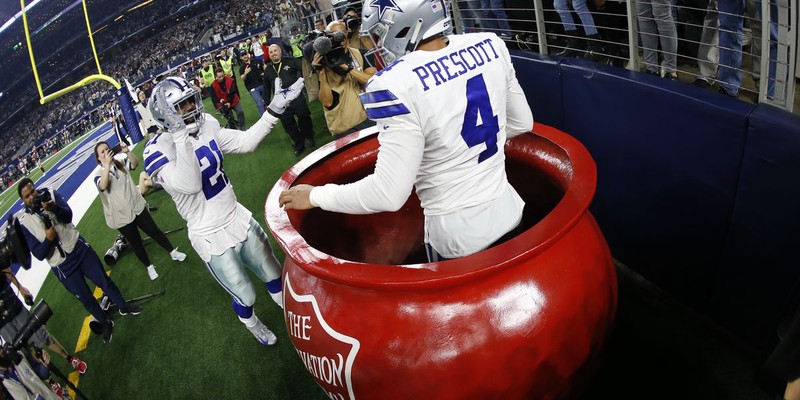 Whenever the NFL schedule is released, one thing Cowboys fans are always hoping to see is a Thanksgiving game versus the Redskins. Why? It's almost guaranteed the Cowboys will win! This year was no exception as Dallas beat the Skins 31-23 to push their all-time Thanksgiving record against Washington to 8-1.
The Redskins are pretty banged up and Alex Smith is done for the year so Colt McCoy led the team into Dallas. I give them credit, unlike a certain team from the City of Brotherly Love this team came to play. The Cowboys marched down the field on their first possession and Zeke capped off the drive with a 16-yard TD run to give Dallas an early 7-0 lead.
I have to admit, sitting on the couch stuffed to the gills after my holiday feast I was thinking Dallas was going to blow them out. Nope. The Skins defense clamped down after the first drive and only allowed the Cowboys another 3 points in the first half. McCoy nailed Vernon Davis with a 53-yard TD pass so Dallas entered half time with a slim 10-7 lead. Ugh, I was starting to feel the indigestion.
It didn't get any better when the Cowboys started the second half flat and McCoy threw another TD pass to give the Skins a 13-10 lead early in the third quarter. At that point Amari Cooper had enough. Dak hit Cooper with 40-yard and 90-yard (!) TD passes on back-to-back possessions to storm into the lead and never look back. A McCoy INT was turned into another TD via an awesome Dak scramble through the Skins defense and it was game over. Washington didn't give up the fight and threw up some points in the fourth quarter, but it was too little too late.
The Cowboys paid way to high a price for Cooper, but what's done is done. Hopefully Thanksgiving is a sign of things to come for Amari. Cowboys move into first place in the NFC East and I seriously thought I would never write these word this season. Next week is the big game however as the Saints are coming to Big D. I'm looking forward to seeing how the Cowboys measure up against the top team in the NFL.
Another Thanksgiving Tradition : Detroit Loses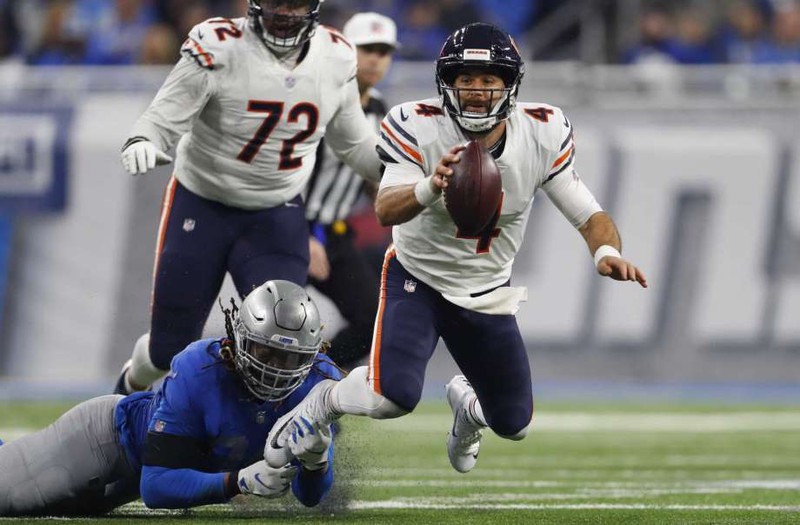 When I heard the Bears were playing the Lions to open the NFL Thanksgiving slate I thought "oh crap, another snoozer. At least I'll be able to eat without worrying about the game."

I mean c'mon. The Lions already got throttled by the Bears a few weeks ago, why would this time be different? Then the news came out that Trubisky was hurt and Chicago was going to start Chase Daniel at QB. Hmm. Detroit at home on a short week playing a Chicago team that was on the road Sunday night and had to start a unknown journeyman at QB? Dammit now we got a game.
And we did. But Detroit still lost 23-16.

I figured the Bears would follow a run-heavy script and I guess so did the Lions. Nope. Chicago only rushed the ball 15 times and four of them were scrambles by Daniel. The Bears let their journeyman throw 37 passes and he completed 27 of them for 230 yards and 2 TDs. Maybe more importantly he threw zero interceptions.
The Lions had to play without rookie RB Kerryon Johnson, who has revitalized their once dormant rushing attack, and WR Marvin Jones. Somebody had to step up and Legarrette Blount did with 88 rushing yards and and 2 TDs. Unfortunately for Detroit, Matthew Stafford needed more help than that. He threw a pick six to give Chicago the game winning score and threw another INT in the endzone to kill the Lions last chance at tying the game. When Detroit needed Stafford to step up the most he fell flat on his face.
Things will probably be uglier for Detroit when the Rams come to town next week. Matt Patricia's debut season is officially a bust.
They Keep Marching On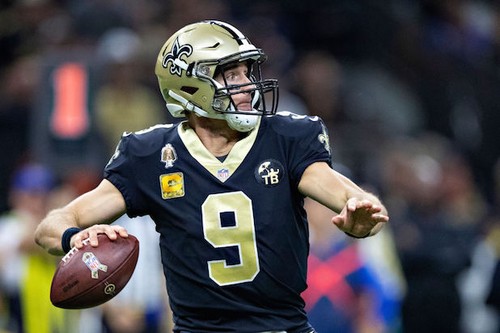 The Turkey Day slate ended with the Falcons heading to the Superdome to play the red-hot Saints. The first time they played this year was a shootout and I expected more of the same as I planted my ass on the recliner. The Saints only needed 5 plays to race 70+ yards down the field for a TD on their opening drive and the shootout was on.

Except it wasn't. The Falcons drove the ball downfield all night long, but continuously shot themselves in the foot with more red zone turnovers. If the field was only 80 yards long the Falcons might lead the league in scoring, but for whatever reason those last twenty yards continue to mystify them.
The Saints had an off game offensively. Well at least for them. Their so damn good they score 31 points on a bad night. Drew Brees only threw for 171 yards, WR Michael Thomas only had four receptions for 38 yards and the deadly rushing combo of Kamara and Ingram never found the endzone.
So how did they get 31 points? Brees managed to throw four TD passes to four different receivers I never heard of: Dan Arnold, Tommylee Lewis, Keith Kirkwood and Austin Carr. OK I know who Carr is, but I didn't even know he was still in the league. I'm starting to think head coach Sean Payton can start randomly picking fans out of the crowd and Brees will hit them with a TD pass. Brees has now thrown TDs to 13 different players this season, tying the NFL record set by Matt Ryan. He's got 5 more weeks to get another scrub in there to break it. Amazing.
The Falcons are officially done. Falcons owner Arthur Blank gave head coach Dan Quinn a vote of confidence after the game which I assume is an official kiss of death. I know the Falcons D has been hit hard by injuries, but what's the excuse for the offense? It certainly doesn't help Quinn's case when his guys admit they looked past the Browns either.
Let me know your thoughts on the Thanksgiving NFL games.