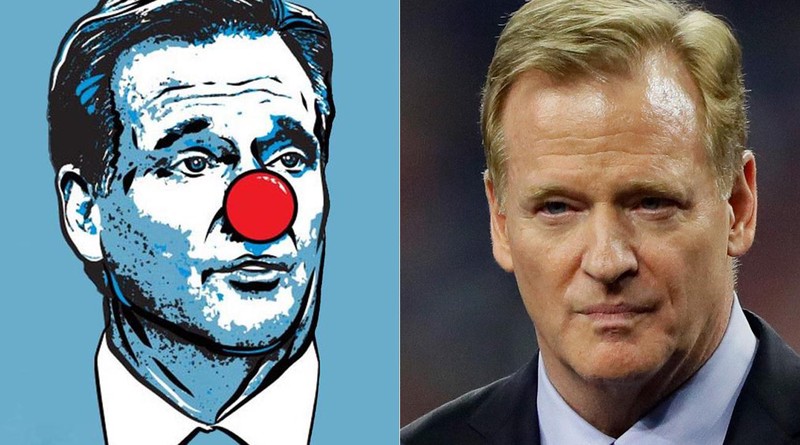 We are smack dab in the middle of the NFL offseason, but Commissioner Roger Goodell has had plenty to say recently. Goodell has been labeled a clown by most football fans since former New England Patriots Defensive Coordinator (and current Detroit Lions Head Coach) Matt Patricia stepped off of a plane following the Patriot's victory in Super Bowl LI wearing a Goodell clown t-shirt. That's unfortunate since the Commish's latest offerings have been giving clowns a bad name. What is even more unfortunate is that Goodell isn't really a clown, he's the world's highest paid puppet. 50 million dollars a year isn't a bad pay day.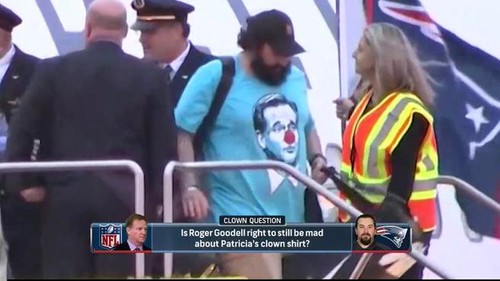 On Monday Goodell was in Batavia, NY to participate in the Jim Kelly Celebrity Golf Classic. Kelly, the former QB who led the Buffalo Bills to four straight Super Bowls in the 90's (we won't talk about how they fared in those games ;), uses the tournament as a fundraiser for his foundation to help disabled and/or disadvantaged children.
The Commish spoke to the press at the event and once again brought up his desire for the Bills to play in a brand new stadium. He said it would make sure the franchise "stays stable here" and "remains competitive". Hmm, is he trying to imply if the taxpayers in Western New York don't pony up the cash for a new football stadium the team might be headed out of town? The media in attendance asked Goodell that question and he responded with this brilliant reply: "I don't know about that." Nice one Roger.
The Bills current home, New Era Field, opened in 1973. It's not the oldest stadium in the NFL. Soldier Field (Bears), Lambeau Field (Packers) and Arrowhead Stadium (Chiefs) have all been around longer. All three have been renovated over the years, as has New Era Field. So why isn't Goodell traveling around to Chicago, Green Bay and Kansas City to tell those fanbases they need to cough up tax dollars to fund new stadiums to remain stable and competitive?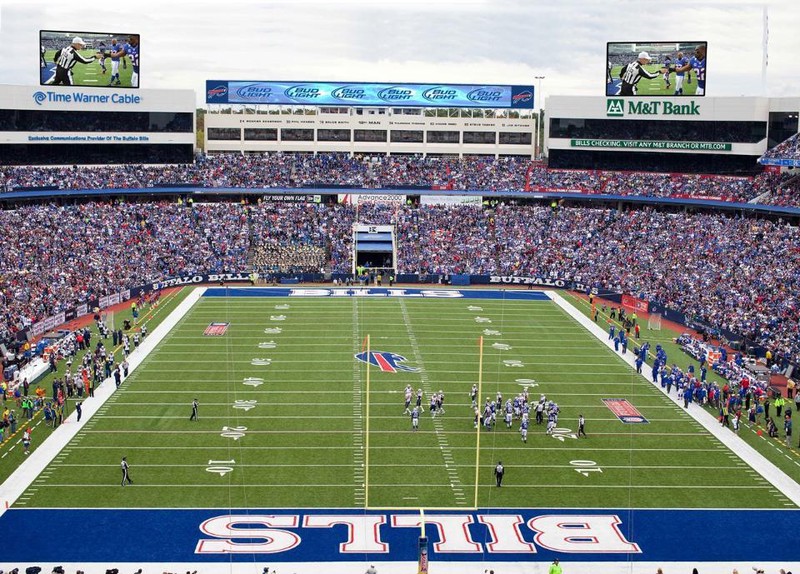 Simple, the Commish is not a clown, he's a puppet. Buffalo has no problems with attendance despite the fact the team hasn't been good in ages. They don't need a new stadium. But I'm sure owner Terry Pegula, who spent 1.4 billion dollars to buy the franchise in 2014, would love to have a new stadium paid for by taxpayers in order to have an excuse to raise ticket prices and squeeze even more dollars from the Bills' fans.

Pegula is the one pulling the strings on Goodell on this topic. After the owners meeting earlier this spring he told the press the league wanted something done about the Buffalo "situation". Why does the league care about the Buffalo "situation"? Green Bay is a smaller market than Buffalo with an older stadium yet the league (i.e. Goodell) hasn't felt the need to comment on their "situation". Maybe, just maybe, the fact that each team in the league receives nearly 300 million dollars annually from shared revenues means there isn't a situation to be concerned about after all. Maybe the "situation" is good old fashioned greed.

A new stadium for the Bills wasn't the only subject Goodell commented on before the golf tournament. He also told the media he didn't feel NFL squads needed to play four preseason games anymore. He claims he spoke to coaches who told him that many games are not necessary to evaluate talent and make roster decisions. He went on to say preseason games don't offer the highest quality standards of competition that the NFL wants to give their fans.
Wow, a lot of bullshit to wade through in those statements. Do you really believe the Commish has called coaches around the league to get their opinions on how many preseason games are needed to prepare for the season? Me neither. It is no secret the NFL would like to extend the regular season to 18 games. They kicked around this idea with the NFLPA several years ago and the union shot it down. There is enough injuries in pro football now, players don't want two more games to beat the hell out of themselves.
Highest quality standards? Good grief. They are preseason games, they aren't meant to be the exciting contests. They are meant to evaluate players and get them ready for the regular season. Of course the NFL ignores this and still charges ticket holders the same price as regular season games. Greedy bastards that they are. And they wonder why nobody wants to go watch these over-hyped practices.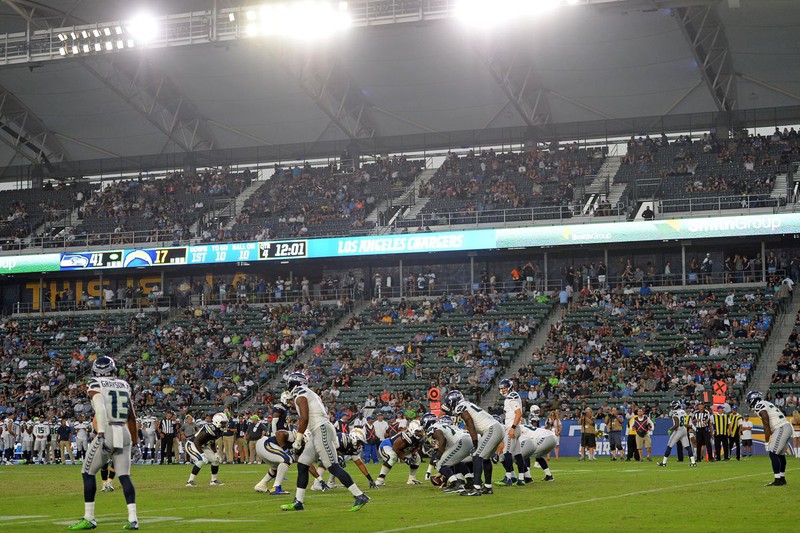 The Commish doesn't care about the preseason. He doesn't care about talent evaluations or preparing guys to play. He takes his orders from his puppet masters who are only concerned about one thing: money. The NFL will only cut down on preseason games if it means more games in the regular season. That would generate more money from the fans and give the league leverage to generate more money from the networks. Plain and simple. So Roger don't waste your breath on whether or not four preseason games are necessary and act like you are concerned about what's best for the players and fans.
These statements by Goodell come on the heels of a Washington Post article last week that said the Commish is willing to give up some of his authority over players on off-the-field issues, but is remaining firm on his jurisdiction over incidents that affect the integrity of the game. In other words he cares less about players driving drunk or beating up their girlfriends than he does about somebody deflating footballs. He really should have made his statement like that, but alas puppets don't get to choose their own words.
Goodell took the bullets over deflategate from the fans, but let's be honest. Puppets don't make these decisions. The rest of the league was tired of all the crap the Patriots have pulled over the years and got away with (remember spygate?) and finally ordered Goodell to take a stand. If most of the owners weren't for it Brady wouldn't have missed one game. Letting the Commish say he protects the integrity of the game is a fancy way for the owners to let each other know if you cheat more than the others there will be consequences.
Goodell giving up authority over off-the-field issues is another way for owners to take more control over their squads. Let's be clear, this isn't Goodell's idea. Puppets don't have ideas. This is a mandate from the owners themselves. Some owners have higher morals than others. Maybe. More likely some owners are willing to accept more risks in alienating their fans over employing players who do awful things away from the game.

Owner A may feel he needs to cut a player who beats up his wife to save face while Owner B may feel a 3 game suspension is enough punishment to dispel the heat from the fans over the incident. Either way apparently the owners have decided they don't want Goodell making these decisions anymore and will offer this idea to the NFPLA as a bargaining chip in the next round of negotiations. You know, in return for something like more regular season games.
Whew, for a puppet Roger Goodell sure has a lot to say these days. Too bad it's giving clowns a bad name, surely dressing up in a ridiculous outfit and throwing a pie in somebody's face is a much more noble profession than being the NFL Commissioner.