Thompson Trilogy suffered its first loss to another team by .58 points. It came down to the wire with Mason Krosby's (K) field goal connecting for 3 points to put Franchise 11 up and over me for good in the very last play of Week 6.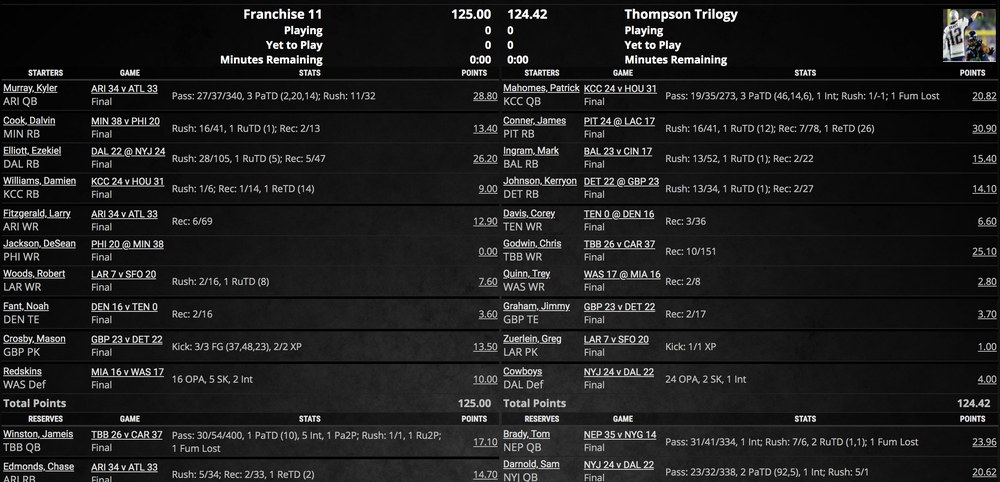 Had I started Tom Brady and sat Patrick Mahommes I would've won. Perhaps I should have leaned into my earlier notions of possibly foreseeing a slight slump in Mahomme's production as I brought up in a recent post.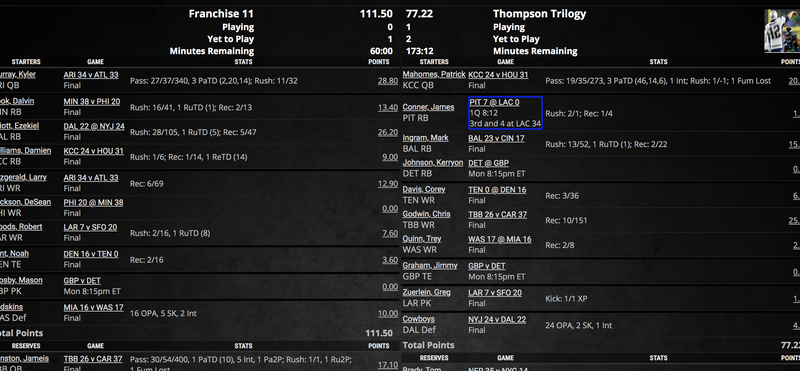 There were several lead changes including a 34 point comeback by Thompson Trilogy led by James Conner (RB) beginning Sunday Night lasting into Monday night. I was very confident even at this *point that Thompson Trilogy would come back but I could not predict we'd still lose by less than a point at the final whistle.
It was a sudden and humbling loss but a wake up call as Thompson Trilogy now only holds a slim lead in our Apex League:


We lost to our opponent but managed to score higher than the average score to mark us 1-1 for Week 6. Franchise 11, our Week 6 opponent, snuck up to 3rd place in Standings with his game winning field goal over Thompson Trilogy.

For Week 7, I'm leaning toward starting Tom Brady over Mahommes as I believe he may be in for an easier game against the Jets than Mahommes is against Denver. I won't make the same mistake twice in not starting Brady at the right time...
but at this point I'm only 90% sure it's the right time and I only have two nights to decide because Mahommes is playing Thursday night at 8pm.
Apex League's Week 7 Preview (pending two waiver wire adds that I desperately need) for Thompson Trilogy: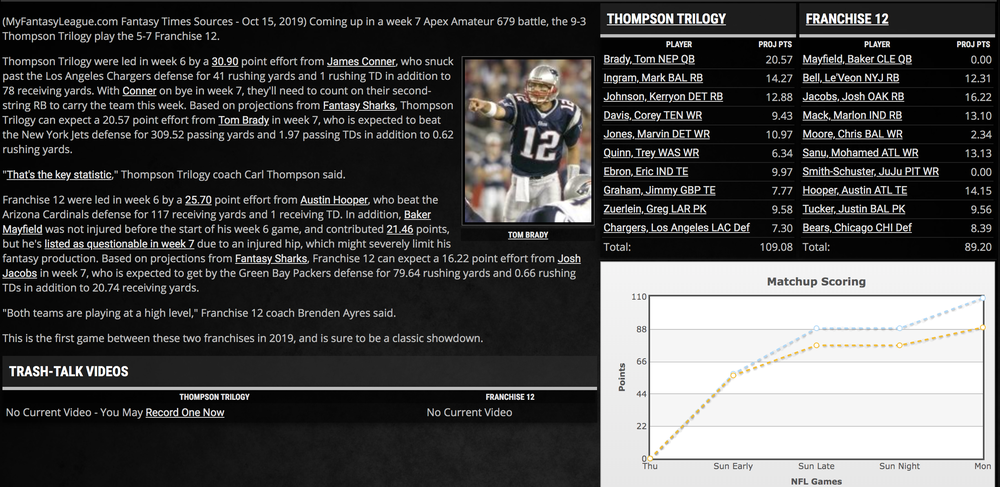 We're losing two of my biggest scorers in Chris Godwin (WR) and Connor James (RB) to BYE weeks in Week 7 so I hope that not only do I get my waiver requests completed but that my add picks can provide me some great value when I need them the most.

Wish Thompson Trilogy luck.
...