For many years I have followed the sport of football as a passionate fan, gaining knowledge and a love for it as I went along.

This passion turned into an effort, beginning in 2015, to pursue a career as a sports journalist, wanting to work in a field that I truly enjoy immersing myself in.
On Wednesday, August 1st, I found myself one step closer to this goal, as I attended the New England Patriots training camp as a media member for the PatriotsWire, part of USA TODAY's Sports Media Group. I want to share with you some of the sights I obtained during the 6th day of training camp for the Patriots.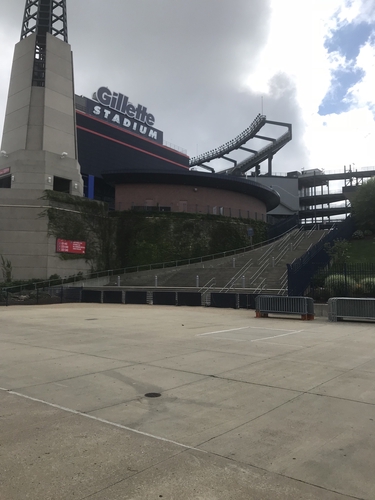 I arrived at training at about 8:30 this morning, and made my way to the Patriots Media Room with the PatriotsWire editor, Henry McKenna. Luckily the clouds were out today, which allowed us to tolerate the heat without having to get burned in the process.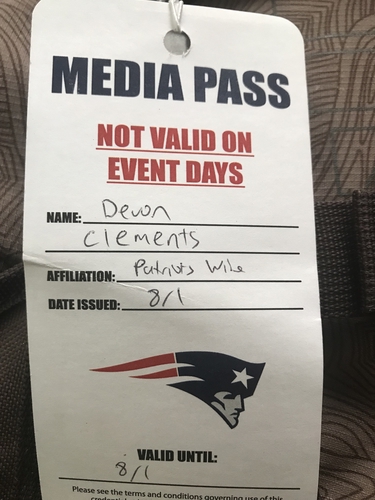 Before being able to attend any media member activities, I had to sign up with Gillette stadium security to obtain a media pass that would allow me to enter "media only" areas of Gillette Stadium and the practice facility.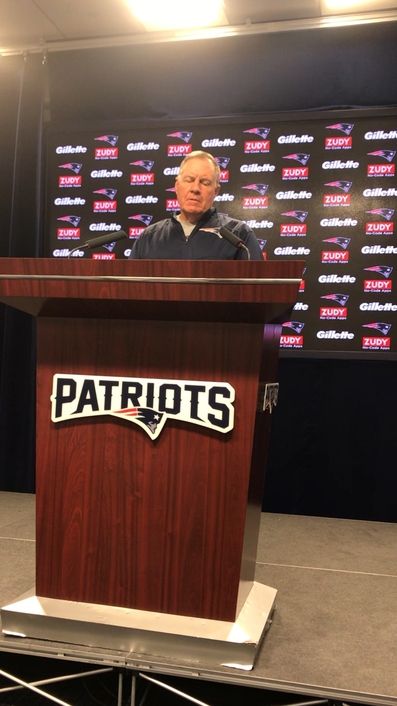 I got the opportunity to sit front row and videotape a press conference of the Greatest Football Coach of All Time, Bill Belichick. (Would love to upload my video of the presser, but Scorum does not yet allow me to do such, yet. In due time!) Belichick gave his typical presser - short and sweet, not a whole lot of content to pick from.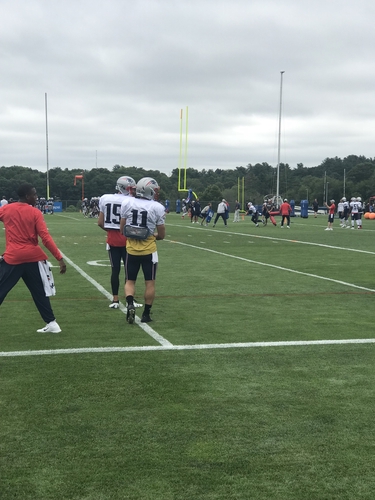 During the first 10 or so minutes of practice, which began at approximately 9:40 that morning, media members were given the opportunity to roam around the edge of the practice field to take pictures or videos for their own use on the networks they work for. I decided to get up and close to the wide receivers. This picture is of Chris Hogan (#15) and Julian Edelman (#11), who are the two top receivers for New England heading into the 2018 season.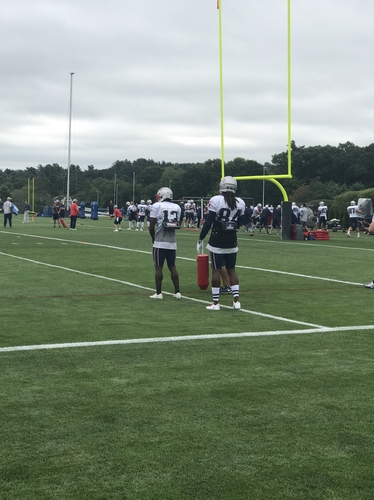 These two receivers were part of the same drill that Hogan and Edelman were part of. They are Phillip Dorsett (#13) and Cordarrelle Patterson (#84). I was able to get a 1-on-1 interview with Dorsett once practice was finished and will be featured in a PatriotsWire article I wrote, which will be published Thursday morning.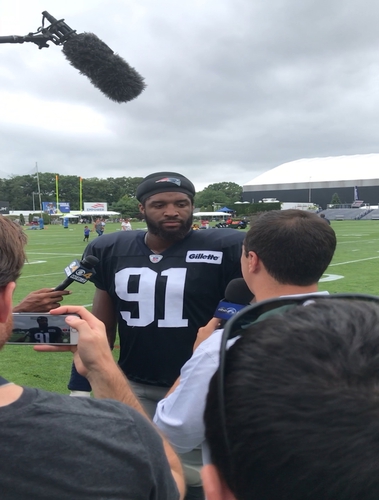 The post-practice interviews began at about 11:40, and one of the spectacle's of these interviews was defensive end Deatrich Wise, who had gotten praise from Belichick during the morning press conference. Belichick said "you won't find someone that works harder than them," referring to Wise and fellow teammate Derek Rivers. Praises of that magnitude do not come from Belichick very often.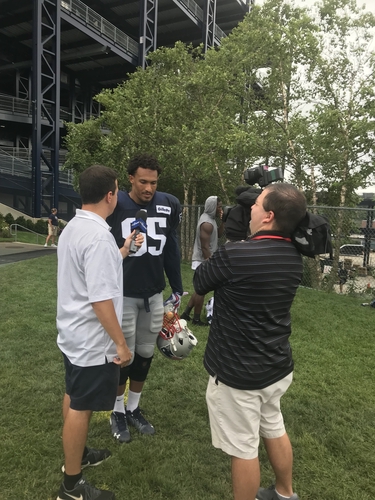 Last, but certainly not least, I overheard an interview going on with defensive end Derek Rivers. Rivers, as mentioned before, has received strong praises from Belichick regarding his work ethic during and after practice. Rivers is entering his second year in the NFL after being drafted by the Patriots in the 3rd round of the 2017 NFL draft.
Reminiscing on my day spent as a media member at Gillette stadium, I still cannot believe it has come and gone so fast. If there is one thing for sure - it has made me hungry to get back in the media room and establish myself as one of New England's top sports journalist.
My hope is that my continuous work as a writer, podcaster and vlogger will escalate me past my competition and push me into the media scrums sooner rather than later.
May the grind be ever in my favor.

Please follow me on Twitter (@ClemDevv)
Follow my podcast (@THEGOATPOD) and subscribe to it on all podcasting platforms.
And subscribe to my YouTube page (The GOAT Podcast)
Thanks for reading!