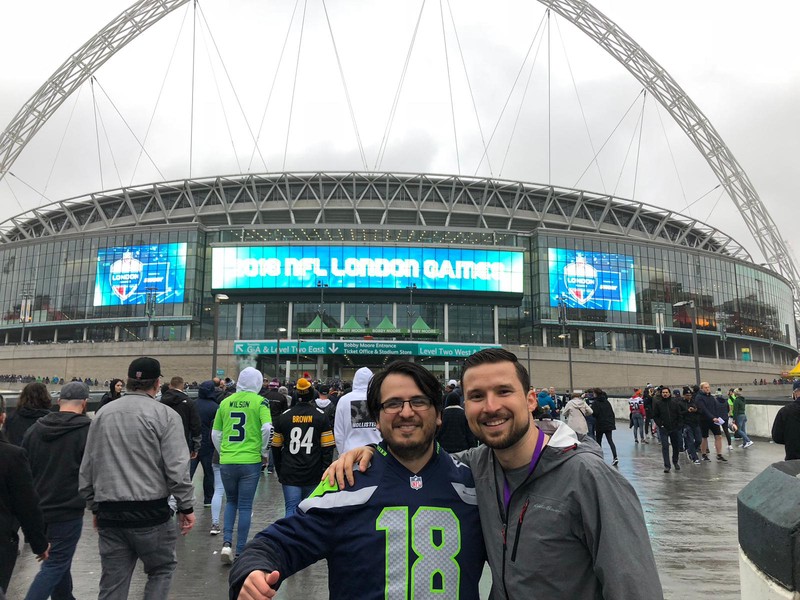 I am a football fan since childhood. I grew up watching the wonders of Peyton Manning and Tom Brady. But the team that captivated me since 2008 was the Seattle Seahawks. Marshawn Lynch and the 12th man made me become a fan of that team.
In 2010 I went to study in Seattle. I got the opportunity to the stadium but to watch a football match. You know, one as a student has a limited budget and to go to a local Seahawks game you need to have a pretty fat wallet, we are talking about at least $ 200 USD per game. After my time in Seattle, I returned to Mexico where I continued to watch all the games of my Seahawks as well as almost all the games on Sundays and Monday nights.
This year my wife accepted a job offer in London so we decided to move here. To see the NFL matches here is difficult because of the time change, however, I try to continue in my fantasy leagues with my friends and see the summaries of the games. October 5 was my birthday and my wife gave me a ticket to go see the Seahawks!
---
My experience at Wembley watching the NFL
It all started as a normal London day. 14 degrees Celsius and rain. So I decided to buy a Poncho. I bought it in a "normal" store so its price quality was not so bad. I say this because usually when you are in the stadiums they sell you a garbage bag like a poncho and they charge you a lot of money for it. After my poncho adventure, we headed to the stadium, We took the "Tube" Metro, Jubillie Lane to be exact. A 1-hour ride separated me from my first NFL adventure.
At first, the Metro was empty, but as we went through the stations, people started to go up. First, a fan of the Pats went up, then 10 Raiders who saw me strange but always respectful. After those moments of tension, we reached the stadium.
The walk from Wembley Park to the stadium is beautiful, posters, merchandise and more merchandise fill that street with magic to whatever party you go. We arrived early, a friend came to see the game but bought the ticket in resale so we went to pick it up, and with the ticket in hand, we walked to the stadium. There were still two hours left and we decided to stop at a store to buy beer, we took 2 each one. (In London in legal take on the street).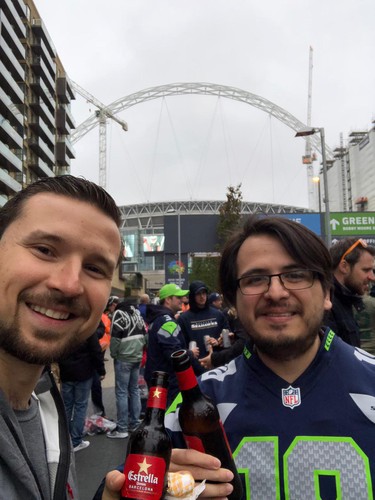 After the beers and a good chat finally, we lined up at the gates of the stadium, in line to enter the stadium I met two German fans of the Green Bay Packers. Very friendly and funny we talked about fantasy, NFL and others. I asked them why the NFL was becoming so famous in Germany, they replied that for 3 years they are fans but that it is becoming very popular.
A very fast security protocol, maybe it took me about 30 seconds to pass. However, metal detectors and scanners manage to detect an artefact you want to pass. Wembley is huge, inside the stadium took me 5 minutes to get to my seat. I came to my seat, and after contemplating the stadium atmosphere I decided to go grab some coffee and a chocolate.
Organization of 10. The party started sooner>
I became friends with some Welsh people who always go to see the Jaguars games, but behind me, and on the left side I was surrounded by Germans. Very strange, I still can not understand the phenomenon in Germany. Stadium full, the good thing was that it was a neutral court game. (the Administrative perspective the Raiders were Local) But if we talk about noise Seattle was local. And a total NFL party, jerseys of all teams, I sincerely believe that I saw jerseys of all teams.
To celebrate and to be able to shout the annotations was a pleasant experience, nevertheless, it would have been interesting that the Raiders gave a little fight.
I stayed until the end, contemplating the magnitude of the stadium. I had a lot of fun and had a great time. I doubt if I have the opportunity the next year to have my subscription for the games in London I will buy it.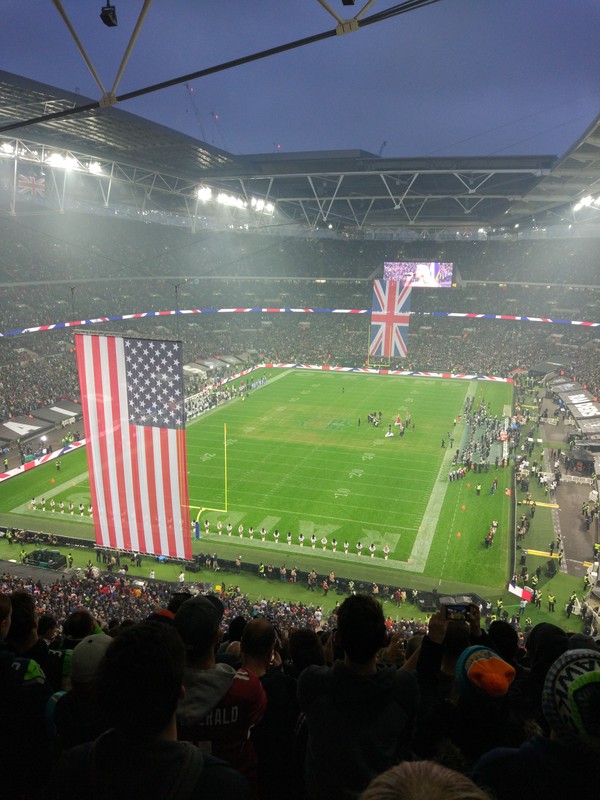 Thank you very much for reading me Scorum.
I send you a big hug and #GoHawks!