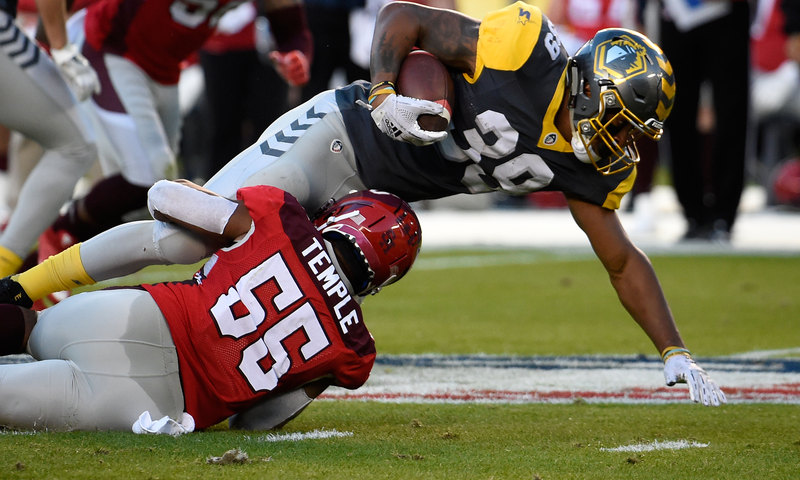 After a commanding win in Week 1, the San Antonio Commanders have now lost two games in a row after suffering a disappointing 11-31 loss against the San Diego Fleet at the SDCCU Stadium in San Diego, California last Sunday, February 24.
San Antonio, who now sits at the bottom of the Western Conference with a 1-2 win-loss record, started off strongly after quarterback Logan Woodside nailed a 47-yard touchdown pass to Mekale McKay but failed to sustain momentum just like last week as he struggled to connect with his wide receivers and eventually succumbed to two interceptions.
"When you have a first down in the red zone and then have a penalty and an eventual turnover, it hurts your team. We were in a groove at the beginning of the game and then we had a touchdown called back. Penalties started piling up and we just couldn't recover," Woodside said after the game.
Notably, the Commanders collected a total of nine penalties for a loss of 80 yards aside from committing various blown coverage play-after-play to split their season series against the conference-leading Fleet, who now rides a two-game winning streak after a 6-15 defeat against the former at the Alamodome in their inaugural game.
The Commanders could have been up 14-0 at the first quarter but Woodside's 14-yard touchdown pass against Greg Ward Jr. was negated by a holding call before it was followed with two more penalties which led to an intercepted pass by San Diego when San Antonio went for a deep pass at the third and 35.
Running back Trey Williams was San Antonio's lone bright spot after amassing 75 yards on the ground off seven carries, including a 30-yard dash, in his first ever game at The Alliance following a two-week absence due to a foot injury.
San Antonio's defense, though, played a crucial part once again as they tallied three sacks to still lead the league with a total of 14 hits after three weeks, despite a diminished intensity in their secondary which recorded just a single interception when De'Vante Bausby picked off Philip Nelson in the game's opening drive.
Commanders' Corner: The Offense
San Antonio's offense has never been as ugly as ever prior to their Week 3 loss against San Diego as the Commanders collected a measly total of 291 yards and went 1-for-12 in third downs due in an entirely disappointing way to kick off their four-game road trip.
Woodside could not find his groove and failed to connect with the Commanders' receiving corps all night as he only had one touchdown after completing 12 of his 23 attempts for 151 yards and a 51.2 passer rating.
While Woodside and San Antonio's wide receivers did not win the air on Sunday night, the Commanders nevertheless found another offensive weapon that head coach Mike Riley and his staff could use moving forward as the arrival of Williams proved to be a deadly complement to Kenneth Farrow in their already powerful running game.
Williams' seven carries finished just behind Farrow's nine attempts as they combined for 102 of San Antonio's 147 rushing yards.
Meanwhile, backup quarterback Marquise Williams also had a big night working as a second option as the former North Carolina Tar Heel completed all of his four passes for 21 yards while also running for 33 yards to cement his status as a legitimate dual-threat quarterback.
"What you saw of Marquise out on the field is exactly what we like about him. I think all the other parts of his game is improving as we go forward. That's why he's been in a rotation to go in the game. If he can get in there and do those things he showed out there going forward, that would be good for us," head coach Riley quipped.
Commanders' Corner: The Defense
San Antonio's loss against San Diego was highlighted mainly by the Commanders' defense's multiple penalties, lack of pass protection, and blown coverage as they allowed the Fleet to record 381 yards—the second straight time that they gave up 380 yards or more.
Although the Commanders still lead The Alliance with its 14 sacks, it is, however, remarkable to mention that over the span of three weeks, San Antonio's pass rush is slowly declining since tallying six hits in Week 1 as they only had a combined seven total sacks over the last two weekends.
Furthermore, not only that San Antonio failed to establish a valuable defensive line against San Diego, which allowed an 83-yard bomb to Ja'Quan Gardner who went on to finish with 122 yards, the Commanders' secondary also tumbled big time, especially against wide receiver Nelson Spruce.
Spruce scored two touchdowns and collected 50 yards in just four receptions to lead the San Diego wide receivers, while La'Quvionte Gonzalez collected the longest reception for Fleet after his only reception was converted into a 43-yard gain.
Riley could only move on and learn from their defensive miscues after the game.
"We can go along pretty good for a while and then we give up a big play and it becomes a killer. We have to be better on just not giving up the big yardage plays," he said.
Commanders' Corner: The Special Teams
Kicker Nick Rose is still yet to miss the post this season as his 23-yard score in the third quarter carved his seventh consecutive made field goal in three games, but punter Joseph Zema had the busiest business among San Antonio's special teams unit after punting for six times in the game.
Zema punted for a total of 265 yards which was highlighted by a long of 69 and a touchback.
UP NEXT: San Antonio heads to Legion Field in an attempt to give the Birmingham Iron (3-0) its first ever loss in The Alliance and record bounce back at the second game of their four-week road-trip. Birmingham quarterback Luis Perez and touchdown leader Trent Richardson will lead The Alliance's best offense against San Antonio's problematic defense.
Follow the writer on Twitter: @KristoffBellen.