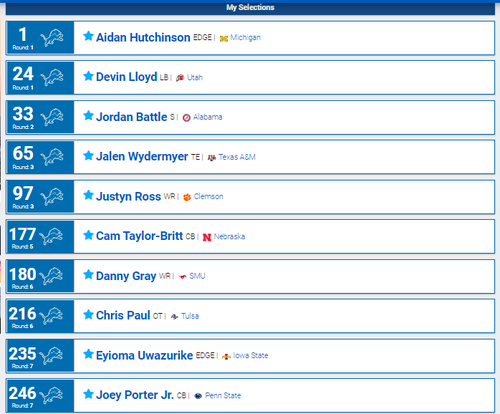 While the 2021 NFL season is not complete, for Detroit Lions (1-11-1) fans, we are already looking forward to the 2022 NFL Draft. With the best odds to secure the #1 overall pick and additional draft picks, including the Los Angeles Rams first round pick and an additional third round pick, there is a lot to look forward to.
I recently completed a Detroit Lions mock draft to get a feel for how the draft might play out, and to test my skills as a fictional GM of my favorite team.
My Thoughts on My Detroit Lions Mock Draft
My mock draft turned out to be a little too good to be true. I found three defensive starters in the first three picks with Hutchinson, Lloyd, and Battle. Star linebacker Devin Lloyd would be a fantastic fit for the Detroit Lions, however, he is unlikely to still be available when the Lions pick with the Los Angeles Rams first round draft pick.
The Lions first pick in the third round went in an unconventional route -- tight end. Although the Lions have one of the better tight ends in the NFL, TJ Hockenson, the Lions are in need of additional pass catchers, a backup tight end, and an insurance policy on Hockenson after his 2021 NFL season came to an end due to a thumb injury. Wydermyer could make a big impact on the Detroit Lions and be a big part of the team going forward, even as the second tight end.
The remainder of the Lions picks go to solidifying the offense and defense while potentially filling starting spots that may be up for grabs, including at wide receiver and cornerback.
What do you think of my mock draft? Comment below!