As a die-hard Detroit Lions fan, I am constantly disappointed season after season. I look for any little nugget of hope to grab onto. That nugget was finally given to fans on Sunday, December 5th as the Detroit Lions shocked the Minnesota Vikings with a touchdown with no time remaining on the clock to win 29-27.
The win was the Detroit Lions (1-10-1) first victory of the year. Under a new head coach, majority owner, and general manager, the Lions are in the first year of a rebuild. We all thought it would take time to build up this team, but 11 winless weeks was hard to stomach for us all.
Apparently, losers aren't allowed to celebrate. The Lions celebrated after their victory, and media outlets began to question if they went over the top, including Andrew Kulha from Sportscasting.
"You would have thought the Detroit Lions just won the Super Bowl or, at the very least, their first playoff game since 1992. Given the celebration in the locker room after their first win of the 2021 season, you would have thought Dan Campbell had led the 1-10-1 Lions to the pinnacle of the sport."
It's important to also note that the Detroit Lions dedicated their performance to the Oxford community in Michigan, which was dealing with tragedy after a deadly school shooting earlier in the week.
My Take
This is a young team with new leadership and ownership. They are trying to build a champion, but they are in the very first steps of that process. Celebrating right now does have benefits. It allows the young players to enjoy their success and crave it even more. It also helps establish a positive atmosphere and help build the relationships of the teammates.
Have you ever partied with someone?
How did you feel about them afterward? As long as you avoided conflict, you likely grew closer to that person.
Free agents will look for teams that are ready to win, and teams that they can have fun on even when the results on the field are less than ideal. The Lions are building that team. Let us enjoy the victory.
#OnePride and go Lions!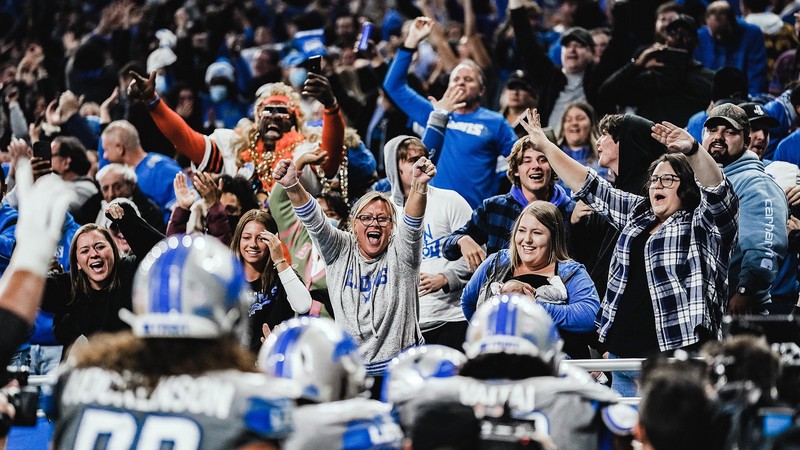 What do you think? Should losing teams celebrate, or should they wait until they are competitive? Comment below.
Image Source: Detroit Lions Twitter