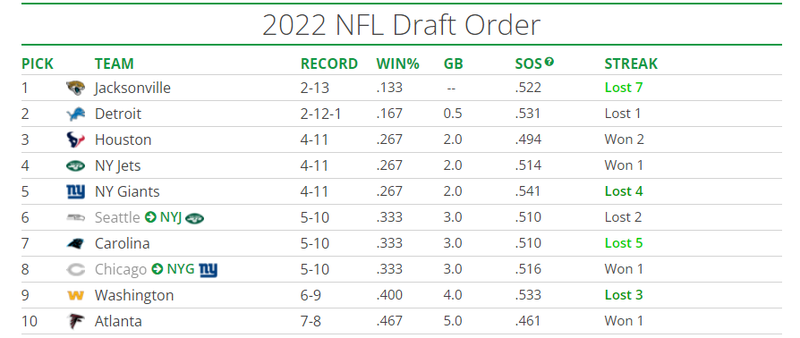 The Detroit Lions are a single loss away from being locked into the top two picks of the upcoming 2022 NFL Draft. After losing a close battle to the Atlanta Falcons, 16-20, and with the New York Jets and Houston Texans winning, the Lions are almost guaranteed to finish in the bottom two of the NFL.
At 2-12-1, the Lions are a half game "ahead" of the Jacksonville Jaguars, who have remaining games against the Indianapolis Colts and New England Patriots. By losing those two games, the Jaguars will once again secure the overall #1 pick.
What Does This Mean for the Detroit Lions?
In many drafts, there is a consensus #1 prospect that every team would consider tanking to draft. That player is also usually a quarterback. This year is an exception to the rule. The top rated prospects in this year's draft class play defense, and there are many opinions as to which player is the best prospect.
The top two prospects, according to many draft pundits, are defensive end Kayvon Thibodeaux (Oregon) and defensive end Aiden Hutchinson (Michigan). The Detroit Lions desperately need help putting pressure on opposing quarterbacks, and either prospect would be welcomed to Detroit.
While the Jaguars may choose one of the top defensive ends, there top needs lie elsewhere. The Jaguars, a year after selecting top quarterback prospect Trevor Lawrence, are in need of protection. Alabama tackle Evan Neal may be the selection, leaving both defensive ends on the board for the Lions at #2.
Although many Detroit Lions fans are disappointed about their drop from #1 to #2 in draft position, the fall may not result in any change in regards to who they will select with their first pick in the draft.
My Take
I have two hopes for the Detroit Lions first draft pick. My top choice, while unlikely, is to trade back in the draft to acquire additional capital. The 2022 NFL Draft is loaded with talent, including on defense and at wide receiver -- two areas of need for the Lions. If the Lions are able to move back, they will gain additional top 100 picks to add more talent to the roster. If they move back just 1-3 spots, they can still draft a top talent while gaining additional picks. A possible option with pick 3-5 would be Notre Dame Safety Kyle Hamilton.
My second choice would be to select Aiden Hutchinson if he is on the board after the Jaguars selection. Hutchinson amassed 14 sacks and was the most dominant defensive player in all of college football. He would add leadership, talent, and results to a team that is in need of all three.
Go Lion!