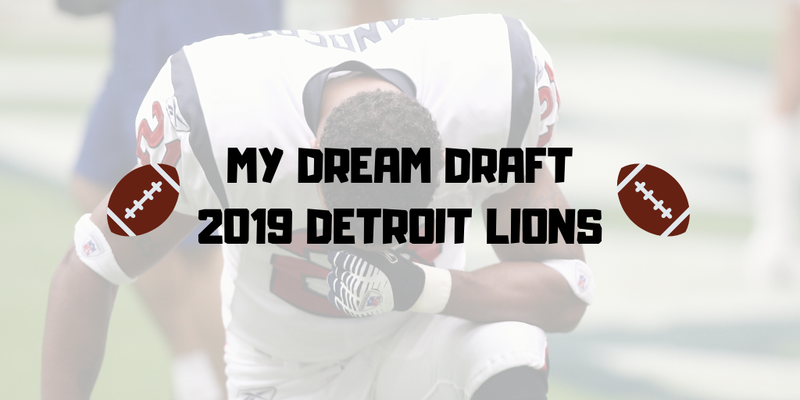 April means that spring has sprung and that the NFL Draft is just days away.
As a die-hard Detroit Lions fan, my hopes and dreams of the Lions finally winning a playoff game and making a run to the Super Bowl rely on improving their team significantly through the draft. This has led me to daydream about the NFL draft for years. I try to put myself in the shoes of the general manager and imagine who I would select with each of the team's draft picks.
Thanks to a tool by fanspeak.com called On The Clock Mock Draft Simulator, I can and have been conducting my own little mock drafts for years. The site allows you to choose a team, how many rounds you would like to draft for (might as well do all 7, right?), and choose an analyst's big board (their full ranking of college prospects who have entered the draft. There's nothing like being able to control the destiny of your favorite team by making their draft picks for them, even if it's for pretend.
I decided to conduct a mock draft as if I was the Lions GM and take it seriously based on my opinion of each prospect and the needs of the team.
For this draft, I used Matt Miller's big board. Miller is a draft analyst I trust and respect, which is why I chose his player rankings when conducting my mock NFL draft on fanspeak.com's On The Clock. Here's my 2019 mock draft for the Detroit Lions based on the players who were available at each pick.
My 2019 7-Round NFL Mock Draft for the Detroit Lions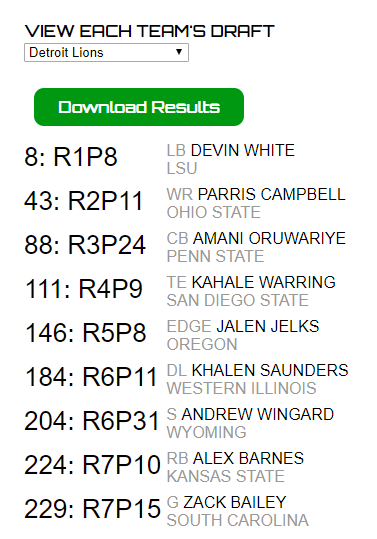 Behind the Picks: My Reasoning
In the offseason, the Lions have addressed many needs, including tight end, cornerback, and defensive end. By plugging these holes, they can focus more on a best player available approach in the draft. With the 8th overall pick, I went with LSU linebacker Devin White. My second choice in this spot was Montez Sweat (EDGE).
Devin White is a fast, physical linebacker who would pair exceptionally well next to young stud linebacker Jarrad Davis. White finished the 2018 season with 123 total tackles, 3 forced fumbles, 3 sacks, and possibly the most impressive stat -- 6 pass deflections. The fact that he can help in run defense and pass coverage makes him a big time impact player, and he should be able to contribute in a big way his rookie season.
The draft board did not shape up how I had wished it would due to the needs of other teams and who is available around the 43rd overall pick in the draft. My selection was Ohio State wide receiver Parris Campbell. Campbell is known for his speed and is considered to be one of the fastest players in the country. The 6'1" receiver, who is also a special teams threat, had a breakout year in 2018 with 90 receptions for over 1,000 yards and 12 touchdowns. Campbell could be a dangerous slot receiver, filling in for former Lions receiver Golden Tate, who lacked the breakaway speed Campbell has.
In the third round, I really wanted to address the secondary. The Lions are in need of a true #2 CB, and although he'll need some development, Penn State's Oruwariye could fill that spot nicely. Oruwariye is long for a CB at 6'1" and was a first-team All-Big Ten player. He was a very solid player, starting 13 games, defending 1.2 passes per game and intercepting 3 passes this past season.
To fill their need for a pass-catching tight end, I decided to select Kahale Warring over Texas A&M tight end Jace Sternberger, who I also like. Warring has impressed scouts and projects to be even better in the NFL than he was at San Diego State. Warring, who is just 22, caught just 31 balls for 372 yards and 3 touchdowns.
NFL analyst Lance Zierlein compares Warring to Todd Heap:
Exciting and ascending, Warring is still a relative newcomer to the game, but he has the size, speed and athleticism to become a versatile, high-impact player on the pro level. He has the competitiveness to handle run-blocking duties and the talent to line up in the slot. While his production won't catch your eye, his tape does with quickness and ball skills that should make him a more productive target in the NFL than he was in college.
With the Lions fifth-round pick I was able to select the best player available and fill a need on the edge with Jalen Jelks. Jelks is impressive on tape and has racked up impressive stats (15 sacks). His challenge on the next level will be finding a true position. Even as a pass rushing specialist who isn't a full-time defensive end or outside linebacker, Jelks is a strong fifth-round pick who should get opportunities to rush the passer in his rookie season. If he does want to become an every-down player, he will need to put on a significant amount of weight. Jelks is 6'5" and 256 pounds -- too big and slow to be a linebacker and not sturdy or strong enough to be an end. Still, I want him on my favorite team and believe that he can make a difference as a sack specialist.

For my final four picks, I went with positions of need and players who I think could be diamonds in the rough, which is all you can hope for in the sixth and seventh rounds.
Lineman Khalen Saunders could be gone at this point in the actual draft. He has the size, speed, and aggression needed to succeed as a defensive lineman in the NFL. He played against lesser talent in college, which is why he isn't considered one of the better lineman in the draft.
To add competition and depth to the safety position, I picked up Wyoming's Wingard who racked up nearly 90 tackles this past season. He should be able to contribute to special teams immediately and begin to see action at safety in his second or third year.
My final picks in Barnes and Bailey were also made to increase the competition at those positions. I would have loved to add a top guard to the Lions in this mock draft, but it simply didn't play out that way.
What do you think of my mock draft? Please comment below!
Conduct Your Own Mock NFL Draft
Now it's your turn. Conduct your own NFL mock draft for your favorite team here and post your picks in the comment section below!