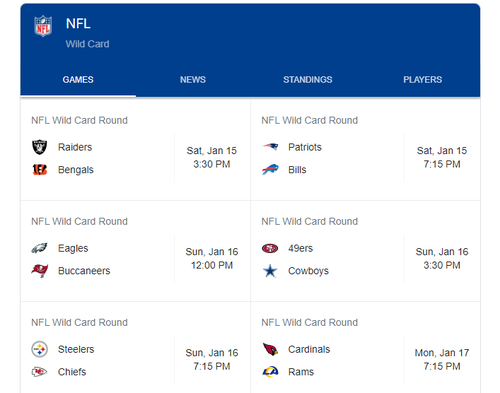 A post by Zane Miller, found here, inspired me to also share my own predictions for the 2022 playoffs, which start this Saturday. While my Detroit Lions are off vacationing once again, there is a lot to be excited about.
AFC Round 1
#7 Pittsburgh v. #2 Kansas City: Kansas City... by a mile. This will be no contest. Kansas City will win by 14-17 points.
#6 New England v. #3 Buffalo: Buffalo -- Josh Allen gets redemption against Belichick and New England.
#5 Las Vegas v. #4 Cincinnati: Cincinnati by 14.
NFC Round 1
#7 Philadelphia v. #2 Tampa Bay: Tampa Bay, but by a closer margin than most think.
#6 San Francisco v. #3 Dallas: Dallas pulls out a victory with a last second field goal.
#5 Arizona v. #4 LA Rams: LA Rams: Matthew Stafford leads the Rams to victory.
AFC Round 2
#2 Kansas City v. #1 Tennessee: Chiefs dominate the Titans.
#3 Buffalo v. #4 Cincinnati: The Bengals shock the world and upset the Bills.
NFC Round 2
#3 Dallas v. #1 Green Bay: Dallas upsets Green Bay!
#4 LA Rams v. #2 Tampa Bay: LA Rams upset Tom Brady and the injured Bucs.
AFC Championship
#2 Chiefs v. #3 Bengals: Chiefs pull out a close victory.
NFC Championship
#4 LA Rams v. #3 Dallas: The LA Rams move onto the Super Bowl after their defense steps up against the Cowboys.
Super Bowl LVI
#2 Chiefs v. #4 LA Rams
Winner: Patrick Mahomes and the Chiefs squeak out a 34-31 victory over the Rams.
What are your predictions? Post below!