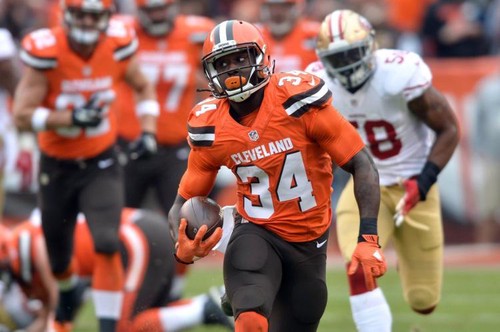 The Browns take their 2-2 record on a west coast trip to meet the 3-0 49ers who are coming from their bye week and remain the last undefeated team in the NFC.
Line:

Caesars: SF -5 (-110)
Consensus: SF -5 (-110)
Westgate: SF -5 (-110)
Wynn: SF -5 (-110)
Injury Report
Cleveland Browns: Denzel Ward (Q), Jarvis Landry (Q), Chris Hubbard (Q)
San Francisco 49ers: Tevin Coleman (Q)
Analysis: 49ERS
After starting the season with consecutive road victories to 31-17 to the buccaneers in week 1 and 41-17 over the Bengals in week 2 they came home to defeat the Steelers 24-20 in week 3, before their bye. Starting quarterback Jimmy Garropolo leads a potent offense with a QBR of 51.2, 69% completion rate including 739 yards and 5 touchdowns.
Leading the defense is Nick bosa a standout DE and a stats dominant one with a top 5 in yards allowed and rush yards allowed.
With everyone looking healthy, as opposed to last year, they seem poised to have a big year. They have a tough division in terms of opposing defenses, but an offensive-minded head coach with plenty of weapons is ready to battle.
This is why all the talking heads are giving them the win over a Cleveland browns team that started shakily but are coming from a big road win over their hated rivals the Baltimore Ravens.
Analysis: Browns
Led by quarterback Baker Mayfield who has thrown for 1,147 yards and four touchdowns this season, while running back Nick Chubb is averaging 5.1 yards per carry. Jarvis Landry, who will likely return from a concussion, and Odell Beckham each have more than 300 receiving yards.
Myles Garrett is second in the league with six sacks and Larry Ogunjobi has added three. Linebacker Joe Schobert is racking up tackles with 44, fifth-most in the NFL.
The Browns also can take heart in knowing that the 49ers are 0-6 against the spread in their last six games following a bye week. More betting tips here.
Betting Pick: San Francisco 49ers -3.5
The 49ers have a 3.5 point spread, and are sizable favorites on the moneyline. I am expecting a somewhat low scoring game as the 49ers offense has been throwing up numbers on bad defenses, and that isn't the case this week. The 49ers defense certainly looks for real, even against some lackluster opponents to start the season. This will be another test for them. While they do have the advantage of coming out of the bye week, I expect the Browns to be a team that gives them trouble. I am looking for the upset here in San Francisco, and the Browns to at least cover.