The end to a most awaited match, have you seen the way Chelsa won in the second half, in fact in the last 10 minutes ?
Such a match is very rare and I saw such result after a long time.
Arsenal, though had the momentum with them just after Pierre scored in the 13th-minute of the match with the header.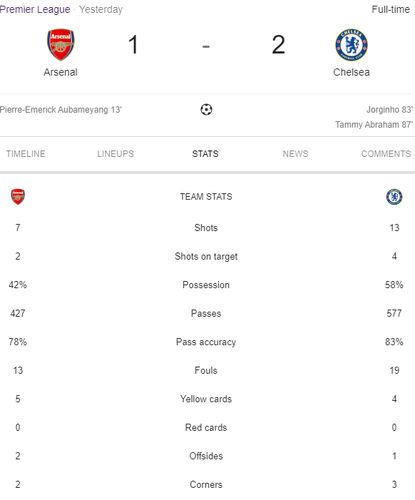 Chelsa has more control in their possession of ball for 58% of the time. Same time Arsanel had controlled the ball only for 42% of time.
Chelsa scored two goals in the space of only 4 minutes, in fact the goal of Abraham in 87' helped them to win the match.
It was most awaited first home match for the new manager of Arasanel Mikel Arteta's, ending only with a lossing cause !!!!

With this win Chelsea moved to 4th no on standing table with 35 points to them ......