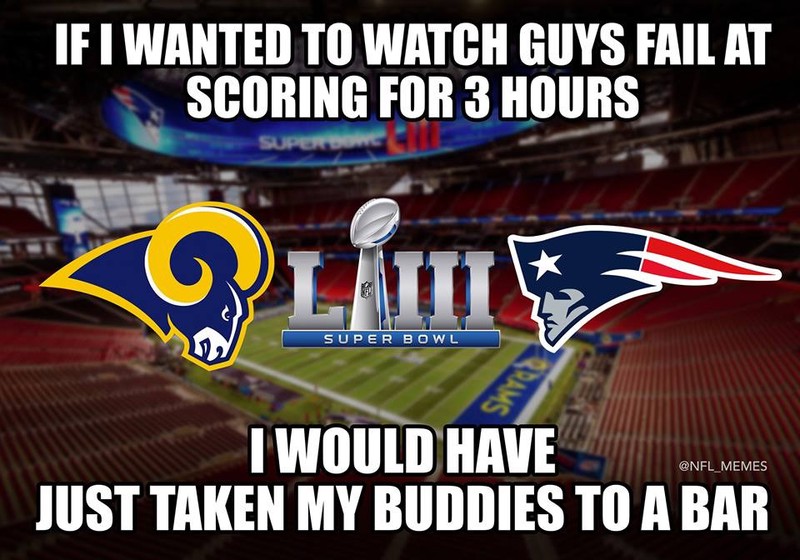 Super Bowl LIII Recap: Futility at its Finest
Wow, where to begin when discussing last night's "Super" Bowl? The first and foremost take-away from that spectacle was what a lesson in futility. Even if you happen to like old-school defensive football - like I happen to - this was brutal to watch at times. It's one thing when you have two all-time great defenses duking it out, each taking turns making big plays and bone-crushing hits, it's quite another when you have a couple of good, but not great defenses hold two of the highest-powered offenses in the league to one touchdown total between them. This wasn't the 1985 Bears D playing the 2000 Ravens D with Mike Singletary and Ray Lewis going at it. It was between a pair of defenses that were after-thoughts really heading into the game.
It was clear from the get-go in this one, that Patriots head coach and defensive guru Bill Belichick was not going to let a repeat of last year's Super Bowl happen where the Patriots were absolutely torched by Nick Foles all game long for 41 points. No, not this time, Belichick and former defensive coordinator Brian Flores (now Dolphins headcoach), put together a masterful gameplan that confused and pressured Rams' young QB Jared Goff all night long.
The Patriots masked their pressure beautifully before the snap, showing blitz from multiple positions pre-snap, before dropping out into coverage and bringing 4 rushers from all kinds of angles and areas. The plan worked perfectly, as not just Goff, but the Rams o-line was confused for most of the night, and had trouble dealing with the pass-rush that was generated from it by the Pats.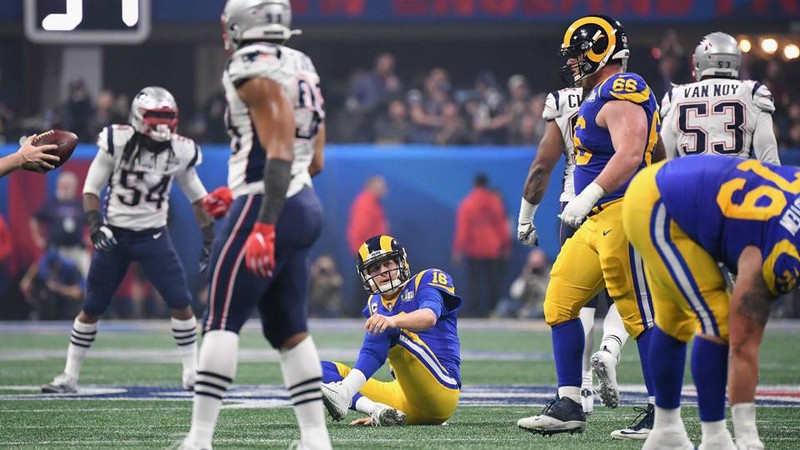 Meanwhile, the young offensive mastermind head coach of the Rams, Sean McVay, had trouble coming up with anything that could slow down New England's pass rush. The Rams insisted all week long that Pro Bowl MVP-candidate HB Todd Gurley was good to go after nagging injury speculation and poised for a big game. Gurley got the rock on the first play of the game and didn't touch it for the rest of the first quarter. For some reason, LA just wasn't able to get Gurley going, and he finished the game with only 11 touches total.
Both teams started slow, although New England was able to move the football on each of their first three possessions, but ultimately only came away with 3 points, and a missed field goal to show for it. Meanwhile, the Rams were not able to do anything with the football. Even as the second quarter was unfolding, and it became clear that we were locked in a defensive struggle, there was none of the Rams' trademark offensive ingenuity. Getting the ball to their HBs out of the backfield with a variety of screens, and rocket-patterns to the flats were not there. LA's RB group vs NE's LB group was a clear advantage to the Rams heading into the game, and yet they could find no creative ways to get their two backs the ball for an entire 4 quarters. Anderson and Gurley had 3 catches between them total for the game for 11 yards. That was one of the big factors in LA losing this football game.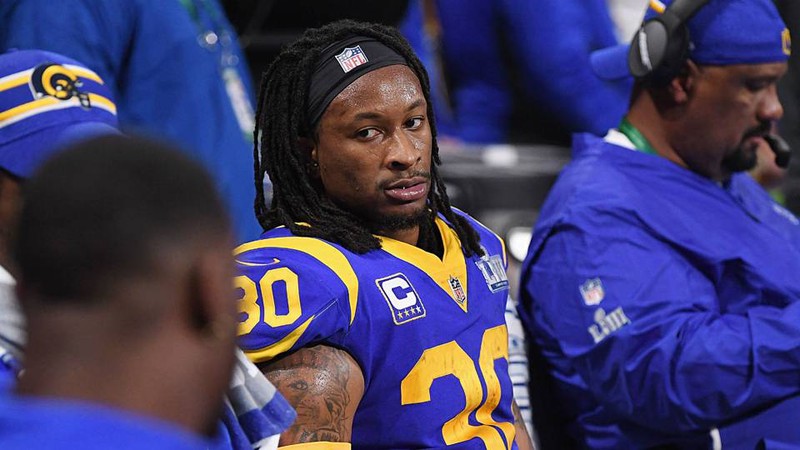 On the other side of the ball, give credit to Rams defensive coordinator Wade Phillips (who has had success against New England in the past) for an exceptional gameplan that absolutely stymied Brady and company all game long. Brady himself did not have a good game, especially by his standards, mustering just 21-35 passing for 262 yards with no touchdowns, and one bad pick on the very first pass attempt of the game. I think if you told any Rams fan or coach that would be Brady's final game line before the game started, everyone would overwhelmingly take it.
The Patriots did take advantage of one thing in the Rams' defensive gameplan, and that was with all of the disguising that Phillips' defense did pre-snap left Edelman with one-on-one coverage or in soft zone in the middle of the field. Edelman ripped the Rams the entire first half, but all the Patriots could show for it was a field goal, as they took a 3-0 into the locker-room. The 3 points total were the second-lowest total for a half in Super Bowl history, with only Super Bowl IX between the Steelers & Vikings producing a lower total (2-0).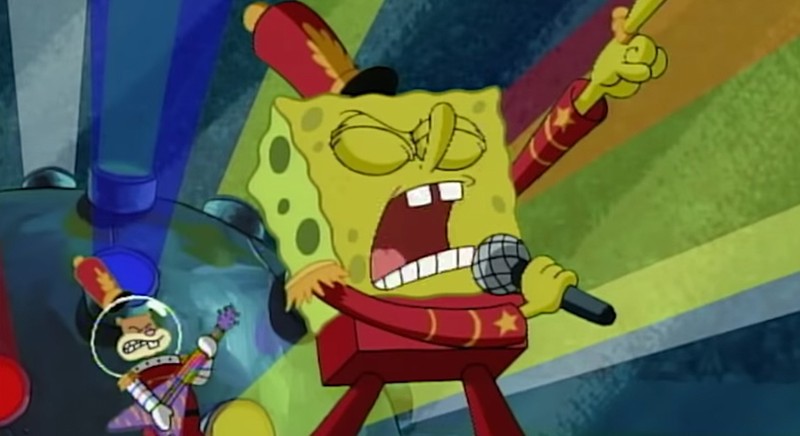 The third quarter was not much better. Perhaps both teams were influenced by the hot garbage that was the halftime show to go out and stink it up even more. New England did nothing in the quarter, surprisingly refusing to get HB James White involved in the game. White had managed 15 catches in the divisional round domination of the Chargers and came into the Super Bowl with 25 touches between the two playoff games, including 19 receptions. Last night? White had 2 carries for 4 yards and 1 catch for 5 yards. Two years ago he was the hero in the Patriots record-breaking, epic, come-from-behind victory over the Falcons. Last night, he was a non-factor.
The Rams were able to show a little life in the quarter as Goff was able finally complete a couple of passes in a row and pick up a couple of desperately-needed first downs. The drive ended with a field goal and we were all knotted up 3-3. The quarter finished quietly, as both teams were unable to seize momentum, and for the first time in Super Bowl history, the big game went three full quarters without a single touchdown from either side.
Almost on cue, (like we all knew this would happen) the Patriots took over the 4th quarter with the game's first touchdown drive midway through the period. Both teams once-again traded punts to start the quarter, and then Brady and company finally broke free. Rookie HB Sony Michel finally found pay-dirt from 2 yards out after a big Brady-to-Gronk completion set the Patriots up with first and goal.
The Rams were able to respond for the first time in the game, but once they drove into striking-distance, Belickick dialed up the one all-out blitz he had been waiting for all game, and a severley rushed Goff had to fire one up off his back foot, that ended up being an easy pick for CB Stephen Gilmore, who had himself a big game in the Pats secondary.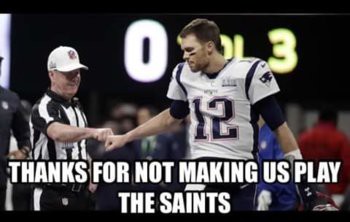 The turnover with about 4 minutes to play seemed to stick the final nail in the Rams' coffin, but just when it appeared New England was poised to run-out the clock, the Rams got one-last gasp stop, holding the Pats to a 4th down and inches situation with around 1:16 to go at about the 24 yard-line of Los Angeles. New England opted for a field goal that would all but end-it, and Gostkowski complied, hitting from 41 yards to make it 13-3. (One more inch and Brady kneels the ball 3 times and we have an even lower scoring game at 10-3.)
By the time Rams' kicker Greg Zuerlein missed a 46-yarder in the closing seconds to try and extend the game, it didn't really matter much, as New England had already put the finishing touches on their record-tying six Super Bowl victory.
Edelman was named Super Bowl MVP after his 10-catch performance, in perhaps the only Super Bowl in history in which a kicker or punter could have legitimately won the award. For the first 3 quarters of the game, the highlight was a 65-yard Johnny Hekker punt for the Rams from his own endzone that broke the Super Bowl record for longest punt.
Final Takeaways -
The game itself set several records for futility including-
* lowest scoring Super Bowl in history (16 total combined points; previous record was 21 in Super Bowl VII; Dolphins 14, Redskins 7)
* 2nd lowest scoring first half (3-0) in Super Bowl history (Steelers led the Vikings 2-0 @ halftime of Super Bowl IX)
* first time in Super Bowl history no touchdown was scored through the first 3 quarters of play
* matched lowest scoring total for a team in the game, Los Angeles Rams - 3 points - ( 3 points, Miami Dolphins, VI)
* lowest scoring total for the winning team in Super Bowl history, New England Patriots - 13 points - (previous low - 14 - Miami Dolphins, VII)
* fewest total combined touchdowns - 1 - (previous low - 2, Super Bowl III)
* joined Super Bowls III & VIII as only Super Bowls to not feature a passing touchdown
The Patriots joined the Steelers as the only franchise with 6 Super Bowl victories. Remarkably, New England's 6 titles have all come in the last 17 years.
Tom Brady became the first player in NFL history to win 6 Super Bowls, breaking the record he shared with Charles Haley. He is now 6-3 in the big game for his career.
One last takeaway that I found to be very interesting was the Rams refusal to get their TEs involved, in particular, Tyler Higbee. While nobody will mistake Higbee for Travis Kelce, the KC tight end scored in the AFC title game against NE, as did aging veteran Antonio Gates in the divisional round. In fact, Gates went for 5/41/1. New England ranked in the bottom third of the league against Tight Ends this season, and surrendered a touchdown to a tight end in their two previous playoff games this postseason. That is why it was particularly surprising to see not a single pass completion to a Rams tight end all game long. McVay is certainly an offensive brainiac and an excellent coach, but he out-did himself last night. Hats off to Belichick, who once again came up with an superb gameplan. In the end, we got an epic defensive struggle in the Super Bowl to close out the season in which more points were scored than in other in the history of the league. Even in a record-breaking offensive year, with two of the best offenses meeting in the Super Bowl, the old saying, "defenses win Championships" rang just as clear as ever.