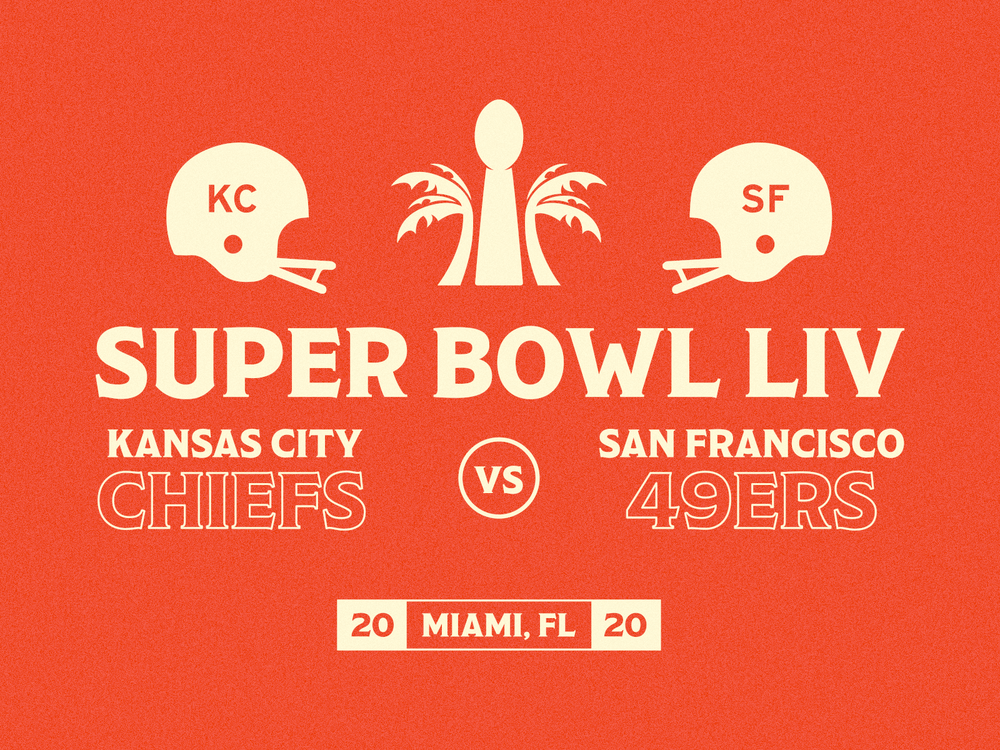 Welcome back all! Super Bowl eve is finally upon us and we are less than 24 hours away from the Chiefs & 49ers taking the field in Miami for what should be a highly entertaining Super Bowl LIV showdown. There has been plenty of build-up, analysis, simulations, and just about anything else you could possibly conjure-up including a breakdown of the importance of who's wearing what color in the lead up to the big game.
-
There's nothing left to do but provide a snapshot & breakdown of each team, and give you my pick for who will come out on top of the Super Bowl showdown between the Kansas City Chiefs & San Francisco 49ers. There is plenty to cover, so let's jump right into.
-
WHAT'S VEGAS SAYING?
-
Well, to be perfectly blunt, not much. This is as close to a 'pick'em' game as we have seen in quite some time for the Super Bowl. Kansas City started as the slightest of favorites at -1. That lined moved to -1.5 during the first week of build-up (or the beginning of this week depending on your sports book) and has held firm. -1.5 is still basically a pick'em game, and there just hasn't been an obsorbanent amount of money laid down on either side.
-
The total opened at 52.5 and quickly climbed to 54.5 where it has held firm as well. That point total would suggest a higher-scoring Super Bowl, and many are calling for this one to even reach the 60s. For all of those backing the 49ers that would most-likely be bad news, as a shootout should & most likely would favor the high-octane Chiefs. While that point total may seem very tempting, keep in mind we had two of the league's top-scoring teams in the Super Bowl last year and they produced a whopping 16 points total.
-
Let's first take a look at the NFC Champion San Francisco 49ers making their 7th Super Bowl appearance (5-1 record):
-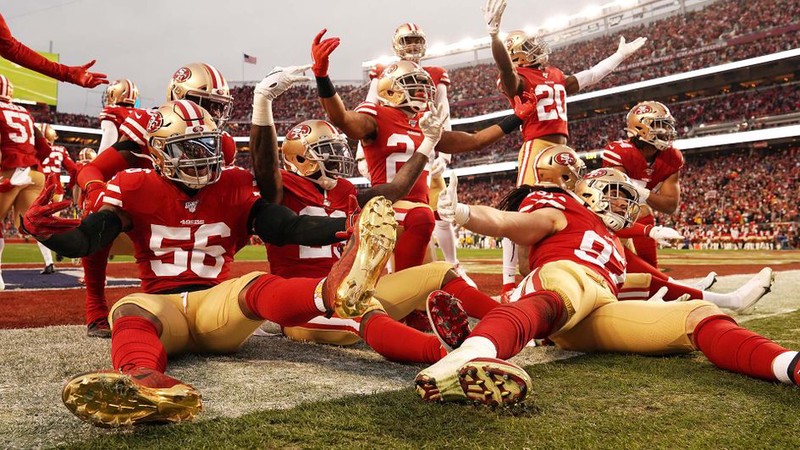 SAN FRANCISCO 49ERS (13-3)
-
(Total yards per game, league ranking)
-
Total Offense: 375.5 (6th)
Total Defense: 278.6 (2nd)
-
Playoff Results:
-
NFC Champ. vs Green Bay Packers W 37-20
NFC Division vs Minnesota Vikings W 27-10
-
Team Leaders:
-
QB Jimmy Garoppolo
329-476, 3,978 pass yards, 27TD, 13INT, 69.1%, 102.0 rating
-
HB Raheem Mostert
137 - 772 rush yds, 8TD; 14 - 180 rec yds, 2TD
-
HB Tevin Coleman
137 - 544 rush yds, 6TD; 21 - 180 rec yds, 1TD
-
HB Matt Breida
123 - 623 rush yds, 1TD; 19 - 120 rec yds, 1TD
-
TE George Kittle
85 - 1,053 rec yds, 5TD
-
WR Deebo Samuel
57 - 802 rec yds, 3TD; 14 - 159 rush yds, 3TD
-
WR Emmanuel Sanders
36 - 502 rec yds, 3TD
-
LB Fred Warner
118 total tackles
-
DL Arik Armstead
-
10.0 sacks
-
DL Nick Bosa
9.0 sacks
-
It's no secret what the 49ers would like to do. Just go back and watch the game film from their two postseason games in which they dominated first the Minnesota Vikings, and then, second, the Green Bay Packers. In each game, their ferocious front four on the defensive side controlled the game and made life excruciatingly difficult for both Kirk Cousins & Aaron Rodgers.
-
They ran the ball extremely effectively in each game as well, and only needed Garoppolo to throw when need-be, which was to say the least, not too often. He only attempted 19 passes against the Vikings, and an insane 8 - yes that is correct - 8 - against the Packers. Just 27 pass attempts for 208 yards in two playoff games through the air. To put that in perspective, Patrick Mahomes was - funny enough an exact same 23/35 in each playoff victory for the Chiefs.
-
That isn't to say that head coach Kyle Shanahan isn't afraid to turn Garoppolo loose if need be. Jimmy G did throw for over 3,900 yards & 27 TDs on the season, and with George Kittle & the physicality of WR Deebo Samuel causing potential matchup problems, it's worth noting just how unpredictable young Shanahan can be. Chances are San Fran will have to throw it more than 8 times, and how Garoppolo plays will certainly have a direct outcome on this game.
-
Kansas City doesn't have the best run defense, but they were able to contain the Titans' Derrick Henry in the AFC Title game. The 49ers will most likely have some success running the football behind the trio of talented backs at their disposal in Tevin Coleman, Matt Breida, and NFC Title game hero Raheem Mostert. All ran for at least 500 yards and totalled over 100 yards receiving during the regular season. Don't expect it to be a complete runaway, however, like their two previous postseason cake-walks.
-
Now let's take a closer look at the AFC Champion Kansas City Chiefs, making their 3rd Super Bowl appearance & 1st in 50 years (1-1 record):
-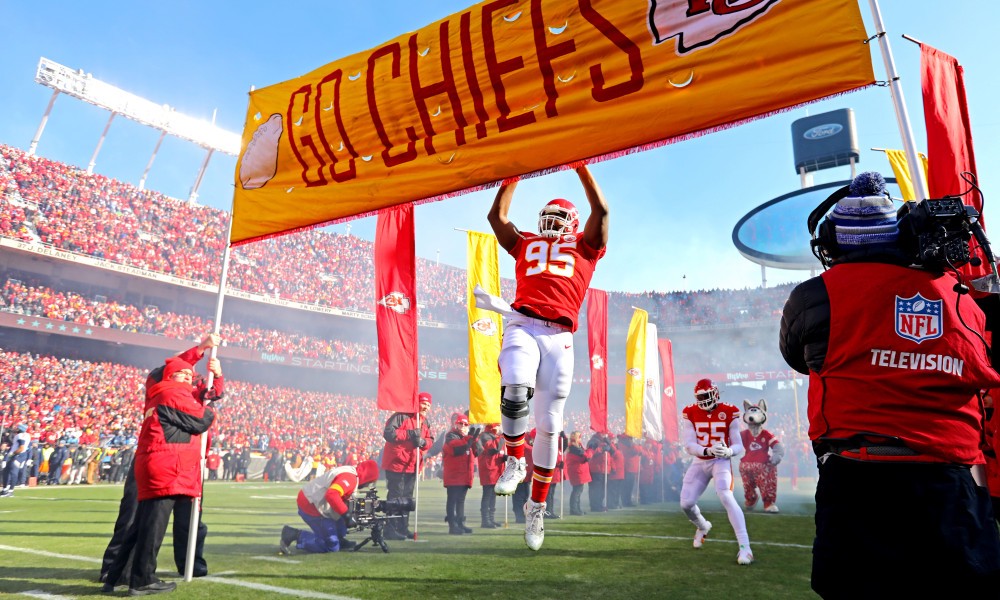 KANSAS CITY CHIEFS (12-4)
-
Total Offense: 383.6 (4th)
Total Defense: 351.7 (17th)
-
Playoff Results:
-
AFC Champ. vs Tennessee Titans W 35-24
AFC Division vs Houston Texans W 51-31
-
Team Leaders:
-
QB Patrick Mahomes
319-484, 4,031 pass yards, 26TD, 5INT, 65.9%, 105.3 rating
-
HB Damien Williams
111 - 498 rush yds, 5TD; 30 - 213 rec yds, 2TD
-
HB LeSean McCoy
101 - 465 rush yds, 4TD; 28 - 181 rec yds, 1TD
-
TE Travis Kelce
97 - 1,229 rec yds, 5TD
-
WR Tyreek Hill
58 - 860 rec yds, 7TD; 8 - 23 rush yds
-
WR Sammy Watkins
52 - 673 rec yds, 3TD
-
WR Mecole Hardman
26 - 538 rec yds, 6TD; 4 - 17 rush yds
-
LB Anthony Hitchens
88 total tackles
-
DT Chris Jones
9.0 sacks
-
Again, it's not a big secret what the Chiefs would like to do. Patrick Mahomes is the reigning MVP and one of the most electrifying players in the league and rightfully so. They want to turn him loose to make plays and capitalize on all of the talented weapons surrounding him. Travis Kelce is one of the best receivers in the league, let alone most likely the best TE out there.
-
Coupled with the speed of Hill and Hardman on the outside, the young, uber-talented Mahomes has plenty to chose from to exploit opposing defenses. LeSean McCoy is most likely going to be a healthy scratch for the game, but Damien Williams has come on strong as of late. He had 89 total yards and a score in the AFC Title game and 3 total TDs in the Divisional round victory over the Texans.
-
Andy Reid has been able to make adjustments when time has called for it all season long, including in each of the Chiefs' two playoff games. Kansas City will need to avoid the painfully slow starts that they had against the Texans (trailed 24-0) & the Titans (trailed 17-7), against a team as talented on both sides of the ball as the 49ers.
-
The defense has improved as the season has went along as well, but it's still not this team's strong suit by any means. Giving up 31 & 24 in their two playoff games suggests they will give up some points to the 49ers in the Super Bowl as well. Just how many will it be though?
-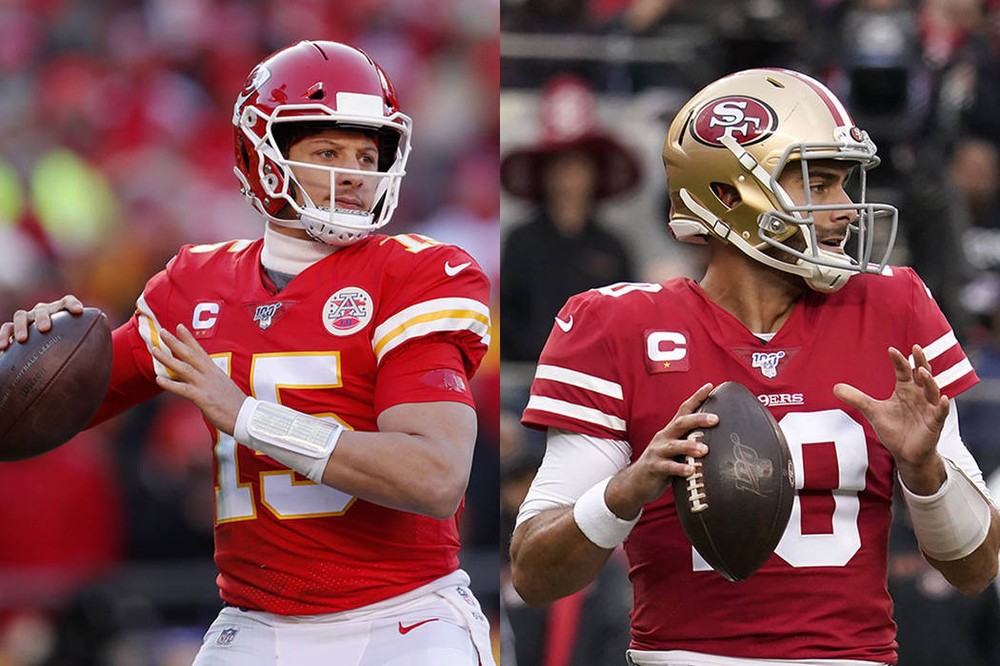 PREDICTION:
-
Super Bowl LIV has all of the makings to be an absolute classic. It could end up being a 2-score game + too in either direction. Each team plays contrasting styles that can bury an opponent in no time. Kansas City can obviously score points in bunches, as evident of their 51 in the final 3 quarters against the Texans. San Francisco can get after the QB, and the run the football extremely efficiently.
-
In the end, this one will be one of the former where we get a great game. Both teams will have success on both sides of the ball at times.
-
What I believe Super Bowl LIV will ultimately come down to is just how successful the Chiefs can be at containing the 49ers' ferocious pass rush. We've got the league's best pass rush going against the league's best passer while under pressure.
-
Look for a tighter than expected game in the early-going before both teams make some plays and start scoring. Andy Reid figures out a way to slow down the 49ers' pass rush just enough and exploit the Chiefs' speed & athleticism advantage at the skills positions versus the slower SF secondary. In an excellent game that goes down to the wire, the Chiefs prevail by a field goal & Andy Reid gets that long- elusive first Ring.
-
KANSAS CITY CHIEFS 27
SAN FRANCISCO 49ERS 24
----