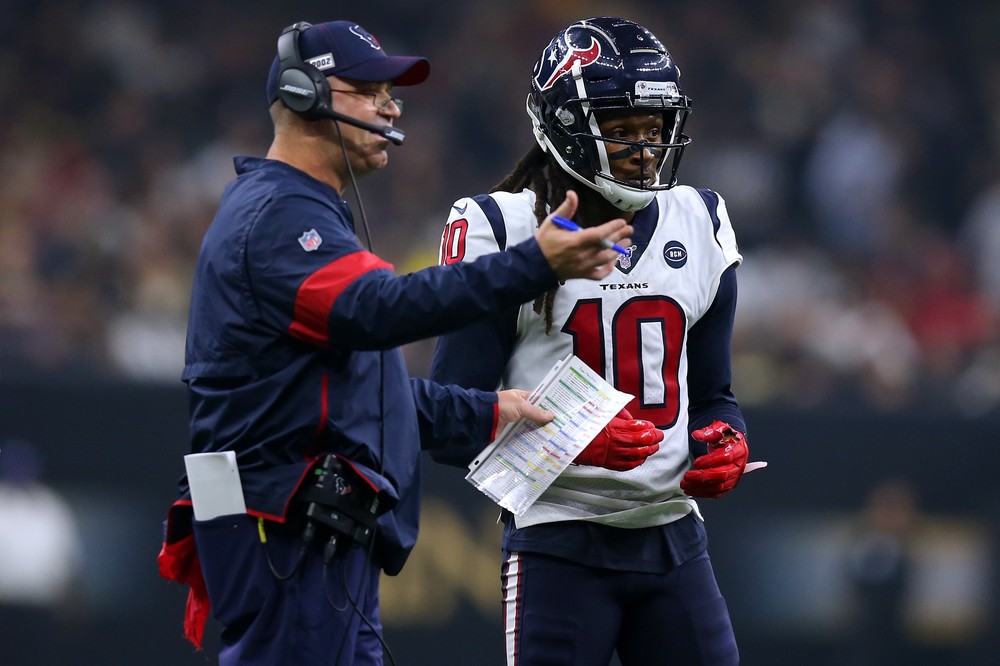 Yesterday, Bill O'Brien and the Houston Texans shocked the football world when they shipped one of the three best wide receivers on the planet to the Arizona Cardinals. It's been no secret for quite some time, that O'Brien and the Texans love their RBs, and they've been trying to replace Lamar Miller for over a year now. They landed David Johnson in return, who will step-in as the featured back immediately.
-
Of course, the question begs to be asked - what version of Johnson will Houston be getting? Yes, he proved to be a dynamic pass-catcher, and a bit of a do-it-all dynamo in 2016 when he piled up 1,239 yards rushing, another 879 receiving, and accounted for 20 total touchdowns. He missed virtually all of 2017 due to injury and just hasn't been the same back since. Meanwhile, Hopkins has firmly established himself as one of the premier WRs in the game. Here is a snapshot of what each player has done over the past 3 seasons:
-
DeAndre Hopkins
-
2019: 104 receptions, 1,165 receiving yards, 7TDs
2018: 115 receptions, 1,572 receiving yards, 11TDs
2017: 96 receptions, 1,378 receiving yards, 13TDs
-
David Johnson
-
2019: 345 rush yards, 2TDs; 36 receptions, 370 rec yds, 4TDs
2018: 940 rush yards, 7TDs; 50 receptions, 446 rec yds, 3TDs
2017: 23 rush yards, 0TDs; 6 receptions, 67 rec yds, 0TDs
(missed season due to injury)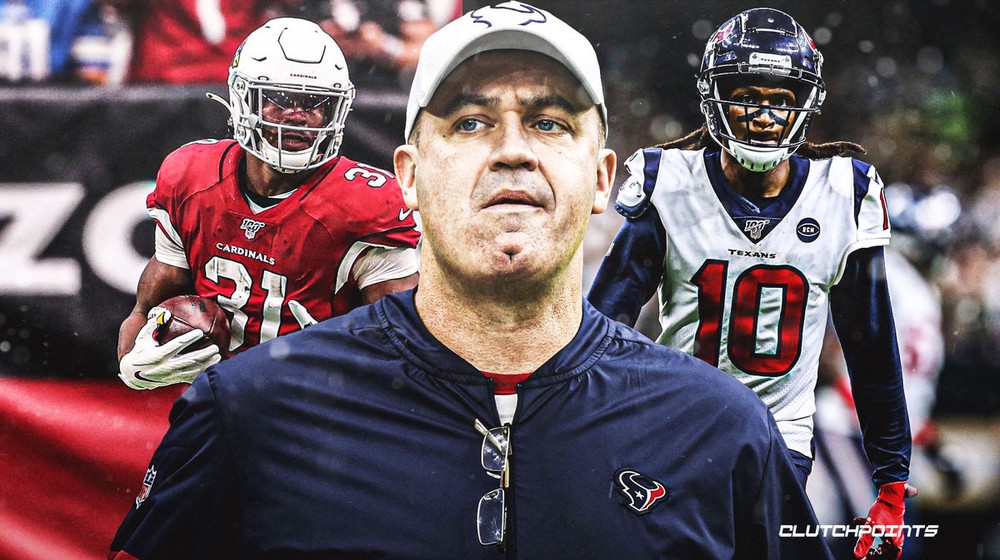 When looking at the breakdown of these two players from their on-the-field performance over the past 3 seasons, it is crystal clear that O'Brien and the Texans may have been reaching here in this trade. They are hoping to get the 2016 version of Johnson, and he just hasn't been the same level of player since. Sometimes a change of scenery can do a player a lot of good, and perhaps that happens for DJ in Houston. That being said, when you look at the other pieces in this trade (or lack there of), you kind of have to scratch your head.
-
Both teams flipped 4th round picks, and Houston received a 2nd rounder as well. So, basically, the 4th rounders are a wash, making this trade essentially Hopkins for a 2nd rounder. While this trade was already being scrutinized, after another blockbuster trade late last night between the Vikings and Bills emerged, it actually has made this trade look even worse.
-
The Minnesota Vikings sent disgruntled WR Stefon Diggs to the Buffalo Bills in exchange for a 1st round pick, and 4th & 6th round picks. The Bills also received a 7th round pick in return. While Diggs has been a sensation since coming into the league, he is still not quite the caliber of Hopkins, and the Bills got 3 picks for him, including, most importantly, a 1st rounder.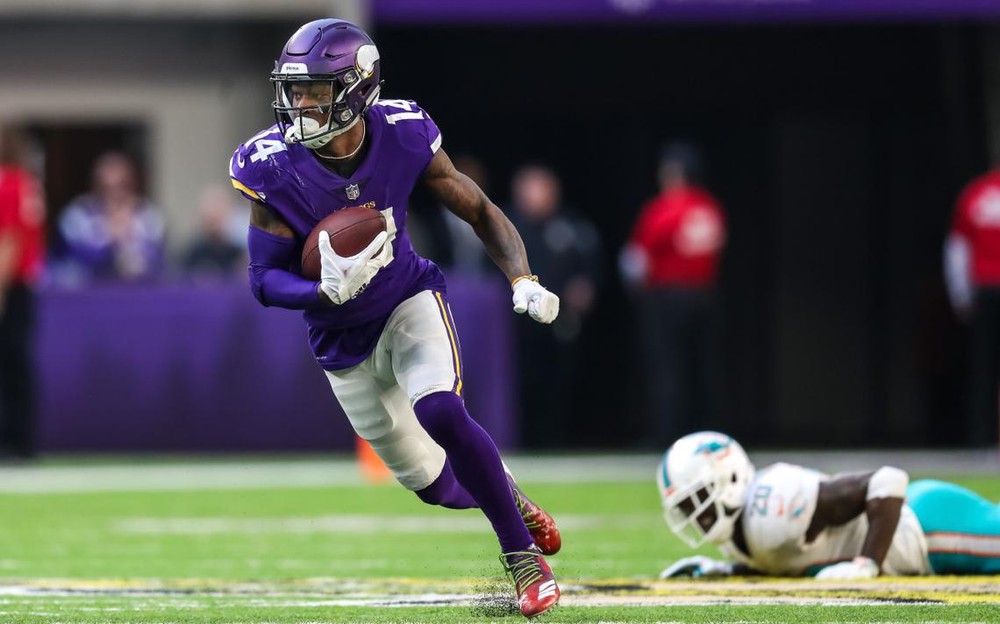 For the Texans to agree to ship out Hopkins and not get a 1st Rounder in return is truly mind-boggling. O'Brien does have a track record of questionable moves, however, so maybe this shouldn't be a huge surprise. This is the same guy who shipped TWO 1st round picks and a 2nd rounder to Miami at the beginning of last season for Laremy Tunsil. While Tunsil is a great offensive tackle, they basically gave up their immediate future for him and haven't even given him a long-term deal yet. So, let's put this in perspective a moment.
-
This team was willing to give up a pair of first rounders, and a second for an O-lineman. Then they were willing to give up one of the best receivers in the game (who is on a team-friendly contract mind you) for basically one 2nd round pick. How that makes sense is up for debate to anyone. Then again, trying to make sense of Bill O'Brien is not an easy task. We all tried after they blew that 24-0 lead in the Divisional Round of the playoffs to the Chiefs.
-
Maybe this somehow works out in Houston's favor. I don't see it at the moment. This team needs upgrades in the defensive secondary desperately, but they haven't address that yet. They can have the greatest running game in the world, but if they can't cover any receivers, it's not going to matter much.
-
While the Texans are left wondering what the hell just happened to their offense, the Arizona Cardinals have all of a sudden became the most intriguing offensive team heading into the 2020 season. Head Coach Kliff Kingsbury has to salivating to get his new offensive prize on the field with dynamic 2nd year QB Kyler Murray, and one of the greatest pass-catchers of all-time with Larry Fitzgerald.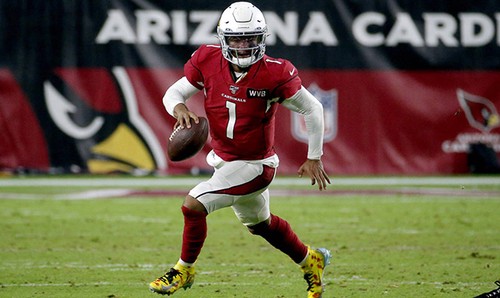 Murray threw for 3,722 yards, 20TDs, and 12 picks as a rookie last season, and added another 544 yards on the ground and another 4 scores. Coupled with the emergence of young WR Christian Kirk (68 catches, 709 yards, 3TDs), and the re-emergence of RB Kenyan Drake, who found new life with the Cardinals last season after coming over from the Dolphins. Drake rushed for 643 yards and 8 scores while adding another 171 receiving yards. The Cards placed the transitional tag on Drake yesterday, which means they match any offer he gets in free agency. After departing with Johnson yesterday, and his cap number, Arizona will most certainly do exactly that and match any offer to keep Drake in the backfield. With a healthy Chase Edmonds in the fold as well, the Cardinals now have a very intriguing offense heading into 2020.
-
Let's not forget this team gave the 49ers fits both times they played this past season, and that was without Hopkins. Arizona scored 25 and 26, respectively, in their two narrow losses to the 49ers. The NFC West just got even tougher. The Rams are still two years removed from a Super Bowl, and still have one of the more talented rosters in the NFL, and Seattle is well, Seattle. As long as they have Russ Wilson in the fold, the Seahawks are always going to be in the mix.
-
Congrats to the Cardinals on successfully accomplishing a coup by stealing DeAndre Hopkins on the first day of NFL free agency. For the Texans, we will see what they do in the rest of free agency, but you have to think that this move is going to have repercussions, and cause some grumblings in the locker room. A shakeup may have been needed after the way they bowed out of the playoffs, but trading one of the best receivers in the world for a 2nd round pick is probably not what any of us had in mind. Strap-on your seatbelts everybody, we are only on day 2 NFL free agency, and it's already been a wild ride!
-
As always, I would love to get your thoughts in the comments section below. Is Bill O'Brien on something? Will this move really benefit the Texans?
----
Be sure to checkout today's video breaking down Tom Brady's big announcement and what it means for the NFL and the AFC East, and more on the big trades from Day 1 of NFL free agency!:
-
-
Chris Elgersma
-
Be sure to find me on Instagram & Scorum:
@sportsguychris
-
I'll have my 1st round March Madness bracket simulations on Thursday as I take the field down to 32, the sweet 16, and so on!