Lot's of things have happened just in the last few days in the world of NFL wide receivers. A top target on a potential AFC contender went down. Another target that figured to be a prominent piece in the offense decided to call it quits. And today comes news of a record contract signed by another star WR.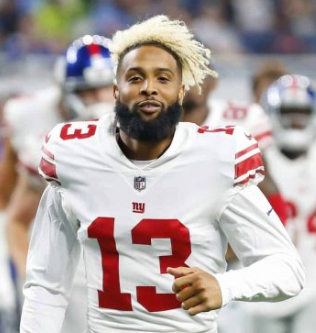 Odell Beckham Jr Signs 5 year $95 Million Dollar Deal
On Monday Odell Beckham Jr agreed to a deal that will make him the highest paid WR in NFL history. The deal pays Beckham a whopping $19 million per season and includes $65 million in guaranteed money. Beckham, who broke his ankle last October, has not played this preseason. Without him in the lineup last season the team posted a dismal 3-13 record. The Giants are hoping Beckhams return coupled with top draft pick RB Saquon Barkley can make them a threat in the NFC East.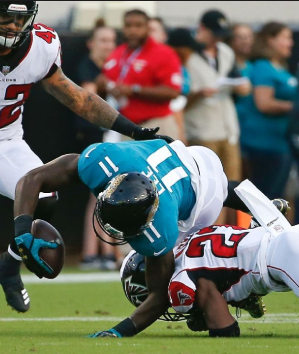 Marquis Lee Out For The Year With Knee Injury
In early action during the 3rd game of the preseason Marquis Lee suffered a season ending knee injury. After catching a pass over the middle and running upfield he was tackled head on by Damontae Kazee. Some players have argued the reason the injury was sustained was because of the NFLs rules on tackling forcing defenders to aim low on a players body to tackle them. Marquis Lee will undergo season ending surgery to repair the damage done to his knee and will go on the IR. This is a big hit for the Jaguars as he figured to be a big part of their passing game.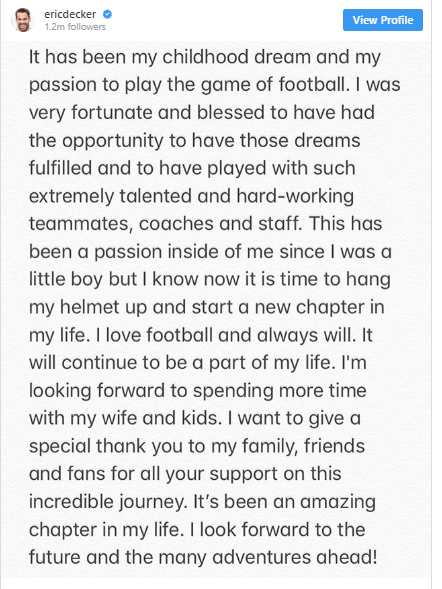 Eric Decker Retires After 8 Years In The NFL
On Sunday afternoon Eric Decker took to instagram to announce his retirement from the NFL. Decker was expected to be an important piece in New Englands passing game. Especially early in the season when they will be without the services of Julian Edelman, who will be out serving a 4 game suspension. In the message he thanked his family, friends, and fans but wasn't specific about what led to his decision to retire. Decker had signed a 1 year deal with the Patriots back on August 3rd. He played for the Jets, Titans, and Broncos at different points in his career.