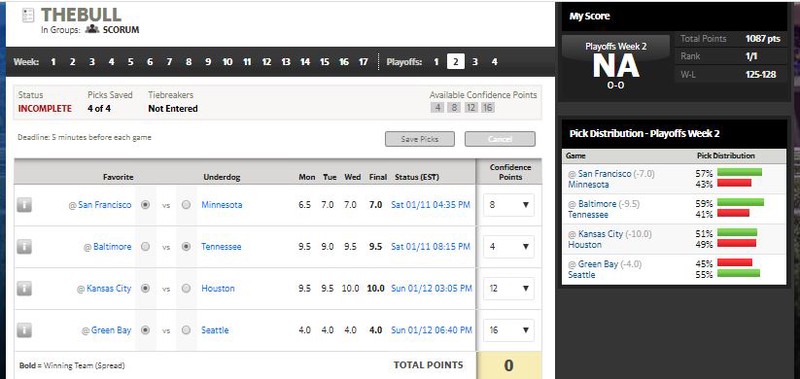 First game of the weekend has the 49ers hosting the Vikings. The 49ers are favored by a full touchdown. The Vikings are fresh off their upset of the Saints in OT, while the 49ers locked in the bye week 2 weeks ago with an impressive road win in Seattle and have been resting up for this game. The 49ers are my pick to represent the NFC and I see no reason to believe they stumble here. They get this game at home, vs Kirk Cousins, outdoors against a dome team that's on a short week and off an OT game. I expect this game to get out of hand and kind of ugly. I think the 49ers to take it by double digits.
The Saturday Night game has the red hot Titans taking on the top seed Ravens. The Ravens are favored by 9.5. This is a giant number considering how hot the Titans have been. They are fresh off their upset win against the Patriots and feel like they can take on and beat anyone. The Ravens looked great in the regular season but have not had a meaningful game in 3 weeks and I think it may take them a bit to get back in the flow of the game. Once there they can run up the score on anyone but I'll take my chances that the Titans can keep this one relatively close. I predict the Ravens win by a TD or less.
First Sunday game we have the Chiefs taking on the Texans. Chiefs favored by a full 10 points. This is a regular season revenge game for the Chiefs. That coupled with the fact that the Texans literally needed a miracle last weekend to make a comeback and win in OT gives me the confidence to take the Chiefs and make them my 2nd most confident pick of the weekend. Mahomes and company come out guns blazing and score early and often in this one and advance to the AFC Championship game for the 2nd straight season.
The fourth and final game of the weekend has the Packers taking on the Seahawks. Packers are favored 4 points. Lots of people think the Seahawks can go into Lambeau and win this game. Not me. I think the Packers will decimate this Seattle team. Green Bays defense has been good all season and received 0 respect from analysts and pundits. Aaron Rodgers will do Aaron Rodgers things and put up points against this soft Seattle defense. I smell a blowout in this one. The Green Bay Packers will win easily and advance to the NFC Championship game to take on the 49ers.
Those are my picks for this weekend. Good luck with your picks/bets!