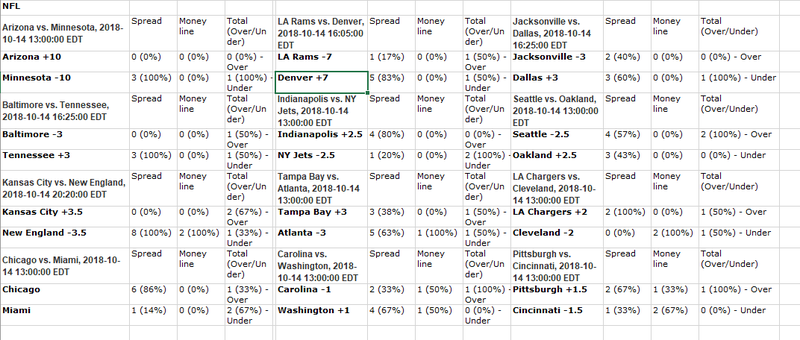 Here are the NFL Sunday consensus picks from the picks and parlays website. Eight cappers are on the Patriots to cover the -3.5 point spread against the Chiefs, 2 are on the Patriots to win, none have taken the Chiefs. Six cappers are on the Bears on the road in Miami to cover -3 and 5 are on the Broncos catching a TD against the Rams and only 1 capper is on the other side taking the Rams. A few other plays that look rather strong are the Vikings, Titans, and Colts. The only opposition to those 3 plays is the 1 capper on the Jets.
Last week they were 3 and 1 on their selections with big differences with the Bills, Lions, and Cardinals coming through while Jacksonville failed to cover catching 3 in Kansas City.
For informational purposes these picks are via the picksandparlays.net website consensus picks from their numerous professional handicappers. It doesn't tell you who is on which side but it tells you how many cappers are on each side. Hopefully this information is helpful in your handicapping endeavors.