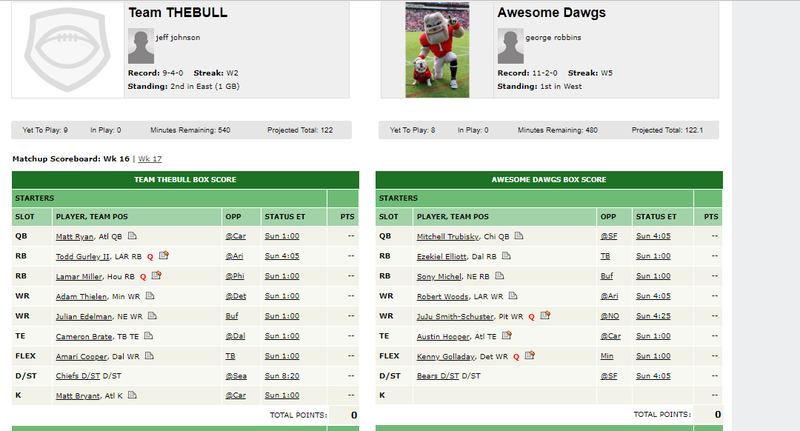 After a long regular season and opening round of the playoffs we are finally at the Championship matchup between myself and Awesome Dawgs. This league was graciously set up by @Mikey and the prize for winning is 60 SCR plus a full 100% upvote from @Mikey. As you can see above, right now I am projected to lose this week by 0.1 points but Awesome Dawgs has not put in his kicker, so I will be an underdog this week. However, through an oversight or a rush to set up the league Mikey made the playoff rounds 2 weeks of totals. This one won't be decided until all the week 17 games have been played.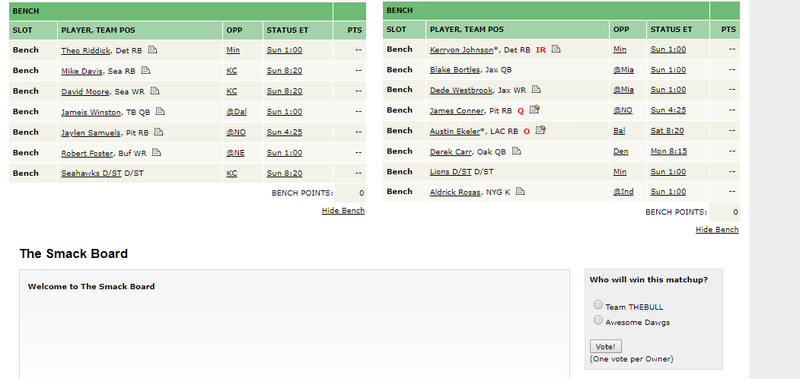 Here is a look at the players on our bench. Unfortunately for me Todd Gurley suffered a knee injury in the last game. He hasn't practiced all week but I hope he is able to play, otherwise I will be forced to plug in a substitute for my teams best player which would leave me at a huge disadvantage. Luckily I might have a few options as I managed to grab James Conners replacement in Pittsburgh and he might miss another game. I also have the Seattle backup RB who played a significant role last week with Rashad Penny unavailable. I won't know what changes I need to make, if any, until Sunday mornings injury report.

What do you think? Am I going to take it down, or is Awesome Dawgs? Remember this is a 2 week battle so the totals from both weeks will be used to determine the winner. I will post another update next week with this weeks results and what I will need to do to stay on top or catch up and pull out a win. Thanks for reading!