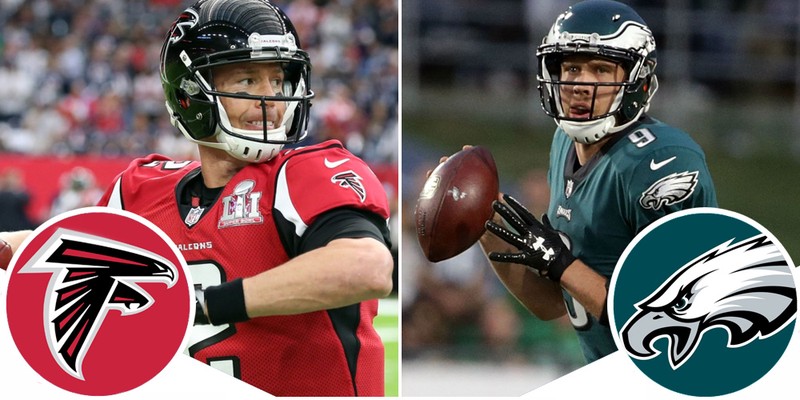 So who am i taking today for my pick, I'm sure some of you are wondering. We had a great 2 of 3 last night. Red Sox in the 8th came through and then in the 9th boom. Hopefully you made some money there. Not to mention my Dog of the Day made us some money as well. A's destroyed last night. I knew Severino was a bit overrated and Im happy to run away with $300 from the book last night there.
That said who do i like and why.
Well Foles performance last year in the big show was nothing short of spectacular and with Wentz injury still not approved by medical Foles has the nod today. I think its not Foles to worry about tonight its the Defense. This Eagles Defense can really bang up an offensive line and get the throwing time of Matt Ryan down to fast seconds.
Who do I like better here. Honestly Im not a fan of either teams really. But having to pick there are a few things. Eagles D and that loud stadium, what do fans in Penn have to do other than watch their sports teams... absolutely zero. lol. I really think that stadium for Thursday Night Football will be super loud full of disrespectful fans and chaos ensuing.
On the other hand, Matt Ryan is one of the best along side I think Peyton Manning for the QB Scramble. He can't run as well as others but i think he is quick and his perifferal is really quick. He has returning weapons that destroy a defense with Julio Jones and D. Freeman. I really look to this Atlanta all around team to defeat the Defense and put up the points to succeed with a road win here. Some will say you can't beat that performance of Foles last year, and that Phili is the way to go, its at home, its loud, their defense is solid one of the best, and Foles at the helm you can't go wrong.
For me defenses dont win games, Points win Games. With Bryant as well as kicker again whom has one of the best kicking ratios for points as well in the long distance game, I would look to the Falcons in this season opener today. I don't see Ryan getting ruffled up and with the inconsistency of medical approvals with Wentz on the sideline I think that will play a huge factor in the team chemistry for the Eagles.
Just wait for the Matt Ryan and Julio Jones to fire off today. Game may not hit the 44.5 over under, but itll be good.
Since we saw green last night from the other picks its nice to use the money thats not yours to increase your bankroll for the week.

Here are my picks.
Take the Falcons (PK) or if you can find it ML +100 Taking ****4 stars of 5 on this one.
Taking the Team Total Points of the Falcons Over 22. Taking * 1 star of 5 on this one.
Again if i make you money, consider donating some cheese to my scorum fund. that would be most appreciated.

How to find me
Steemit: www.steemit.com/@theUXyeti
Steemit: www.steemit.com/@sugarsteem
Discord SugarSteem: https://discord.gg/WspdjKQ
Discord: TheUXyeti or TheUXyeti#5698
Dlive Channel: https://dlive.io/@theuxyeti
IG: thetravelyeti
Twitter: www.twitter.com/@zachsbb8