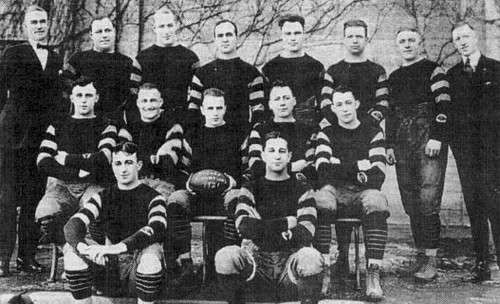 By Zane Miller
On Sunday, December 20th, 1925, the 1925 NFL season concluded with the Chicago (now Arizona) Cardinals holding the best regular season record at 11-2-1 to win the sixth championship in NFL history, while the Pottsville Maroons took the runner-up spot with a 10-2 record. It was the first championship for the Cardinals franchise.
Controversy regarding the champions arose once again as the initial end of the season saw the Pottsville Maroons with the best regular season record, but were suspended by the league for playing in an exhibition game in Philadelphia, which the league deemed a violation of the Frankford Yellow Jackets' 'territorial rights'. This allowed the Cardinals to schedule two more games, winning both to pass the Maroons in the standings and claim the title.
In 2003, 78 years after the conclusion of the season, the NFL held a vote between the 32 teams to reopen the case for the Maroons to be recognized as the official champions. No, I'm not joking. However, only the Eagles and Steelers voted in favor of reopening the case, and the Chicago Cardinals remained as the official 1925 NFL champions.
Tony Latone of the Maroons scored the most touchdowns during the season with eight.
1925 Final Standings (win-loss-tie format)
1. Chicago Cardinals (11-2-1, .846)
2. Pottsville Maroons (10-2, .833)
3. Detroit Panthers (8-2-2, .800)
4. Akron Pros (4-2-2, .667)
4. New York Giants (8-4, .667)
6. Frankford Yellow Jackets (13-7, .650)
7. Chicago Bears (9-5-3, .643)
8. Rock Island Independents (5-3-3, .625)
9. Green Bay Packers (8-5, .615)
10. Providence Steam Roller (6-5-1, .545)
11. Canton Bulldogs (4-4, .500)
12. Cleveland Bulldogs (5-8-1, .385)
13. Kansas City Cowboys (2-5-1, .286)
14. Hammond Pros (1-4, .250)
15. Buffalo Bisons (1-6-2, .143)
16. Rochester Jeffersons (0-6-1, .000)
16. Dayton Triangles (0-7-1, .000)
16. Duluth Kelleys (0-3, .000)
16. Milwaukee Badgers (0-6, .000)
16. Columbus Tigers (0-9, .000)
1925 Chicago Cardinals season

Link to stats database: https://www.pro-football-reference.com/years/1925/
Follow me on Twitter: https://twitter.com/Zmiller_82