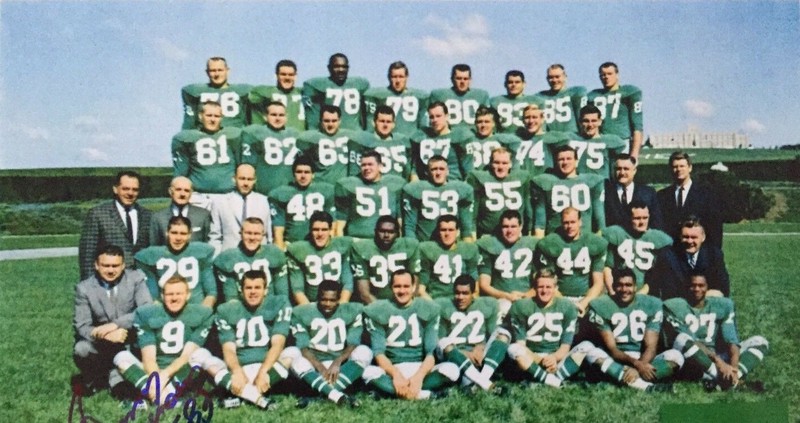 By Zane Miller
On Monday, December 26th, 1960, the Philadelphia Eagles defeated the Green Bay Packers 17-13 in the 1960 NFL Championship Game to win the 41st championship in NFL history. It was the third championship for the Eagles franchise. The game was held at Franklin Field in Philadelphia.
The season was also the first to feature the Playoff Bowl, a consolation game for third place in the overall standings held between the two second-place teams in each conference. The postseason contest was played from 1960 to 1969.
The Detroit Lions defeated the Cleveland Browns 17-16 in the inaugural Playoff Bowl on Saturday, January 7th, 1961. The game was held at the Orange Bowl in Miami, Florida.
Philadelphia Eagles quarterback Norm Van Brocklin won the 1960 MVP Award with 24 passing touchdowns and 2471 passing yards.
Out of Playoffs: New York Giants (6-4-2), San Francisco 49ers (7-5), St. Louis Cardinals (6-5-1), Baltimore Colts (6-6), Pittsburgh Steelers (5-6-1), Chicago Bears (5-6-1), Los Angeles Rams (4-7-1), Washington Redskins (1-9-2), Dallas Cowboys (0-11-1)
Most passing touchdowns: #19 Johnny Unitas (Colts)- 25 TD
Most rushing touchdowns: #5 Paul Hornung (Packers)- 13 TD
Most receiving touchdowns: #88 Sonny Randle (Cardinals)- 15 TD
Most interceptions: #25 Jerry Norton (Cardinals) & #25 Dave Baker (49ers)- 10 INT & 96 yds
Best field goal percentage (min. 9 attempts): #83 Bobby Walston (Eagles)- 14 for 20, 70%
Scoring Summary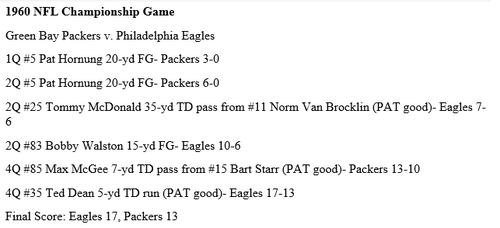 Link to stats database: https://www.pro-football-reference.com/years/1960/
Follow me on Twitter: https://twitter.com/Zmiller_82