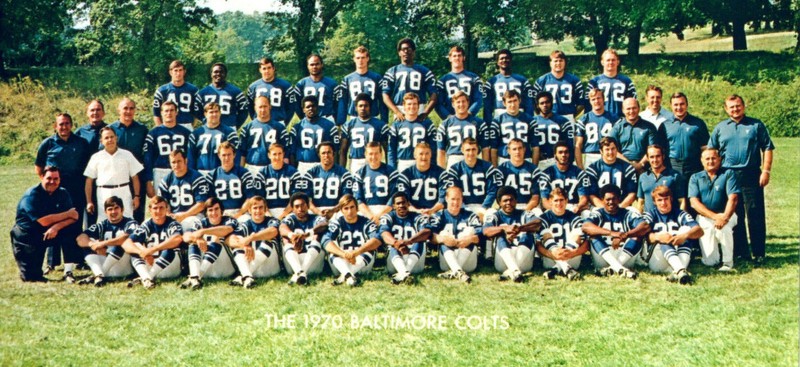 By Zane Miller
On Sunday, January 17th, 1971, the Baltimore (now Indianapolis) Colts defeated the Dallas Cowboys in Super Bowl V to win the 51st championship in NFL history. It was the third championship for the Colts franchise as Cowboys linebacker Chuck Howley won the Super Bowl MVP Award, the only player to win the award for the losing side. The game was held at the Orange Bowl in Miami, Florida.
The 1970 season was the first following the merger with the American Football League, thus adding 10 more new teams to the NFL.
San Francisco 49ers quarterback John Brodie won the 1970 MVP Award with 24 passing touchdowns and 2941 passing yards.
Out of Playoffs: Los Angles Rams (9-4-1), New York Giants (9-5), St. Louis Cardinals (8-5-1), Kansas City Chiefs (7-5-2), Cleveland Browns (7-7), San Diego Chargers (5-6-3), Washington Redskins (6-8), Chicago Bears (6-8), Green Bay Packers (6-8), Denver Broncos (5-8-1), Pittsburgh Steelers (5-9), Atlanta Falcons (4-8-2), New York Jets (4-10), Buffalo Bills (3-10-1), Philadelphia Eagles (3-10-1), Houston Oilers (3-10-1), New Orleans Saints (2-11-1), Boston Patriots (2-12)
Out in first round: Minnesota Vikings (L 17-14 to 49ers), Miami Dolphins (L 21-14 to Raiders), Detroit Lions (L 5-0 to Cowboys), Cincinnati Bengals (L 17-0 to Colts)
Out in second round: San Francisco 49ers (L 17-10 to Cowboys), Oakland Raiders (L 27-17 to Colts)
Most passing touchdowns: #12 John Brodie (49ers)- 24 TD
Most rushing touchdowns: #36 MacArthur Lane (Cardinals)- 11 TD
Most receiving touchdowns: #45 Dick Gordon (Bears)- 13 TD
Most interceptions: #42 Johnny Robinson (Chiefs)- 10 INT
Best field goal percentage (min. 11 attempts): #1 Garo Yepremian (Dolphins)- 22 for 29, 75.9%
Scoring Summary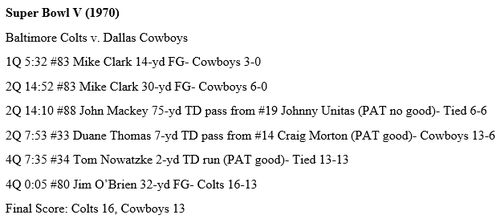 Link to stats database: https://www.pro-football-reference.com/years/1970/
Follow me on Twitter: https://twitter.com/Zmiller_82