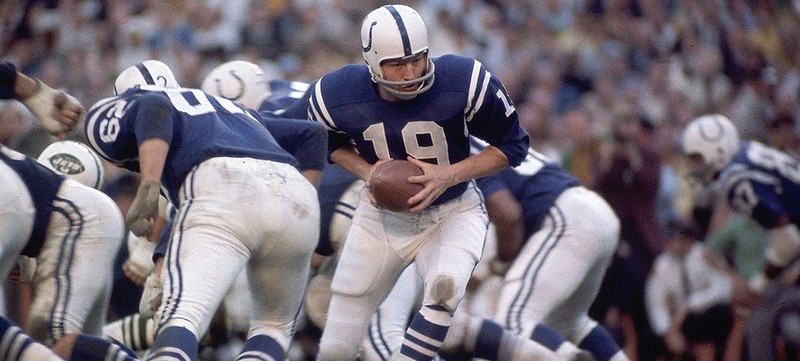 By Zane Miller
Baltimore Colts quarterback Johnny Unitas entered his 12th NFL season with already more than enough accolades to qualify as a future Hall of Famer. Spending his entire career with the Colts franchise, he led the team to back-to-back championships, earned two MVP awards and had become a first-team All-Pro four times. In addition, he would score his first double-digit win season in 1964. There's a reason why Unitas is remembered to this day as one of the greatest quarterbacks to ever take the field, and the 1967 season would only add to that legacy.
Unitas had his strongest game of the season on November 12th on the road against the Atlanta Falcons. He would torch the Atlanta defense for four touchdowns and 370 passing yards in a game the Colts would dominate 49-7, after taking a commanding 35-0 lead at halftime, with Baltimore keeping their undefeated streak alive with a 7-0-2 record. However, they would eventually finish at 11-1-2 with Unitas starting for every game.
Unitas picked up 20 passing touchdowns and 3,428 yards on the 1967 campaign, tying for fifth in touchdowns thrown with Cleveland Browns quarterback Frank Ryan and claiming the runner-up spot in passing yardage behind Washington Redskins (now Washington Commanders) quarterback Sonny Jurgensen with 3,747. Due to these remarkable statistics, Unitas would claim MVP honors for a third time, as well as becoming a first-team All-Pro for a fifth time. However, this would come as little consolation at the time, as the Colts failed to reach the postseason.
You read that correctly, the 1967 Colts, who had only one loss throughout the year, missed the playoffs. While an 11-1-2 record would have been enough in any other division, they instead shared the Coastal Division with the Los Angeles Rams who had also gone 11-1-2. As only the division winners could qualify for the playoffs at the time, the Rams won the point differential tiebreaker as they outscored the Colts by 24 points over their two regular season matchups. Just like that, the Colts' incredible season was over.
Despite this disappointing conclusion, Unitas would continue his impressive tenure with the Colts, winning a third championship in the 1970 season with a 16-13 defeat of the Dallas Cowboys in Super Bowl V, before joining the San Diego (now Los Angeles) Chargers for his final season in 1973. The Colts retired his #19 jersey the same year, prior to being inducted into the Pro Football Hall of Fame in 1979. He would also finish his career with a total of 118 wins, becoming just one of 18 quarterbacks as of this writing to reach 100 career victories.
With all the statistics in mind, I grade Unitas' 1967 season at an A. Although the lack of a playoff appearance is largely the only factor holding it back from being an A+, finishing top-five in both major passing totals is still an impressive accomplishment and well-deserving of the MVP moniker.
HEWT running counter