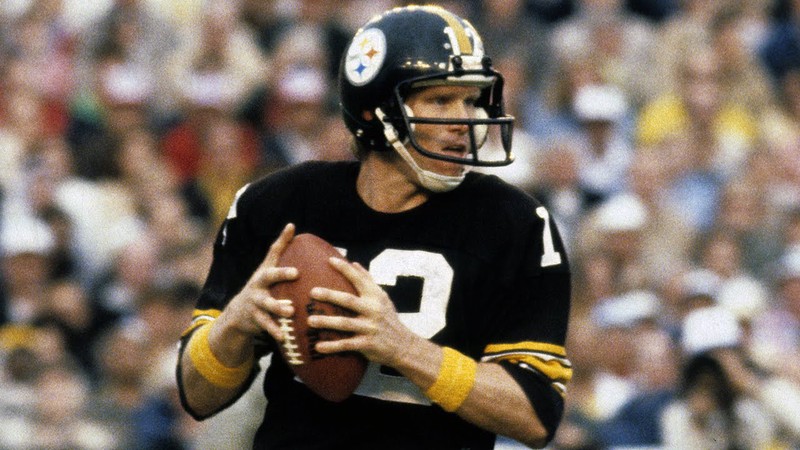 By Zane Miller
Pittsburgh Steelers quarterback Terry Bradshaw entered the 1972 season with two full seasons in the Steel City already his belt. However, neither season had gone particularly well, suffering a losing record in both years with a total of just 19 touchdown passes and 46 interceptions to show for it. With that, 1972 would obviously be an important year for Bradshaw to prove himself as a former first overall draft pick, compounded by the fact that the Steelers had not had a winning record since 1963 and had not made the playoffs since 1947. While the team would clear both hurdles this season, their passing game would not necessarily be their largest contributor.
Bradshaw had by far his best regular season performance of the year on November 5th at home against the Cincinnati Bengals, throwing for three touchdowns and 190 yards as the Steelers trounced their division rival 40-17, improving to a 6-2 record. The Steelers would lose only one other game for the remainder of the season to finish at 11-3, with Bradshaw starting in every contest.
Bradshaw ended the 1972 campaign with 12 passing touchdowns, tying for the 16th spot in that category with Los Angeles Rams quarterback Roman Gabriel, to go along with 1,887 passing yards, placing him 15th and 31 yards behind Bengals quarterback Ken Anderson. This would make Bradshaw's 1972 season notable as the first time an NFL quarterback scored more than 10 wins in a season while finishing outside the top-10 in both touchdown passes and passing yards.
With Pittsburgh claiming the AFC Central title, they would have a first-round home game against the Oakland (now Las Vegas) Raiders on December 23rd. The entirety of the first half would be defense-dominated, as the teams went into halftime at a 0-0 stalemate. The Raiders would eventually jump out to a 7-6 lead late in the fourth quarter, before Bradshaw found fullback Franco Harris for a game-winning 60-yard touchdown pass. This play, better known as the "Immaculate Reception" was controversial as the Raiders argued that Steelers running back John Fuqua had touched the ball before it got to Harris, which would have nullified the touchdown. Nonetheless, Bradshaw finished the game with one touchdown pass and 175 passing yards, while also giving up an interception.
With their first playoff victory in franchise history, the Steelers remained at home to face the undefeated Miami Dolphins in the AFC Championship Game on December 31st, with Miami looking for reach the Super Bowl in back-to-back seasons. Just like the first round, Pittsburgh kept the game tied at halftime, this time at 7-7. Unlike the Raiders matchup, however, the Dolphins were able to hold onto their late lead, winning 21-17 after securing a pair of interceptions to end Pittsburgh's shot at an upset. Bradshaw struggled throughout the afternoon, throwing just one touchdown and 80 yards, while also tossing two interceptions. He would also be taken out of the game temporarily due to a shoulder injury, though he would return in the fourth quarter.
With all of the statistics in mind, I grade Bradshaw's 1972 season at a C. This is the most obvious 'C' season I've covered so far, as the regular season stats put him below average amongst starting quarterbacks for the time, along with unimpressive playoff performances making for an easy grading decision.
HEWT Running Counter