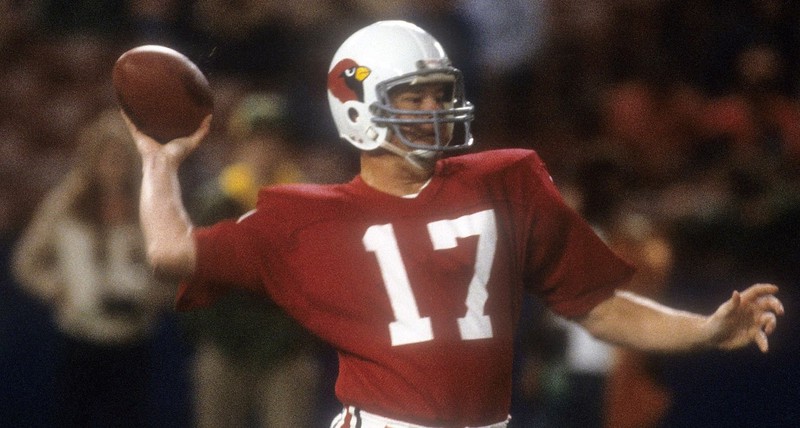 By Zane Miller

After going undrafted through the 1966 NFL Draft, quarterback Jim Hart was picked up by the St. Louis (now Arizona) Cardinals as a third-string backup behind longtime starter Charley Johnson and recent free agent acquisition Terry Nofsinger. Given these circumstances, it seemed as though Hart would be a longshot to play in St. Louis for any extended length of time. However, beginning in 1967, he would go on to play in almost 200 games for the team.
Hart's first few seasons saw him establish himself as a serviceable starter for the Cardinals, including his official rookie season of 1967 which saw him finish fourth in offensive rookie of the year voting. However, Hart was unable to elevate the Cardinals to the level of a playoff contender, as his first five seasons as the team's main starting quarterback ended with just two winning records and no postseason appearances. The 1974 season would be a different story, with Hart breaking through for a 10-4 record, helping the Cardinals to their first postseason berth in 10 years. While St. Louis would fall in the first round to the eventual Super Bowl finalist Minnesota Vikings, this firm foundation would be just what Hart needed for another statement season in 1975.
Hart's best game of the 1975 campaign came on September 28th at home against the Dallas Cowboys, as he threw for four touchdowns and 314 yards, with two of those touchdown passes coming in the fourth quarter to overcome a 31-17 deficit. Although the Cardinals would eventually lose 37-31 in overtime, the team would rally to an 11-3 record at season's end, with Hart at the helm for every game to claim the NFC East title in back-to-back years.
Hart claimed a total of 19 passing touchdowns, taking the fifth spot overall just two behind Cincinnati Bengals quarterback Ken Anderson in fourth, while Hart's 2,507 passing yards gave him another top-five placement at fourth overall, 159 yards less than third-place finisher Roger Staubach of the Dallas Cowboys.
The Cardinals traveled to Los Angeles for their first round matchup against the NFC West-winning Rams on December 27th, which saw the Rams go up 14-0 in the first quarter thanks to a short touchdown run by opposing quarterback Ron Jaworski and an interception return score by future Hall of Fame defensive lineman Jack Youngblood.
The dire situation for St. Louis would fail to improve much in the second quarter, as Hart would throw another interception which was run back for a touchdown, with the defense allowing a 66-yard touchdown pass as well. While the Cardinals were able to get their first touchdown of the game courtesy of running back Jim Otis, it would only dig into the deficit slightly as the Rams were ahead 28-9 at halftime. While it seemed that the momentum was on the side of the Cardinals to start the second half as Hart found wide receiver Mel Gray from 11 yards out to make it 28-16, the Rams would take advantage of another turnover for their third defensive score of the game, eventually taking it 35-23 to advance to the NFC Championship Game. Hart finished the afternoon with one touchdown pass and 291 yards, although this comes along with three interceptions. Unfortunately, this would be the final playoff start of Hart's career.
Hart continued to lead the Cardinals for the remainder of the 1970's into the early 1980's, though the team largely struggled during this time span with just one more winning season and being shut out of the playoffs entirely. Beginning in 1981, Hart would be demoted to a backup role after being replaced by rookie quarterback Neil Lomax. Nonetheless, he remained with the team through the 1983 season before joining a different team for the first time in his career after signing with the Washington Redskins (now Washington Commanders) in 1984. Not much noteworthy took place in his stint with Washington as he only played in two games, with the exception of this allowing him to play his 200th career game, becoming just the eighth NFL quarterback to do so and putting himself on a list of just 24 to have achieved this feat as of this writing.
After retiring as a player following the 1984 season with 87 career wins, it didn't take long for Hart to find work as a broadcaster, as he became a color commentator for Chicago Bears radio broadcasts in 1985 (Hart grew up near Chicago, so this team choice isn't as odd as it sounds). After leaving the broadcast booth following the 1989 season, Hart became the athletic director of Southern Illinois University, overseeing the Salukis baseball and women's basketball team's Missouri Valley Conference championship in 1990, as well as the men's basketball three consecutive MVC titles from 1993 to 1995, before departing the school in 1999. In 2017, Hart was inducted into the Arizona Cardinals Ring of Honor.