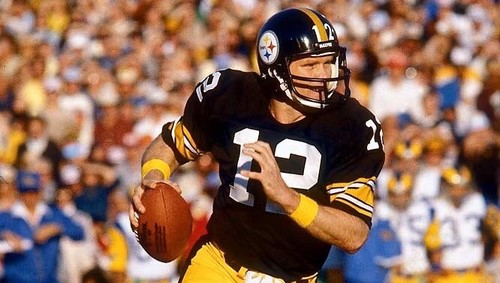 By Zane Miller

Where we last left off in the career of legendary Pittsburgh Steelers quarterback Terry Bradshaw, it was at the end of a 1972 season which saw him lead the Steel City to an 11-3 record and a victory in the first round of the playoffs before being eliminated themselves in the AFC Championship Game by the Miami Dolphins. Although Bradshaw would have been on track to repeat his winning success in 1973, but a separated shoulder forced him to miss four games and held him to an 8-1 record.
The 1974 season would be an interesting one for Bradshaw, as he lost his starting role to Joe Gilliam after an unimpressive preseason. However, Bradshaw would be named the starter for the second half of the season after Gilliam had allegedly violated team rules, and would guide the Steelers to their first Super Bowl title, defeating the Minnesota Vikings despite throwing for just one touchdown and 96 yards. With his first Super Bowl already under his belt, Bradshaw would have the goal of pairing regular season success with his postseason prowess, and would do so in 1975.
Bradshaw's best regular season game of the year came on November 9th, with the Steelers at home against the Houston Oilers (now Tennessee Titans). While Pittsburgh didn't exactly blow the Oilers out of the water, as they only won 24-17, Bradshaw was the primary reason for the victory as he threw for three touchdowns and 219 yards, in spite of questionable offensive line play which had given up five sacks on the afternoon. The Steelers went on to capture the AFC Central with a 12-2 record, despite intense pressure from the 10-4 Oilers and 11-3 Cincinnati Bengals. Bradshaw was the starter for all 14 games.
Bradshaw completed the 1975 season with 18 touchdowns and 2,055 yards through the air, tying for sixth in touchdown passes with the Baltimore Colts' Bert Jones, while his passing yardage put himself in 13th, right in the middle of the 26-team league at the time, finishing 40 yards behind Green Bay Packers quarterback John Hadl in 12th place.
On December 27th, the Steelers had home field advantage for the first round, taking on the AFC East-winning Baltimore Colts. Although defense would be the name of the game in the first half, the Steelers would still get on the board first as fullback Franco Harris punched it in for a 7-0 advantage, though the Colts responded with a Glenn Doughty touchdown grab from backup quarterback Marty Domres to tie it up at halftime.
Despite Baltimore opening the second half with a field goal to take the lead, their excitement would be short-lived as Pittsburgh rattled off 21 unanswered points, punctuated by a 93-yard fumble return score by linebacker Andy Russell, which remains as the longest fumble recovery in postseason history. Despite getting the 28-10 win, Bradshaw struggled throughout the game, throwing for no touchdowns and 103 yards while giving up a pair of interceptions. Nonetheless, the Steelers would be ready for their next matchup on January 4th, 1976, as they remained at home to face the Oakland Raiders for the AFC championship, in a rematch of the previous season's conference title game.
Just like in their matchup against the Colts, points would be hard to come by, as the only first half score was by way of the leg of Steelers kicker Roy Gerela, who made a 36-yard field goal for a 3-0 halftime lead. This would be the score after three quarters as well, with Raiders defensive back Jack Tatum and Steelers defensive back Mike Wagner terrorizing both offenses with two interceptions each.
The Steelers would be able to break through for the game's first touchdown in the fourth quarter, as Harris found the end zone from 25 yards out. However, the Raiders would not go down so easily, scoring a touchdown of their own just two minutes later courtesy of quarterback Ken Stabler finding wideout Mike Siani to cut the lead to 10-7.
After the Steelers' ensuing possession went nowhere, Oakland found themselves in good position to avenge their most recent playoff loss. Instead, a costly fumble forced by safety Glen Edwards would give the Steelers a second life, which they capitalized on shortly after as Bradshaw hit wide receiver John Stallworth from 20 yards out to restore a 16-7 advantage following a botched extra point. While the Raiders were able to make it interesting at the end with a field goal and an onside kick recovery with less than 15 seconds remaining, a last-ditch pass would come up short, sending the Steelers to Miami for Super Bowl X on January 18th. Bradshaw threw for a touchdown and 215 yards, though this also came with three interceptions.
In order to defend their Super Bowl title, the team would have to go through the Dallas Cowboys, who showed their strength early with a touchdown pass from quarterback Roger Staubach to fellow future Hall of Famer Drew Pearson. Not to be outdone, Bradshaw threw a touchdown strike to tight end Randy Grossman to knot the game up, although the Cowboys added a field goal to go up 10-7 at halftime.
After a scoreless third quarter, the Steelers special teams unit sensed it was time to make a play of their own, as Reggie Harrison blocked a Cowboys punt for a safety, which would result in a field goal on their following drive to claim a 12-10 lead. After getting another short field goal, a defensive stand set up one of the most iconic touchdown passes in Steelers franchise history. Bradshaw threw deep down the middle of the field to star wide receiver Lynn Swann, who ran the rest of the way for a 64-yard score with just over three minutes left in the game. Although Dallas would get a long touchdown play of their own, with Staubach delivering a 34-yarder to wide receiver Percy Howard, their onside kick attempt would fall into the arms of lineman Gerry Mullins to cement back-to-back titles with a 21-17 victory.
Aided by the big play to Swann, Bradshaw finished with a solid two touchdowns and 209 passing yards with no interceptions to earn his second Super Bowl ring. However, Bradshaw's best season in the league was still to come.