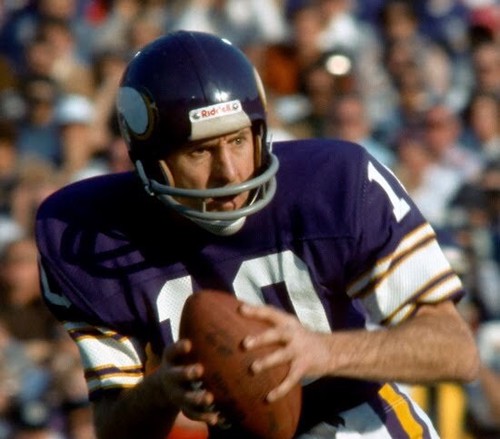 As we left off last in covering the career of Minnesota Vikings quarterback Fran Tarkenton, he had just wrapped up a 1973 season which saw him win 12 games while finishing in top-10 in the league in both passing touchdowns and passing yardage, before going on a Super Bowl run which would come up just short of the promised land as the Vikings were defeated by the Miami Dolphins in the big game.

Tarkenton would repeat his postseason success in 1974, taking the Vikings to yet another Super Bowl after defeating the St. Louis Cardinals and Los Angeles Rams in the first and second rounds of the playoffs, respectively. However, the story would be repeated a bit too closely for Minnesota's liking, as once again their AFC adversary would emerge victorious with the Pittsburgh Steelers taking home the title this time around. With Tarkenton entering his 15th season as a pro, he would be in control once again, though none of his prior 14 seasons would match the clinic he put on the NFL in 1975.
Tarkenton's best performance came on November 16th, as the Vikings traveled to New Orleans to take on the Saints. Tarkenton threw for all three of Minnesota's touchdown passes on the afternoon, to go along with 310 passing yards in the team's 20-7 victory. The Vikings went on to handily take the NFC Central title as the only team in the division with a winning record, with Tarkenton at the helm for each of these wins.
Tarkenton completed the 1975 campaign with a staggering 25 touchdowns and 2,994 yards through the air, leading the league in touchdown passes while taking the runner-up spot in yardage, coming up 175 yards behind Ken Anderson of the Cincinnati Bengals. Unsurprisingly, Tarkenton would be named as NFL MVP for 1975, along with Offensive Player of the Year and first-team All-Pro honors. With that, both player and team had all the hype in the world on their side. However, the circumstances would not go as smoothly in their first-round playoff matchup.
On December 28th, the Vikings remained at home to face the Dallas Cowboys, who claimed the NFC's final playoff spot with a 10-4 record. Minnesota scored the opening touchdown after a scoreless first quarter, with running back Chuck Foreman finding the end zone from a yard out to give the team a 7-0 halftime advantage. In the third quarter, the Cowboys would punch in a short touchdown of their own, courtesy of running back Doug Dennison, but both defenses would prevail to keep the game at 7-7 going into the final frame.
After a successful Dallas drive led to a short go-ahead field goal by Toni Fritsch, the Vikings put together a scoring drive with just over five minutes remaining in regulation, culminating with fullback Brent McClanahan's only postseason touchdown to claim a 14-10 advantage. After both teams swapped punts to leave just two minutes on the clock, a Cowboys drive which seemed destined for disaster was saved by fourth down and long pass from quarterback Roger Staubach to wide receiver Drew Pearson to set Dallas up at midfield. If you're familiar with 1970's NFL history, then you already know what happens next.
Immediately after getting a second life, Staubach hit Pearson for a 50-yard touchdown pass with less than 30 seconds remaining. This play would later be famously referred to as the "Hail Mary" pass, a term still utilized not only in sports, but in pop culture to this day. A late comeback attempt by Minnesota went nowhere, allowing the Cowboys to seal the 17-14 victory to advance to advance to the NFC Championship Game. Tarkenton threw for 135 yards but would be unable to find the end zone, with an interception mixed into the disappointing loss.
Although he would not secure more than 10 wins in a season again, Tarkenton still had one more strong season up his sleeve as his career wound down, leading the 1976 Vikings to the Super Bowl for his third appearance in the title game, however, they would fall to the Oakland (now Las Vegas) Raiders. Unfortunately, the team has been unable to reach the Super Bowl since this season as of this writing. After playing two more seasons with the Vikings, nabbing winning records in both, Tarkenton would retire following the 1978 season, finishing with 124 career wins.
After retiring from pro football, Tarkenton joined the broadcast booth as a color commentator for Monday Night Football contests from 1979 to 1982, along with taking on a co-hosting role of a talent competition TV show called "That's Incredible!" from 1980 to 1984. He would later become involved in the technology industry, becoming president and part-owner of a computer software company known as KnowledgeWare, before selling the business in 1994 to Sterling Software, which itself went out of business in 2000. More recently, he founded a financial planning firm known as Tarkenton Financial in 2003, serving as CEO from its inception to the present day.
In 1986, Tarkenton was inducted into the Pro Football Hall of Fame, to go along with his number 10 jersey being officially retired by the Minnesota Vikings in 1979. Additionally, he would be the first member of the Vikings organization to be entered into the team's Ring of Honor in 1998.