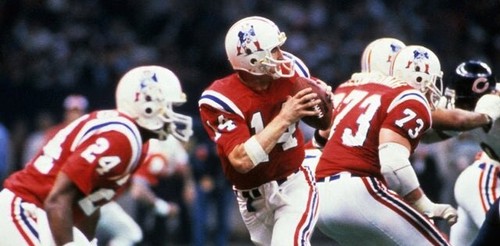 By Zane Miller

After being taken with the 116th overall pick of the 1975 NFL Draft by the New England Patriots quarterback Steve Grogan would be almost immediately thrown into the fire of one of the most disastrous franchises in the league at that time. Although he was originally supposed to be the backup to veteran starter Jim Plunkett for 1975, Plunkett would sustain a major shoulder injury early in the year, forcing Grogan into action for a team which had never had a winning record since joining the NFL. This fact would remain unchanged after his rookie season, as he would go 1-6 in his starts while the Patriots limped to a 3-11 finish. Going into 1976, it's easy to imagine that expectations were pretty low. In reality, however, Grogan would lead New England to its best season in franchise history, seemingly out of nowhere.
Grogan's finest performance of 1976 came on September 19th at home against the Miami Dolphins, throwing three touchdowns and 166 yards as the Patriots went on to win 30-14. New England went on to score an inverse of their previous season's record with an 11-3 finish, good enough to secure a playoff spot, with Grogan at the helm of each game.
Grogan completed the 1976 season with 18 passing touchdowns, tying for fourth in the league with St. Louis (now Arizona) Cardinals quarterback Jim Hart, while passing for 1,903 yards to finish 14th in that category, 28 yards behind Denver Broncos starter Steve Ramsey.
On December 18th, as the Patriots came up short to the Baltimore (now Indianapolis) Colts in a tiebreaker for the AFC East crown, they would travel across the country to face the Oakland (now Las Vegas) Raiders, who won the AFC West with a 13-1 record. Nonetheless, the Patriots were able to hold their own against the league's toughest team early, as a short touchdown run by Andy Johnson put the team ahead 7-3 after the first quarter. However, the Raiders recovered before halftime, thanks to quarterback Ken Stabler finding veteran wide receiver Fred Biletnikoff from 31 yards out to go into the locker room up 10-7. The third quarter would be a different story, as not only would the Patriots outplay the immensely talented Raiders, but would also look to be on the way to their first postseason victory since joining the NFL.
Grogan led New England down the field to retake the lead, finding tight end Russ Francis for a 26-yard touchdown to go ahead 14-10. After the Raiders were held to a punt, the Patriots again started a march down the field, taking advantage of a second life along the way with an Oakland offsides penalty nullifying what would have been a Patriots punt. This lapse in concentration would cost the Raiders dearly, as the Patriots went up 21-10 through three quarters thanks to a short touchdown run from fullback Jess Phillips. Although the situation at this point was certainly promising for Steve Grogan and company, the Raiders were ready to fire back with an offensive onslaught of their own.
The Raiders responded on their next possession, with Stabler driving downfield to set up running back Mark van Eeghen for a one-yard touchdown run, making it a one-possession game once again. Although the Patriots had opportunities to put the Raiders away for good, including a late field goal try which was unsuccessful, they left just enough room for Oakland to fight their way back.
With less than two minutes to go and facing a third-and-long situation, Stabler threw an incompletion to Carl Garrett, temporarily setting up a nearly impossible fourth down conversion. However, the Patriots were called for roughing the passer on the play, thereby setting up the Raiders inside the red zone as well as an automatic first down. After receiving this lifeline, it didn't take long for Oakland to capitalize as Stabler punched it in himself with 14 seconds remaining. A last second pass from Grogan was intercepted, officially sealing the Raiders' 24-21 win.
Grogan finished with one touchdown and 167 yards through the air, along with an interception. However, he would get another chance at a playoff run two years later as he led the Patriots to an AFC East title, although the team would again fall in the first round of the postseason.
Although he would never again get double-digit wins in a season, Grogan continued to start for the Patriots through the 1983 season, before sliding into a backup role with the team after battling a multitude of injuries. He played his entire career with New England prior to retiring at the conclusion of the 1990 campaign, in which he was the only Patriots quarterback to score a win. He finished his career with a total of 75 wins. Following his retirement, Grogan acquired a Mansfield, Massachusetts sporting equipment store in 1994, later renamed to Grogan Marciano Sporting Goods.