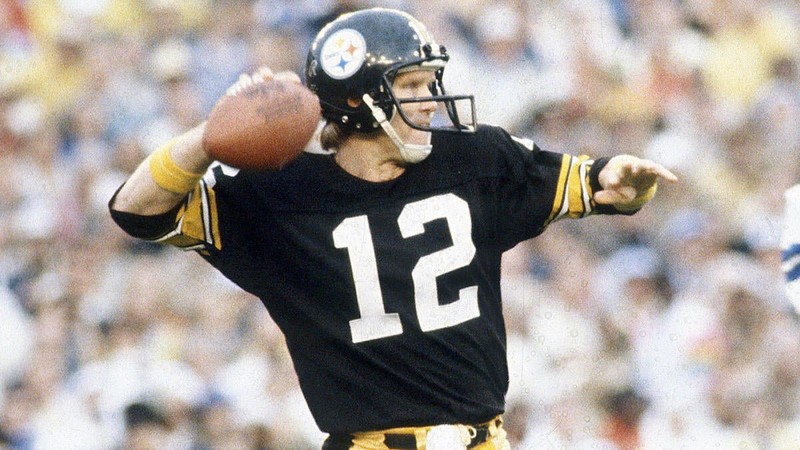 By Zane Miller

As we last left off in the career of Pittsburgh Steelers quarterback Terry Bradshaw, he had just completed the greatest season of his career on one of the most dominant teams in NFL history in 1978, as he and the Steelers had a 14-2 regular season on the way to the third Super Bowl title in both franchise history and in Bradshaw's career. While the 1979 regular season wouldn't be quite so dominant as the year prior, the end result would be very much the same.
Bradshaw's best game of 1979 occurred on November 4th at home against the Washington Redskins (now Washington Commanders), as he threw for a then career-high four touchdowns and 311 yards, getting the ball to star wide receiver John Stallworth on two of those touchdowns. This allowed the Steelers to rout the Redskins 38-7, eventually taking a record of 12-4 to their sixth straight AFC Central title despite close competition from the Houston Oilers (now Tennessee Titans) at 11-5. Bradshaw placed top-five in both passing touchdowns and passing yards, getting 26 touchdowns to tie Oakland (now Las Vegas) Raiders quarterback Ken Stabler for fourth in the league, while also throwing for 3,724 yards, just 69 short of the Cleveland Browns' Brian Sipe. Although Bradshaw did not get his second career All-Pro nomination, he would still finish fourth in the MVP vote for the season.
Just like a year before, the Steelers took a first-round bye to start the playoffs, though their opponent this time around would be the AFC East-winning Miami Dolphins on December 30th. It didn't take long for Pittsburgh to take advantage of the home stadium, as they went up 20-0 in the first quarter. Though the Dolphin defense would somewhat stop the bleeding as both teams went scoreless in the second quarter, it wouldn't be enough as the Steelers went on to claim a 34-14 victory. Bradshaw was once again outstanding, as he threw for a pair of touchdowns and 230 yards, while Miami starting quarterback Bob Griese struggled with one touchdown and 118 yards through the air with an interception before being replaced by backup Don Strock.
As for the next game following the beginning of a new decade on January 6th, 1980, the Steelers would be at home to face a team that they had battled in the standings throughout the regular season, as the Oilers reached the AFC Championship as a wild card. After a 75-yard interception return touchdown by the Oilers' Vernon Perry, fresh off of a four-interception game against the San Diego (now Los Angeles) Chargers a week before, Bradshaw quickly rebounded to set the Steelers up with a field goal before the end of the first quarter.
With the Oilers bouncing back with a short field goal of their own to make it a 10-3 game, it looked as though Houston may be able to avenge their loss to the Steelers in the AFC Championship Game a year before, although Bradshaw and company would not go down so easily. Instead, he found tight end Bennie Cunningham for his first career postseason touchdown catch, then hitting a familiar target in Stallworth for another score to put Pittsburgh ahead 17-10 at halftime.
However, neither team could find paydirt in the third quarter with both defenses playing lights out, despite a potential game-tying touchdown pass from quarterback Dan Pastorini, playing in what would be his final season in Houston, to wide receiver Mike Renfro being ruled incomplete following coverage from cornerback Ron Johnson.
After the incompletion set up a Houston field goal to start off the fourth quarter, the Steelers knocked in a field goal of their own before the defense showed up once again, this time as cornerback Mel Blount forced a fumble which was recovered by safety Donnie Shell with less than six minutes remaining in regulation. After this, all the Steelers needed to punch their Super Bowl ticket was a short touchdown run from running back Rocky Bleier to secure the 27-13 win. Bradshaw put together another fantastic effort with two touchdown passes and 219 passing yards with one interception, whereas Pastorini had no touchdowns and 203 yards with an interception as well.
On January 20th, the Steelers headed to Pasadena, California at the Rose Bowl to take on the Los Angeles Rams in what would be the final time a Super Bowl matchup took place in a participating team's home market until the Tampa Bay Buccaneers played Super Bowl LV at home in the 2020 season. Despite having just a 9-7 record, the Rams were not to be taken lightly, as evidenced by them taking a 7-3 lead after the first quarter. While the Steelers bounced back on a short touchdown rush by running back Franco Harris, the Rams stopped the momentum dead in its tracks with a pair of field goals to take a somewhat surprising 13-10 halftime lead.
Despite the deficit, the Steelers came out firing on all cylinders for their opening drive of the second half, as Bradshaw hit longtime wide receiver Lynn Swann for a 47-yard touchdown. Not to be outdone, Los Angeles came back with a touchdown pass of their own, though this was accomplished with trickery as running back Lawrence McCutcheon found wideout Ron Smith for the score. However, the ensuing extra point attempt was no good, making it just a 19-17 game in favor of the Rams with one quarter to go. After getting the ball back in the fourth quarter, it didn't take long for Bradshaw and the Steelers to make magic happen once again, this time with a 73-yard touchdown pass to Stallworth to give Pittsburgh the lead for the third time of the evening.
With roughly five minutes left in regulation, the game was far from over as the Steelers still clung to a 24-19 advantage. After forcing a Pittsburgh punt, Rams quarterback Vince Ferragamo drove the team down into field goal range. Instead, the Steelers made the best defensive play of the evening as linebacker and Defensive Player of the Year finalist Jack Lambert hauled in an interception to turn the game on its head. With all the momentum now on their side, the Steelers proceeded to march down the field on the way to another short touchdown run by Harris to claim their fourth Super Bowl victory 31-19.
Despite a shaky start, Bradshaw ended the contest with solid totals in terms of passing touchdowns and passing yardage, getting two TDs and 309 yards, although he also gave up three interceptions in the process in contrast to Ferragamo, who had 212 passing yards with no touchdowns and one interception. Nevertheless, Bradshaw was elected as Super Bowl MVP for the second time in his career, becoming the only player other than Green Bay Packers quarterback Bart Starr to win the award in back-to-back seasons as of this writing.
Bradshaw would never again reach a double-digit win season, as the Steelers' dominance of the 1970's ended abruptly in 1980 with the team missing the playoffs, before missing again in 1981. Bradshaw led the team on a final postseason appearance in the shortened 1982 campaign, although this too would be a far cry from their previous dominance as they were bumped in the first round by the Chargers. This would also be Bradshaw's final full season in the league, as he only played one game of the 1983 season due to a severe elbow injury before retiring at the end of the year, finishing his career with 107 wins, one of just 18 players as of this writing to cross the 100-win mark.
While it is common for retired quarterbacks to enter the broadcasting world in some form of analyst role, Bradshaw went above and beyond in this regard. While we'd be here all day if I were to list all of his different media appearances, I feel these are the main highlights to cover. Starting in 1984, Bradshaw joined with NFL on CBS as a color commentator, a role which he would hold through the 1989 season before moving over to co-host NFL Today, the network's pre-game show, from 1990 through the end of CBS's original NFL coverage in 1993.
After this, Bradshaw jumped on with NFL on Fox for their debut season in 1994, as a co-host of their pre-game show, NFL Sunday, a program which he remains a co-host of to this day. During this time, Bradshaw earned three Sports Emmy awards in the studio analyst category, coming in 1999, 2001 and 2008, while also being awarded a star on the Hollywood Walk of Fame in 2001. In 2019, Bradshaw made an appearance on the singing competition, "The Masked Singer", although he would be eliminated early on in the show. In addition to numerous cameo appearances in movies and TV shows, Bradshaw also had a reality TV series of his own, named "The Bradshaw Bunch", released in 2020 in which he is credited as a director. Also noteworthy, Bradshaw co-owned a NASCAR Busch Series (now Xfinity Series) team from 2002 to 2006, with driver David Stremme claiming the team's best points finish of 13th in 2005.
Bradshaw was inducted into the Pro Football Hall of Fame in 1989, his first year of eligibility, before also entering the Steelers Hall of Honor in its first year of operation in 2017. While his #12 jersey has never been officially retired by the Steelers, it has not been put into circulation since his final season.