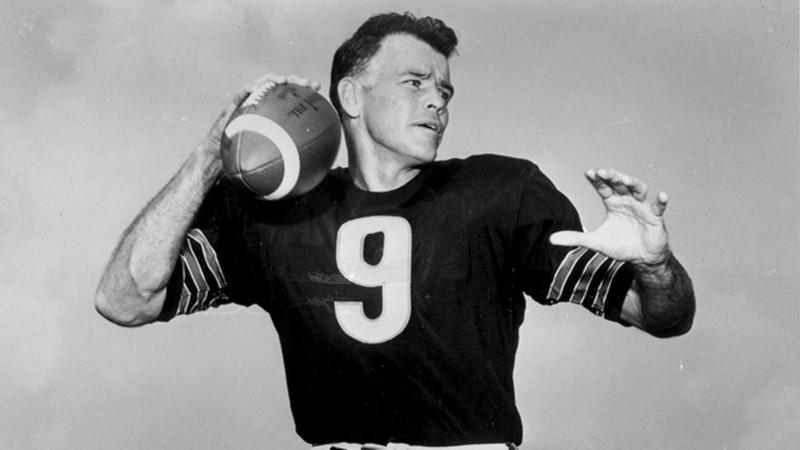 By Zane Miller

Prior to joining the Chicago Bears, Billy Wade had a lengthy run as quarterback of the Los Angeles Rams, although he would bounce between starter and backup in his tenure from 1954 to 1960. While the Rams struggled throughout most of this timeframe, he would lead the NFL in passing yards in 1958 However, Wade would take the reigns at QB full-time in 1961, as he was signed by the Bears as a replacement for Ed Brown.
Wade earned winning records in each of his first two seasons in the Windy City, passing for a total of 40 touchdowns and 5,430 yards despite missing the postseason in both years. In 1963, however, the team would break through in spectacular fashion.
Wade would score his career-best regular season record and give the Bears their first double-digit win season since 1948 with an 11-1-2 showing, as he started all 14 games. His top performance of the year would come on September 22nd on the road against the Minnesota Vikings, where he found tight end Mike Ditka twice and running back Ronnie Bull once for three touchdowns, as well as passing for 253 yards in the Bears' 28-7 win. To put the icing on the cake, Wade scored the team's only non-passing touchdown of the game with a one-yard run.
Wade completed the 1963 season with 15 passing touchdowns and 2,301 passing yards, putting himself in a three-way tie for eighth in the touchdown category and ninth in passing yardage on the season. He came up 21 touchdowns short of TD pass leader YA Tittle of the New York Giants and tied with Green Bay Packers quarterback Bart Starr and Vikings quarterback Fran Tarkenton, who went 8-1-1 and 4-8-1 respectively, while finishing nearly 1200 yards behind yardage leader Johnny Unitas of the Baltimore Colts and 10 yards behind Tarkenton for the eighth spot.
With the Bears taking the Western Conference title, they would remain at home to face the Eastern Conference champion Giants in the NFL Championship Game. Wade struggled in the four-degree Fahrenheit weather, only completing 10 of his 28 passes for 138 yards and no touchdown passes, but the Bears' defense would thrive as they forced six turnovers and shut New York out completely in the second half. This gave their offense just enough room to take the lead for the first time in the third quarter, as Wade added his second touchdown of the game on the ground. As neither team scored again for the remainder of the contest, the Bears won 14-10 for their eighth title in franchise history and first since 1946.
With all of the statistics in mind, I grade Wade's 1963 season at a B, due to the gutsy championship-winning performance and stellar regular season, despite comparatively underwhelming personal statistics.
HEWT running counter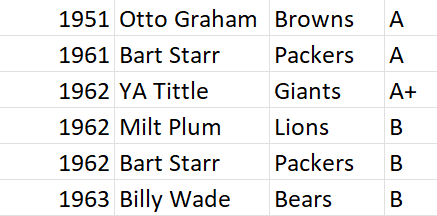 Follow me on Twitter: https://twitter.com/Zmiller_82