In today's belated introductory post I'll tell you about myself, my family and our mutual sports hobbies. Love to hockey and ice hockey cards collecting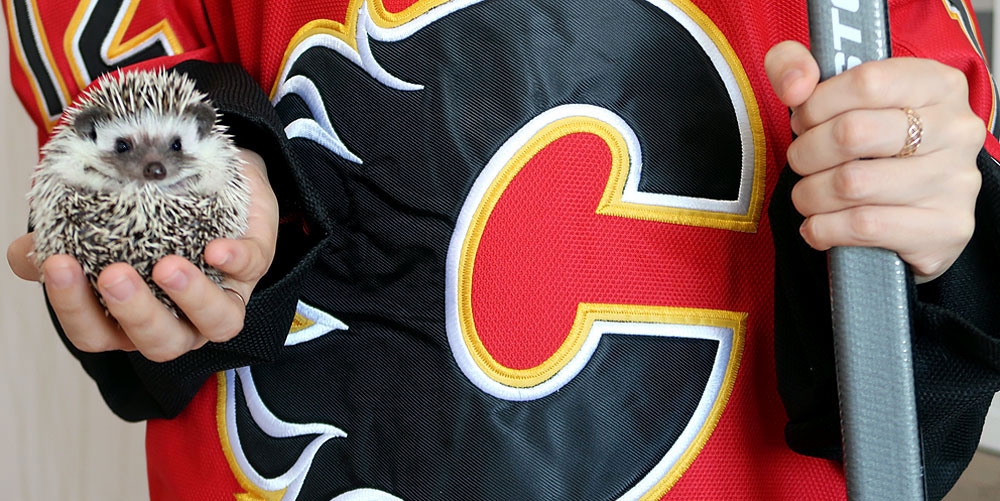 Hi everyone! My name is Dzmitry, I am from Minsk, the capital of Belarus. I have a fabulous wife called Yevgeniya whom I dearly love. We also have a hedgehog called Venya. We like sport and try to follow a lot of competitions: baseball, darts, formula 1, snooker, biathlon, ski jumping and many more. But ice hockey is by far the most favourite one. Thanks to hockey we actually got acquainted. But let me tell you the whole story.
We started to go in for sports in childhood, but due to age difference (I was born in 1981) I began much earlier than my wife. My father subscribed to sports newspaper Pressball from issue 1 onwards, which afterwards became very popular for many years to come. I liked to look at it read it thoroughly. Somehow ice hockey turned out to be the most interesting sport. I liked to follow it and watch matches of recently started at that moment independent Belarusian championship. It was shown on TV quite scarcely, and mostly closer to midnight. Then world championships came. Our young national team had to qualify to elite from the very bottom. I awaited every top-tournament as a feast. I remember my celebrations in 1995, when our team in Bulgaria qualified for group B. And then in 1997 in Poland where they won the right to play in top division of international hockey.
Nagano Olympics in 1998 were the first competitions my wife watched consciously. She was just 4 years old, but the she liked winter sports. Interest in ski jumping in Adam Malysz era and biathlon with Ole Einar Bjorndalen domination followed. At 10 her father took her to an ice hockey game for the first time. Her passion to this sport has been growing since then.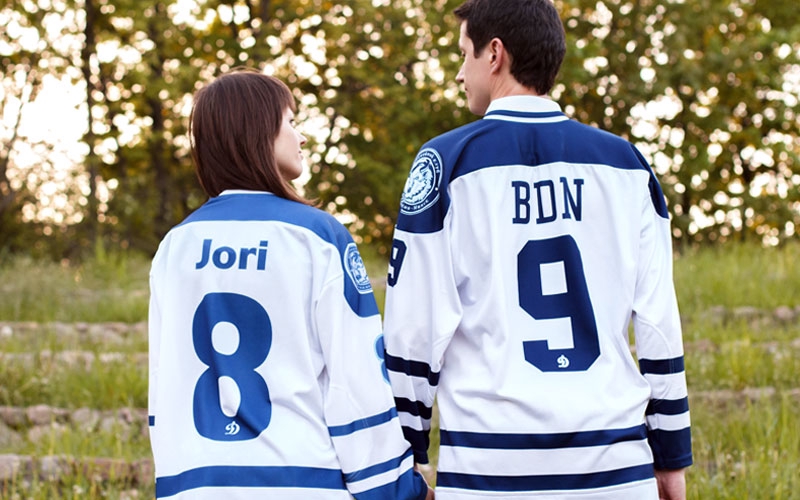 We met early January 2013 on an away game in Mytischi in greater Moscow. HC Dinamo Minsk faced local club Atlant in a KHL match. We often go to watch hockey and like KHL games at the beautiful Minsk Arena. It's been many seasons since section F of Stand C, the Dinamo Minsk fan section of the arena, is our favourive.

We also like the NHL franchise the Calgary Flames and collect hockey cards. The Flames are not the most popular club in the NHL not to say about ex-USSR countries. The team from Alberta does not have such a rich history as The Original Six clubs. And they won Stanley cup just once in 1989. Our favourite Flames players are Lanny McDonald, Johnny Gaudreau, Miikka Kiprusoff, Theo Fleury and Jarome Iginla, about whom I recently published an article. Let's investigate how it could possible happen:)
Children like to collect something. The brighter and more interesting the object for collecting is, the more they like it. In my childhood I collected post stamps and chewing gum wrappers like most of my age mates. On the whole I collected a lot of different stuff. Probably, collecting remains my hobby since then.
My wife put the beginning of our Calgary Flames cards collection. She loved the club from Alberta, Canada since she was 11. She liked to play NHL 06 at that time. She liked the team for colourful jerseys and logo. This franchise was chosen without any hesitation for upcoming cyber wins.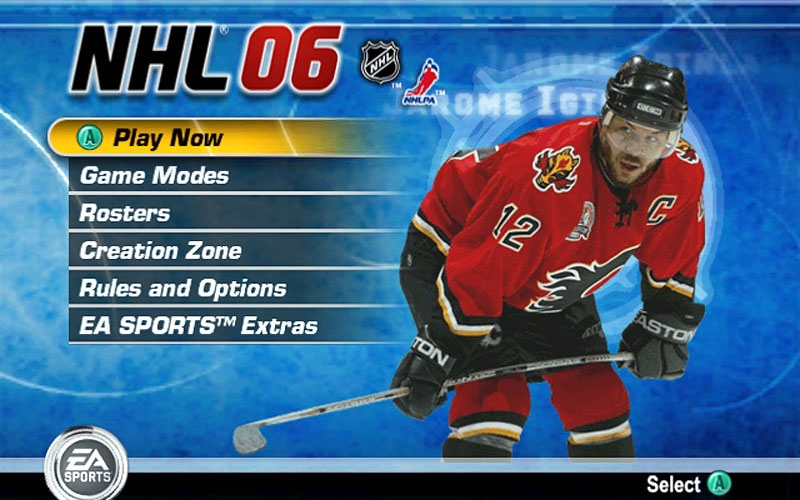 Since that interest towards the club and support have been only growing. They quickly transferred from virtual world to reality.
First cards were KHL ones bought for pocket money in local Belsoyuzpechat newsstand during the last year at school. With time Calgary Flames cards arrived. By the time we got acquainted my future wife had already had a decent collection which included jersey-cards, signed cards and, for sure, plain base Flames cards. When I learnt about that hobby, it was at first just a pleasure to give her gifts and make her happy with memorabilies connected to her favourite NHL club. With time and new knowledge about this hobby as well as quick growth that already our mutual collection I became a Calgary Flames cards collector myself.
Cards' collecting is really well-developed over the ocean. Leading companies like Upper Deck and Panini produce dozens of collections of different range of prestige and price dedicated to American football, baseball, ice hockey and other kinds of sports and not only sports. First cards that can now be called collectible appeared in the US late 60s-70s of the 19th century and were placed in cigarette packs. At the dawn of its history cards were simplistic, just pieces of thick paper with players on them. Now collectable cards are a high-tech product with inserts of pieces of game-worn jerseys, sticks, pucks, laces, goalkeeper gloves and blockers, skates, goal nets and many more. Standard collecting card size is 2.5 x 3.5 inches, or 64 x 89 mm. But before the standard was established formats were different. Nowadays to commemorate the past producers sometimes design sets with vintage looks and strange sizes.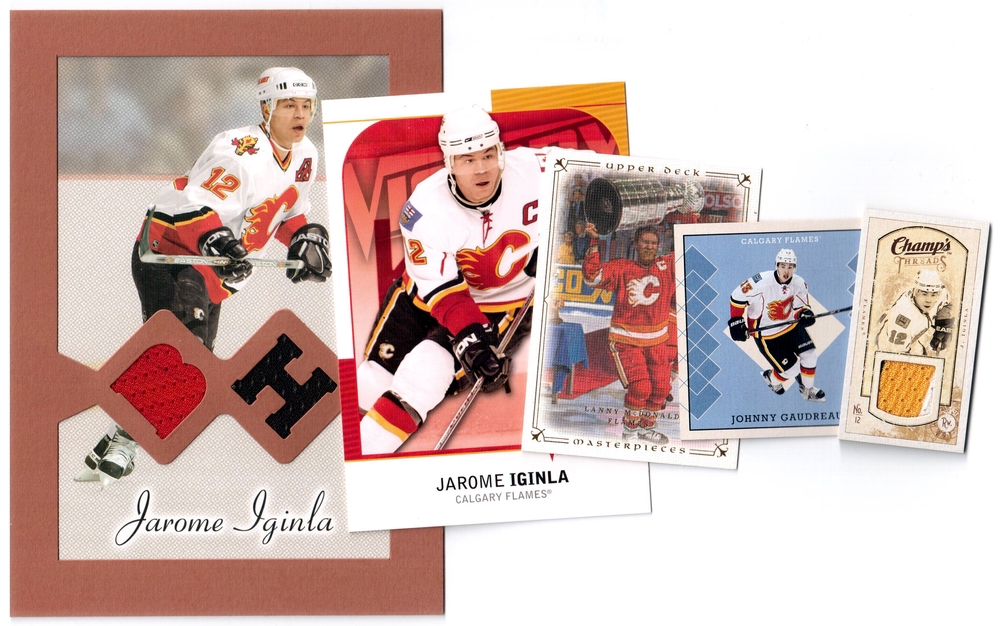 At the moment a baseball card is the most expensive in world history. T206 Honus Wagner was sold at an auction in October 2016 for an amazing $3.12 mln. This price is explained by its history and rarity. American Tobacco Company planned to produce cards without Honus's permission at the beginning of the 20th century. As Wagner was a convinced opponent of smoking, he forbade using his picture. Nevertheless from 1909 to 1911 some amount of cards was produced. Not more than 200 of such cards are known to this date, most of which are in unsatisfactory condition.
Most expensive ice hockey card at the moment is a 1979-80 O-Pee-Chee Wayne Gretzky rookie-card which was sold at an auction in August 2016 for $465 000.
But let's go down to earth and come back to our collection of the Calgary Flames cards. When I am writing this entry it comprises about 1500 cards of different value. Apart from usual base cards we have more interesting exemplars, for example printing plates.

Plates are not exactly classic cards. These are aluminum plates which were used while producing different cards. Subtractive scheme known to many as CMYK is used to form colour. CMYK stands for Cyan (blue), Magenta (pink), Yellow and Key color (usually black is used). Consequently, there can be a maximum of four printing plates for one card, and each is unique.
But different memorabilia item are certainly the most beautiful cards. These are cards with fragments of game-worn jerseys, sticks, patches, etc as well as signatures. Probably most impressive cards are made from the Calgary Flames jerseys as the patches are four-color.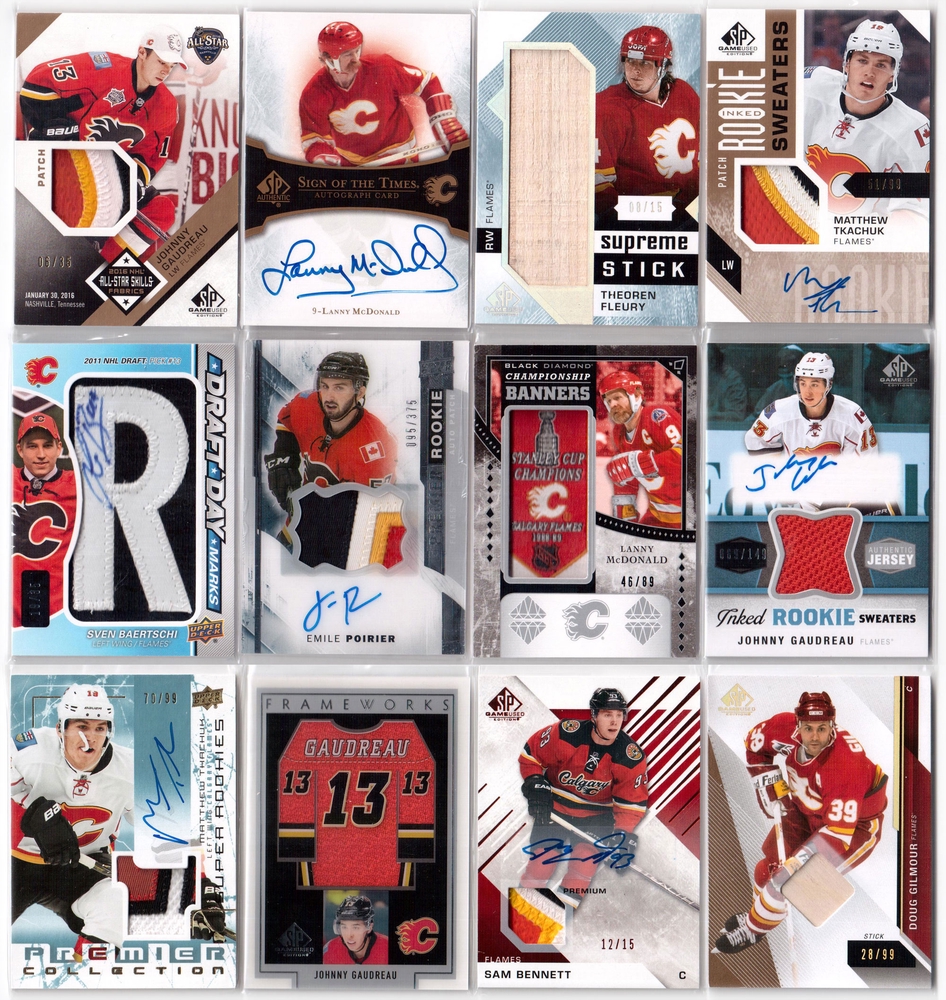 Many people ask us where we buy new cards for the collection. Previously we had bought them on ebay.com or from collectors in Belarus and neighbouring Russia. But in recent years we buy them mostly from upperdeckepack.com and comc.com.
Upperdeckepack.com was launched by Upper Deck in January 2016. There you can buy and swap cards online. When it just started you could almost free to swap a lot of great cards. You needed just time and some brains while doing the trades with 'colleagues'. Since the site went online a solid part of our new cards came from it. A part of new Calgary Flames cards directly comes to Minsk from Upper Deck website, another part is bought via one more site. Unfortunately, recently upperdeckepack.com stopped providing its users daily free packs of new collections and total quality of swaps decreased.
By the way, thanks to this site I managed to swap this card: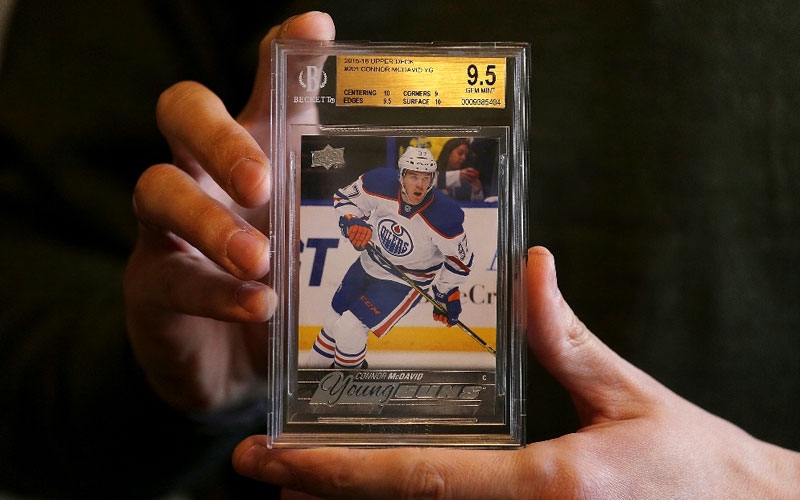 This Connor McDavid Young Guns rookie-card from 2015-16 Upper Deck Series One collection. The card of the international hockey superstar for the upcoming dozen years underwent grading at Beckett, the most reliable company in this sphere, and received 9.5 points, which is a great result. At the moment the market price of such a card is about $350-400.
Certainly we have cards of our Dinamo Minsk and different Belarusian players, including those who have NHL experience (Ruslan Salei, Mikhail Grabovski, brothers Andrei and Sergei Kostitsyns), but not that much as Calgary Flames cards, which are our main collecting targets.
Apart from cards we have many things connected to the beloved Flames.
For example, a ticket from the historic play-off game of 1988/89 season when Flames won Stanely Cup (thank you ebay.com, where you can find even such things). This is a ticket to match 6 of third round (conference final) against the Chicago Blackhawks. The game was not played as Flames won against Blackhawks 4-1 and progressed to the Stanley Cup final which they won versus the legendary Montreal Canadiens 4-2.

Or two Calgary Flames jerseys (thanks to Chinese producers of 'licensed' merch) #12 Iginla and #34 Kiprusoff. It seems like if we buy a third jersey we should look for #56.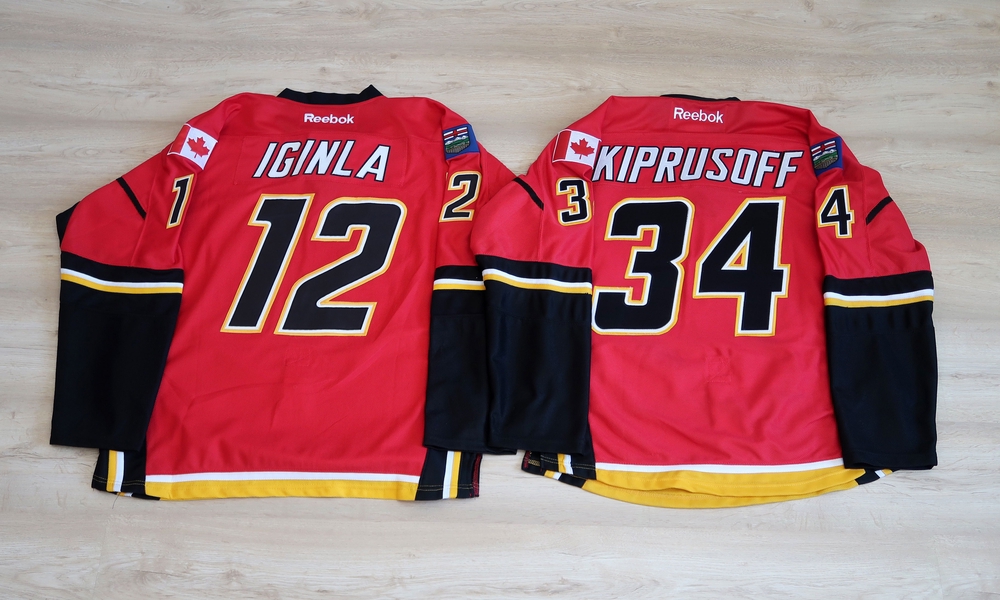 Or quality programmes from preseason games and numerous postcards with Flames players and real signatures (big thanks to Russian-speaking collector Andrei whom I met at ePack and who now lives in Calgary). Each programme can be unfolded into a big poster with a printed signature. If I were 30 years younger I would do the walls of my room with them:)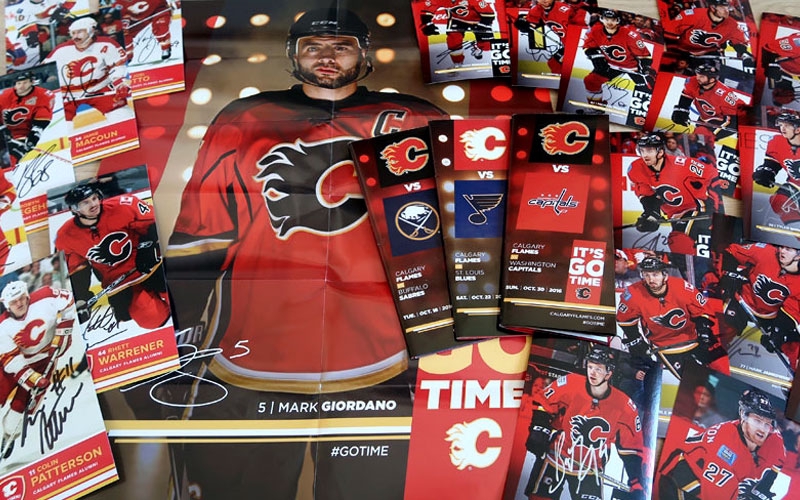 We also have a T-shirt brought from the other side of the ocean by the former Dinamo Minsk goaltender Jeff Glass (thank you Aleksei who worked at that time in the club), a cap, scarves, pins, a mug and even coins.
We have a plan to create a web-site for our cards collection of the Canadian club.
And we also have a dream of visiting an NHL home game of the Calgary Flames. I am sure that one time we'll definitely reach for it. Well, and we also dream of Stanley Cup was raised under the roof of Scotiabank Saddledome, the franchise's home arena.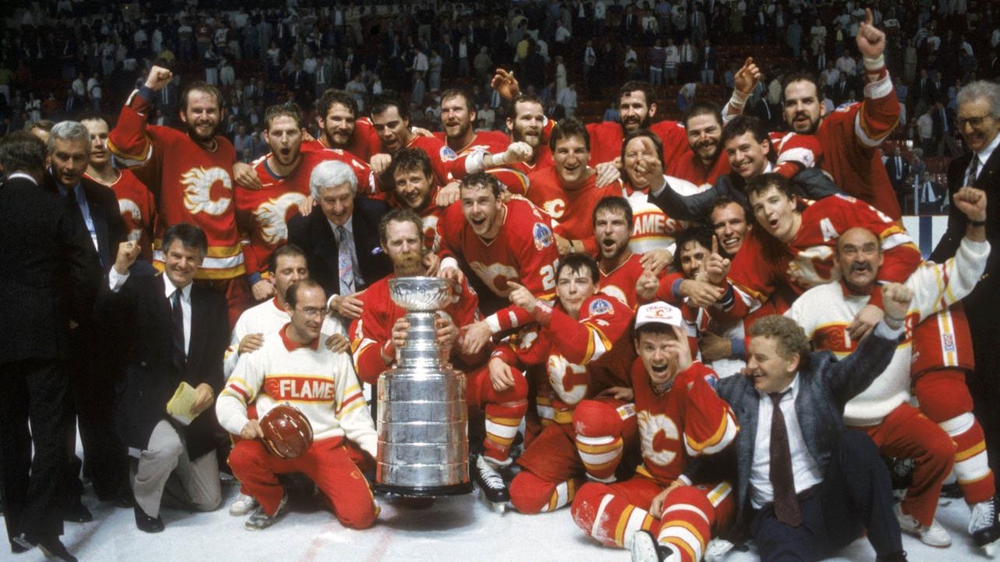 Thank you everyone, love ice hockey and each other! See you, my friends!

#CofRed 🔥
Dzmitry @BDN