A few weeks ago, I posted about my fantasy hockey team. The post centered around the fact that in 7 years of participating in this dynasty keeper pool, I had never made the playoffs. The post also talked about how this year was looking like it would be my first trip to the postseason. I did manage to secure my 6th place spot and made my first trip to the playoffs. Oh, what a ride it has been!!!!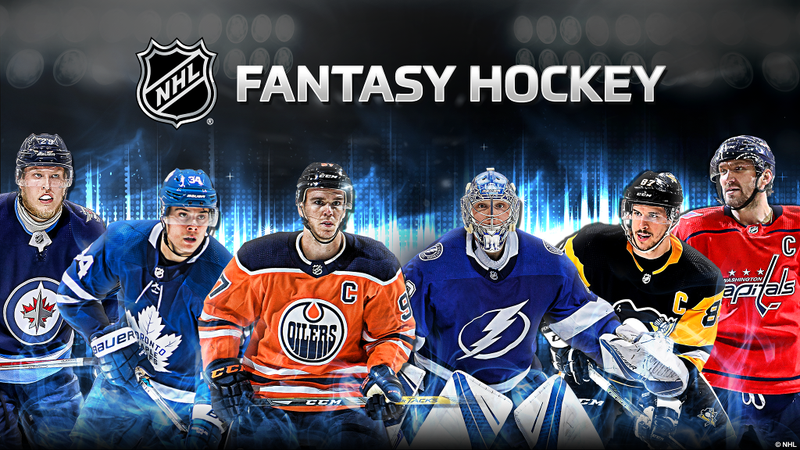 I have had a high scoring team for years. With players like Connor McDavid, Leon Draisaitl, Claude Giroux, and Evgeni Kuznetzov I have never had an issue putting enough points to be competitive. My biggest issue has been consistency with my goaltenders. This year was no different but a savvy trade deadline move has proved to be MASSIVE for my team. My team didn't just make the playoffs, they have gone on a devastating tear that has me in the Fantasy Championships and trying to turn my first playoff trip into a Championship run. The big trade deadline move that I made was to pick up goaltender Sergi Bobrovsky. Goaltenders are so hard to acquire in our league because they have so much value. I was able to get him for Artemi Panerin and a 1st Rd pick which is 6th overall in the draft next year. I did get a 2nd in return which will be the 11th overall pick so in the end I only lost 5 spots.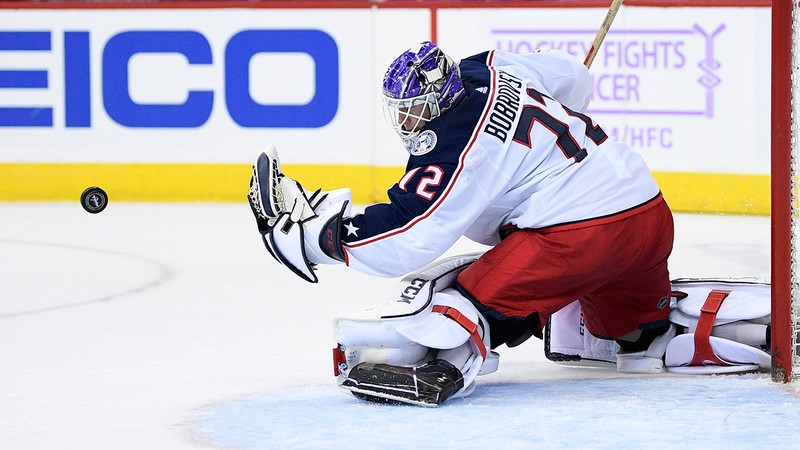 Although he had an inconsistent start to the season, Bobrovsky has turned it up and been on fire since I acquired him. He has racked up 8 wins and 3 shutouts to go along with a 1.96 GAA and .931 SV%. Most of this as part of my fantasy playoffs. This combined with Tuukka Rask being as equally hot has given me the balance I have sought for so long and the results have been deadly. In round one I was taking on the three-time league champion. This team has always been loaded since the first draft of the league when he got Sidney Crosby. He also has Ovechkin, Toews, Tarasenko, and Marchand. He also has Matt Murray and John Gibson in net. I still don't know how he has managed to build up such a powerhouse team. I was nervous about my chances going into this match but my team stood up and not only won, but they squashed the Toe Dragons.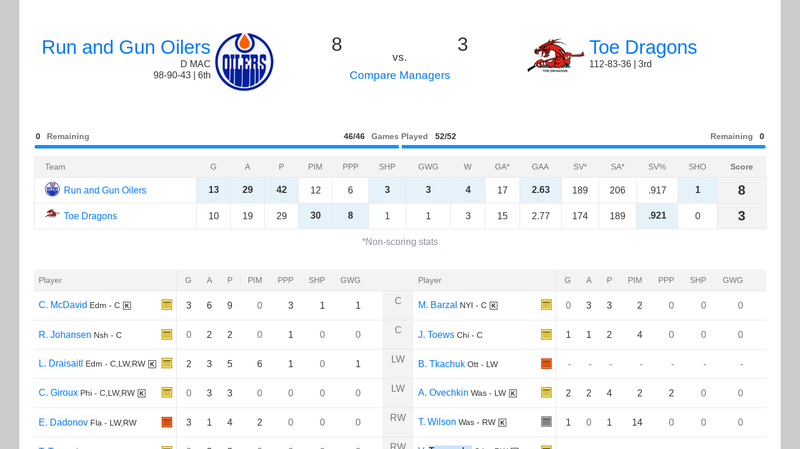 This was a huge win for me and one that everyone in the league was happy to see. No way this guy could win another championship. Enough was enough!!
Next up, the best team in the league this year. The team that pretty much steamrolled everyone and finished a full 15 points ahead of the next best team, 36 points ahead of my 6th place finish. This is the most active owner in our league with 102 waiver pickups during the season. I have only made 25 as a comparison and I consider myself to be pretty active. This guy has been riding Nikita Kucherov all season and has benefitted from some great play by Tavares and Wheeler. Again, I was nervous going into this one but it was like I was already playing with house money. I had never been to the playoffs before so anything more was gravy. Well, my team had a HUGE helping of gravy in this one. My goaltenders absolutely dominated and my team kept up its scoring ways. A 7-3 victory propelled me into the championship!
The championships are a two-week battle and as of today, we are 4 days into the fight. I am taking on one of the more well-rounded teams in the league but with the way my team is playing, I am starting to feel confident. My team came out this week rolling even stronger than the past two weeks. So far, my offence has scored almost as many points as in a full week and my goalies have stood up tall and taken control of the goalie categories.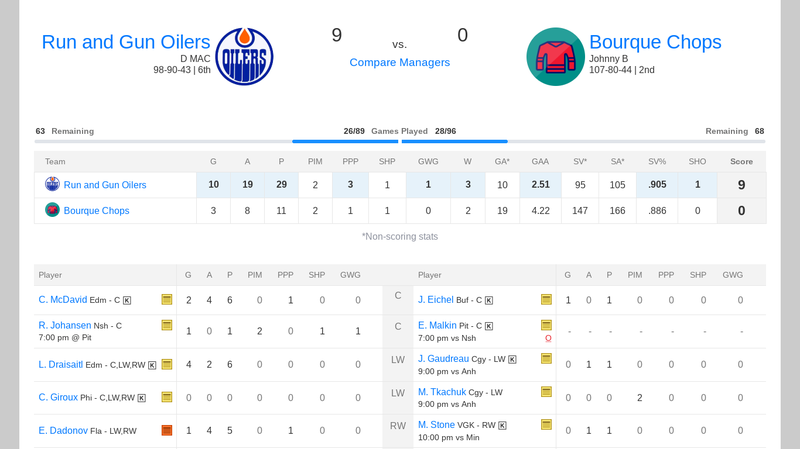 Not a bad way to start off a championship battle. I have been getting messages from other league members trying to congratulate me for winning already. As nice as that is, I know that there are still 9 days left and a lot can still happen between now and then but it would be a great feeling to win and the $700 prize for the winner would be alright as well. My fingers are crossed tight and I can only hope that my boys continue to light the lamp and shut the door. Who knows, in 10 days I could be writing a post to tell you I am a Fantasy Hockey Champion!
GO RUN AND GUN OILERS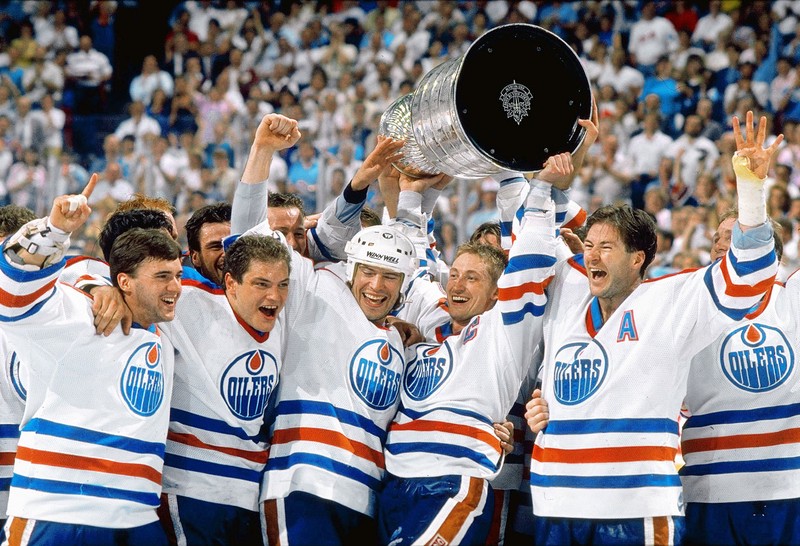 Thanks for reading and I look forward to updating you next weekend.